Let's face it, a trip to the dentist's office is sometimes not the most pleasant of experiences for a child (or possibly even the parent or guardian accompanying them).
However there's one custom shop that is making quite an impression filling the needs of this market. They are designing and creating colorful, kid-friendly props that are being installed inside and outside dozens of pediatric dental offices (and counting). These sculpts are making the check-up experience a little bit more of a "walk in the park" for kids.
For example, this sign-and-prop company recently completed a friendly looking interior identity sign featuring a bit of "Down Under" iconography for one such dental practice—Kool Koala Pediatric & Adolescent Dentistry. This multi-component lobby sign is a perfect example of the animated type of offerings that this shop likes to produce.
Imagine a Factory for These Jobs
"From murals to monstrosities," that's the tagline for Imagine Factory, LLC, out of Sicklerville, New Jersey.
This custom creative company is the brainchild of professional artist Steve Morrone who has put his skills to good use producing both hand-sculpted and machine-cut 3D props, displays, and signage that "boldly enhance" his clients' visibility in the marketplace.
Examples of his "murals" can be found as scenic backgrounds in commercial and residential spaces, while the "monstrosities" include a carved-out, twenty-foot-long humpback whale wire-hung at a large pediatric dental facility in Greensboro, North Carolina.
There really is no project too big or too small for Imagine Factory to take on.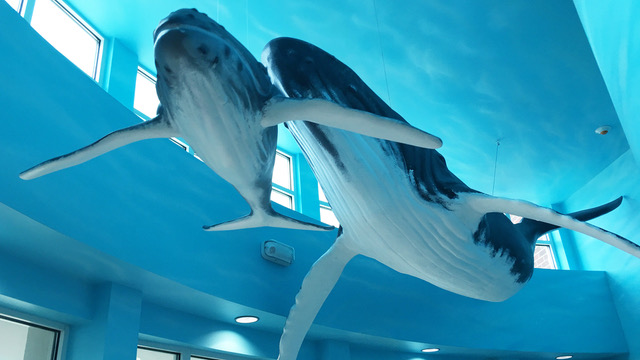 Morrone's shop works with many different types of media in many different types of finishing styles and techniques.
"We focus mainly on themed environment design and fabrication," he says, "and we can create anything that you can dream up."
A big advantage for Morrone is his artistic passion for bringing imagination and design into reality. "My best asset is my imagination and my ability to visualize a concept," he says.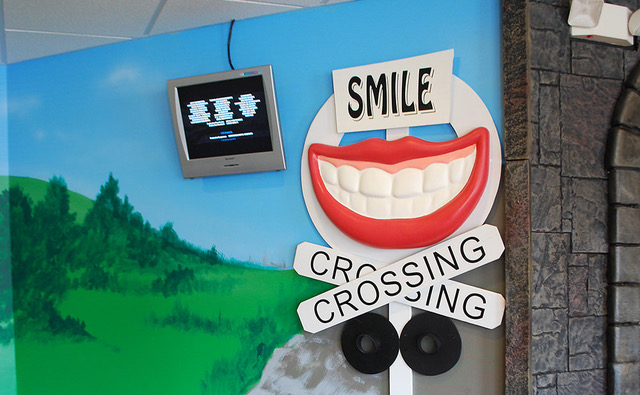 The origin of Morrone's working with scenic painting and props began at the annual Philadelphia Mummers parade, which he has been associated with for thirty-seven years now. This parade is held every New Year's Day in Philadelphia and features 10,000 men and women who, as part of local clubs, dress up in elaborate costumes, perform routines, and create movable scenery.
"This is the oldest parade in America," says Morrone. "I'm actually part of the String Bands Mummers club and got my start painting large airbrushed backgrounds and dimensional foam props for this event."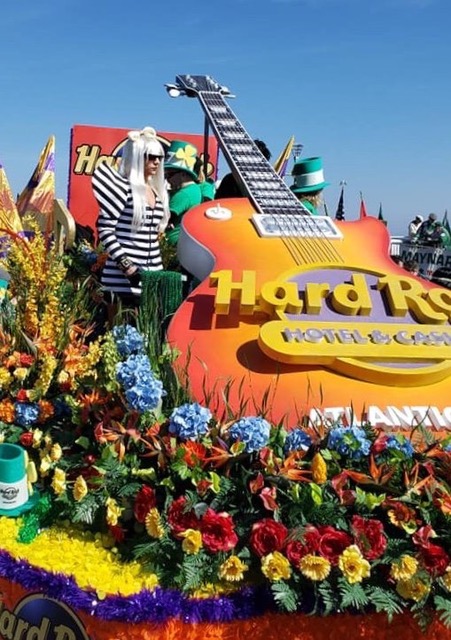 Today Imagine Factory does custom work creating props and signage for several different types of clients—retail stores, casinos, amusement parks, museums, etc. "And yes, we still create parade floats for Mummers Parade—only bigger and better now," says Morrone.
As mentioned earlier, Morrone has really drilled quite a name for himself into the pediatric dental field by providing colorful, eye-catching sculptures—pieces ranging from Lego®-themed environments to friendly zoo animals to cartoony railroad crossings—that can be found hanging on lobby walls or perched onto outdoor monument signs at these locations.
"We make these offices look more like amusement parks," says Morrone, noting that Imagine Factory's first client actually was a children's dentist office. "Using a theme or brand, we create many different types of custom-fabricated pieces to make it fun for the kids."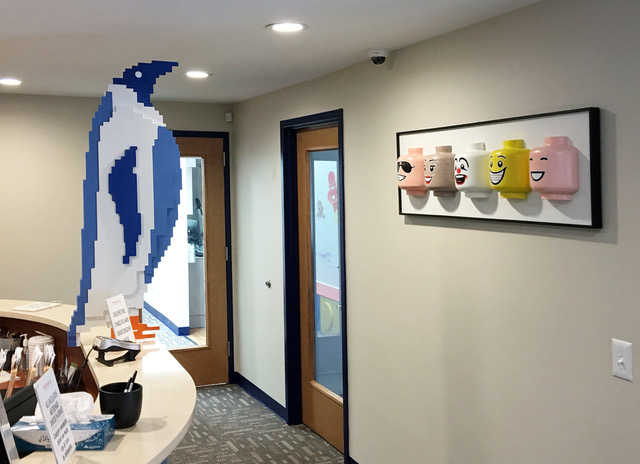 One piece of technology that has helped make producing these pieces much easier and much more efficient for Morrone has been the implementation of a ShopBot Tools CNC router at his shop.
"When I first got into doing large 3D pieces, I was hand sculpting them out of foam. But bringing a CNC router onboard changed the game completely," says Morrone. "With 3D modeling software and our modest three-axis ShopBot machine, we are able to accomplish great dimensional results through cutting and piecing things together."
Brushing Up on the Koala Kare
For the Kool Koala Pediatric & Adolescent Dentistry sign, Imagine Factory was hired to come up with an interior sign for their lobbies. (Note: Kool Koala has locations in Collingswood, New Jersey; Deptford, New Jersey; and a newer one in aptly named Bear, Delaware).
The dental practice told Imagine Factory that, for this piece, they wanted some kind of Australian theme that would incorporate a koala bear into it.
"They [told me that] they wanted us to 'give them our best' and 'make it a wow!'" says Morrone.
According to Morrone, the dental practice was very excited and eager to work with Imagine Factory since they were able to conceptualize quickly and share ideas back-and-forth. "This also makes our process flow when we get the creative freedom," he says.
Morrone finds that, even though his customers almost always give him such creative freedom to design and fabricate displays for them, it's still always about keeping the integrity of a branded logo that proves key for the final approved sign. In this case, he came up with the element of a sunglasses-wearing koala clinging to a toothbrush.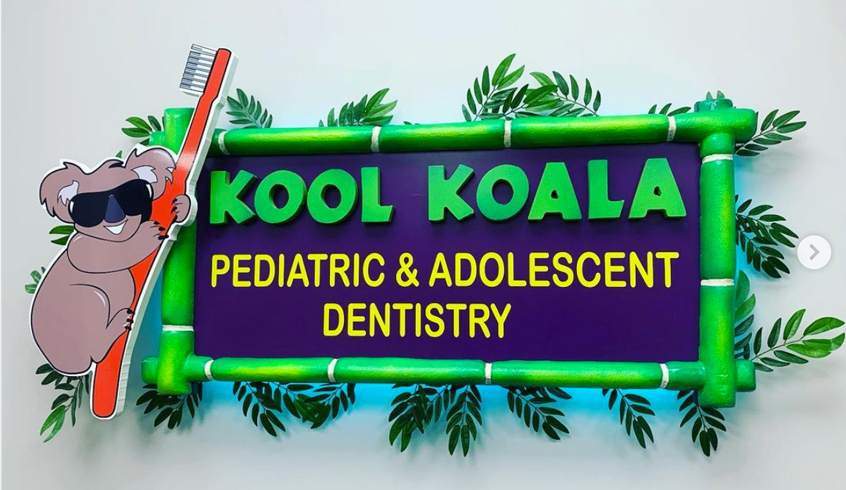 Morrone exaggerated the bamboo motif by giving it dimension with 3D ShopBot CNC-carved foam. He added even more depth and extra "wow" by using faux-foliage to create a much more dramatic silhouette for the back-mounted LEDs to illuminate. "In fact, this created a much greater overall general effect," he says.
He used 3/4-inch PVC material for the sign background and the koala/toothbrush figure and two-inch pink polystyrene foam for the bamboo frame. "Pink polystyrene foam provides easier smoothing on our end and makes it easier to brush on epoxy coating," says Morrone.
Imagine Factory router-cut the profiles for the sign's background, the larger letters, and the koala/toothbrush.
Morrone spray-painted the entire background, the bamboo frame, and the letters separately. He then finished the look of the sign through a combination of spray painting and acrylic detailing.
After painting all the pieces, Morrone then glued the faux-bamboo frame to the PVC and added the "Kool Koala" dimensional letters. He next applied the cut-vinyl "Pediatric & Adolescent Dentistry" letters to the piece.
Then he printed out the koala-toothbrush image, wrapped the profile-cut figure with it, and attached this cutout to the faux-bamboo frame. Morrone used a U-stud bracket on the back of the koala so that it would "float" in front of the rest of the sign.
"I then assembled white LED modules onto the back of the sign and next attached the faux-foliage also to the back of the sign making sure not to cover any of the LEDs," says Morrone.
Once that was done, Morrone mounted the finished sign to the wall using a wooden French cleat. "This allowed space to be able to hide the electrical wiring behind it," he explains.
The cool-looking Kool Koala sign was now ready to impress the children and their parents with its very inviting, very soothing appearance.
Conclusion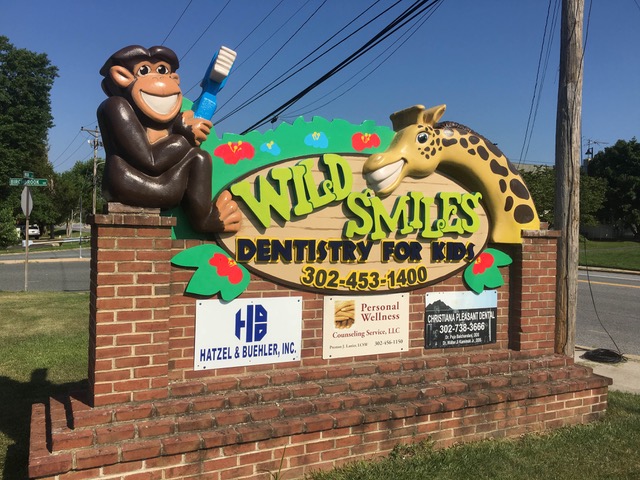 Morrone says that he has a "flair for the whimsical," which might help explain his gravitation toward creating characters and stories with his sculpts.
He has designed many original characters for his clients and even written his own children's book, Gio and the Cookie Dough Monster (and is currently working on several other stories).
As you can tell, Morrone's Imagine Factory shop is really embracing this whimsical style with their bright, colorful, and fun custom creations.
"Every project is a gift and a learning experience to make the next one even better," concludes Morrone. "Though we have the ability to copy whatever we do once we do it, we make mostly custom pieces.
"I tell people, 'Most of what we do, we've never done before."
—Jeff Wooten