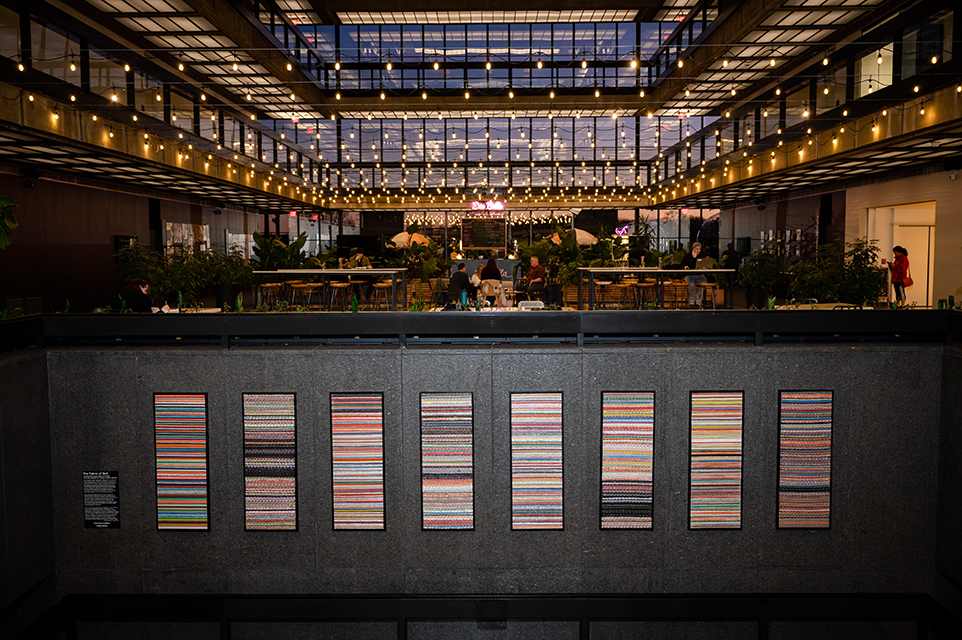 Paola Zamudio of npz studio+ wanted to elevate the arts to new heights in celebration of the iconic Bell Works to honor the building's rich history of innovation, so as the Lead Designer and Creative Director of Bell Works, she brought on friend and New York-based artist Sebastien Courty for an unforgettable project. Amazed by the building's grandeur and stylistic architecture, they were soon commissioned thereafter by Ralph Zucker, in honor of Jozef and Jonathan Straus, to create The Fabric of Bell, a subcollection from the in-house art collection of Totem, A Wall's Jewelry.
Inspired and commemorating the historic original Bell Lab, which was previously a research facility and awarded eight Nobel prizes during its tenure, the project was an innate expression and tribute to Eero Saarinen, the architect of the lavish Bell Works building.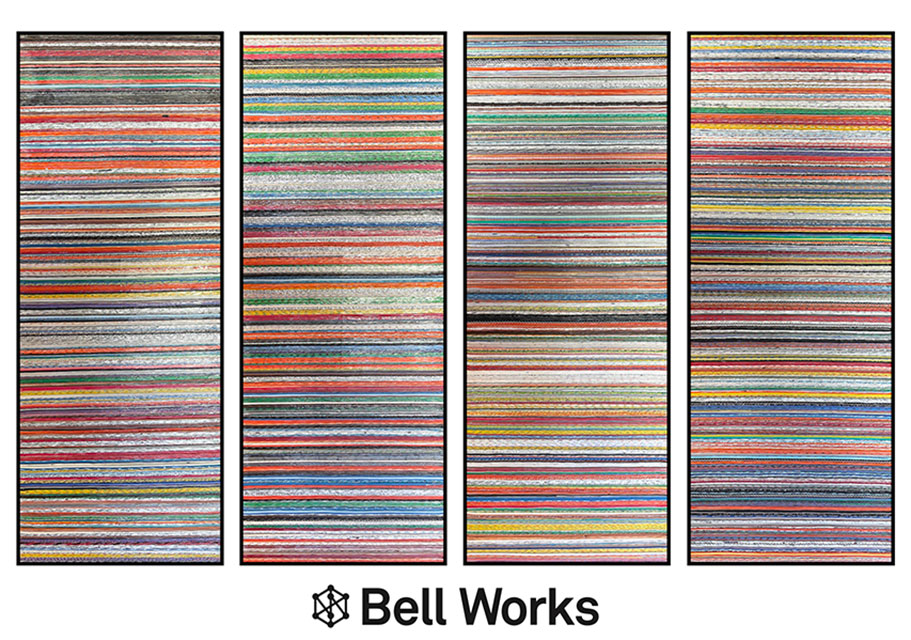 "From the moment I stepped into Bell Works, I knew I had to find a way to celebrate the history of it," says Paola Zamudio of the artwork. "In my collaboration with Sebastien Courty on The Fabric of Bell, I have found a way to express my vision for Bell Works.
"Together we pay homage to Bell Laboratories' past with our eyes on its future, and a realization of my retro-futuristic design philosophy. Sebastien, inspired by the Bauhaus art movement and Saarinen's architectural form, uses the very fibers, cables, and artifacts found at Bell Labs to create The Fabric of Bell."
The Fabric of Bell collection is centrally located in the building's atrium and a popular gathering space for tenants and visitors. The art is composed of 95 percent recycled cables (a valuable homage to Bell Works' commitment to sustainability and environmental responsibility) from the actual original Bell Labs.
From thick copper cables to thinker aluminum cables, varying in widths and bursts of bright colors (such as yellow, red, orange, blue, green, purple, and brown) used to create a dynamic visual effect, the cables were cut, repurposed, and split into smaller yarns then handwoven inter alia on separate panels using a thirty-six-inch floor loom and then stretched onto eight wooden boards. To permanently protect the pieces, each panel surface was coated with a clear crystal resin layer.
The design of the artwork evokes the complex and interconnected systems of technology and communication housed and pillared within the building.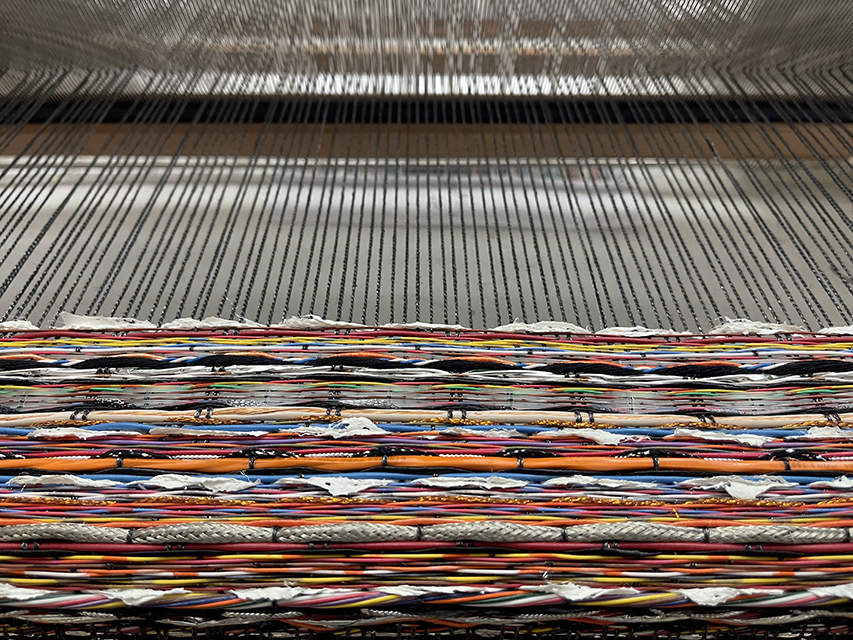 The inspiration for the artwork came from the site's history as a center for innovation and experimentation in science and technology, the iconic Saarinen architecture, and the Bauhaus Movement.
"It is fascinating to think that the cables I worked with to create the pieces were previously used to transmit important and, likely, confidential information during the operational period of Bell Labs. Honoring the research facility where Bell Labs once was (and its eight Nobel Prizes), The Fabric of Bell was designed to merge effortlessly with the iconic Eero Saarinen architecture," explains Courty.
About npz studio+
Originally an interior design studio founded in 2014 by Paola Zamudio, npz studio+ has evolved into a full-service creative firm engaging in creative direction, branding, art direction, graphic design, social media, and event planning.
About Sebastien Courty
Originally from France, Sebastien Courty grew up in a family of ceramists and makers from Portugal. Fascinated by the art of jewelry making from a young age, he pursued his passion in Paris at the "The National Art School" as a multidisciplinary artist. It was during an exhibition on contemporary African Textile featuring the works of "EL ANATSU" that he discovered the immense potential of "textile art." Courty relocated to the United States shortly after and enrolled at the "Fashion Institute of Technology" in textile and surface design.
Now based in New York City since 2012, Courty is known for his creative approach of combining the unexpected in order to transform something unappreciated into something truly beautiful and extraordinary.
—Press Release