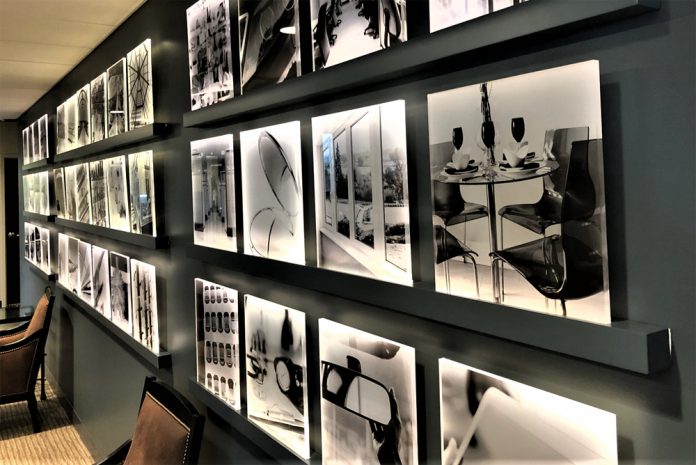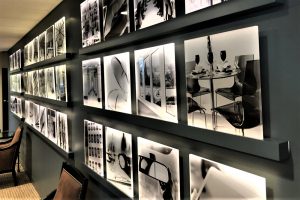 Plastics are a popular and useful material for many sign applications. Common plastics for the sign industry include acrylic, polycarbonate, PVC, and HDPE (high-density polyethylene).
Sign shops turn to plastics because they're lighter in weight and more resistant to fading from UV rays. "When using acrylic, the color stays the same over time. It's naturally UV stable, so it's more resistant to sun fading than a lot of other materials," says Kyle Felder, Business Development, A&C Plastics, Inc., a plastics solution provider that offers materials ranging from acrylic to polycarbonate to PVC to HDPE in a variety of brands. "The same goes for PVC and HDPE—there are certain additives in those sheets that keep them from fading. Sign-grade polycarbonates typically have a coating that keep them from fading from the sun."
Plastics are also often cheaper than other materials like metal. "Recent tariffs have increased costs on metal because a lot of sign materials nowadays are imported," explains Felder.
In this article, we'll focus on the two plastics you're most likely to encounter on a job: acrylic and polycarbonate.
Compare & Contrast
Both acrylic and polycarbonate are polymers, which means their molecular structure is made up of similar units linked together in long chains. They can also be classified as thermoplastics—a plastic material that becomes pliable or moldable above a specific temperature and then solidifies when it cools.
Which plastic a sign shop reaches for depends on a number of factors, including the sign type and what is specified in the project.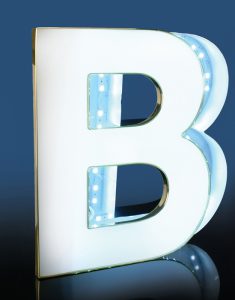 "Our challenge is putting the best value in front of the customer that addresses the needs of that given sign," says Jim Richards, vice president, Industrial Markets, at Plaskolite, a manufacturer of acrylic sheet and now also polycarbonate thanks to its recent acquisition of Covestro's U.S. polycarbonate sheet manufacturing business and its Makrolon products (rebranded as TUFFAK Polycarbonate Sheet). "For example, acrylic by nature has the highest gloss of any thermoplastic. So high gloss, high UV, stability, and definition in terms of forming letters and/or images is a little better than polycarbonate."
The detail and definition achievable with acrylic in thermoforming may be better, but that doesn't mean polycarbonate isn't used. Most manufacturers and suppliers recommend prebaking the substrate before forming it, however. "The rejection rate on polycarbonate is much higher when it comes to thermoforming it," says Felder.
That rejection rate comes from polycarbonate's absorption of moisture, which can cause it to bubble and craze. "It absorbs moisture much quicker than acrylic does," says Dennis Spahr, director of Sign Industry Sales, Plaskolite. "Typically [shops] put it in an oven overnight and they pull it out when they need to thermoform it."
Polycarbonate is also a stronger material than acrylic and is considered virtually unbreakable. "Relative to acrylic, polycarbonate offers greater heat resistance, higher impact strength, and increased resistance to breakage. In fact, most polycarbonate manufacturers offer a ten-year warranty against breakage, including from hail impact," explains Tony Martin, regional account manager, Palram Americas, a leading global thermoplastic sheet manufacturer that offers polycarbonate sheets and coils for the sign industry from its PALSUN® and PALGARD™ lines. "Polycarbonate is also more flame-retardant than acrylic. Sheets with flexible, mar-resistant coatings for thermoformed applications are now available to protect against scratching."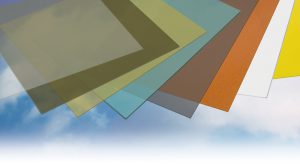 Polycarbonate's strength makes it the natural choice for signs and channel letters larger than a few feet in size. "When you get up to three-and-a-half to four feet and above, that's when you start thinking about polycarbonate because you've got all the tight corners and nooks and crannies that become like stress points in the sheet, and the ability to break acrylic at that point becomes easier," says Spahr.
However, when it comes to thicker signs, acrylic is the better choice. "Any time you see large channel letters or push-thru letters with really thick plastic anywhere from a half-inch up to one-and-a-half inches, it's typically always acrylic because sign-grade polycarbonate usually stops at about a quarter-inch," says Felder.
Acrylic also proves a less expensive option. "Polycarbonate is a premium-priced product compared to acrylic or impact-modified acrylic," says Richards.
Decorating and Finishing
There are a variety of ways to decorate acrylic and polycarbonate, and pre-colored sheets are also available (acrylic is typically available in more colors).
Vinyl application is the most common form of decoration. Applying vinyl is easier on acrylic substrates, as polycarbonate's penchant for absorbing moisture can cause problems. "Polycarbonate absorbs moisture faster than acrylic does, so it will have more outgassing behind the vinyl. You'll get bubbles on the vinyl," says Spahr.
Painting polycarbonate is an easier process. "You get a higher chemical resistance on polycarbonate, so it takes paint very well," says Richards.
Martin says that polycarbonate sheets are also ideal for screenprinting and digital printing. "Polycarbonate is suitable for all printing methods that are applicable to rigid sheets, but direct-to-substrate digital printing offers both time and cost savings with excellent results," he says. "Digital UV flatbed printers have been growing in popularity. However, one of the challenges with UV digital printing has been finding a substrate to print directly on without the need of specially formulated inks, adhesion promoters, or additional coatings.
"As with most acrylic substrates, there is typically a need to add this secondary process for optimal results. Polycarbonate does not require this costly step."
Plaskolite recognized the tediousness of applying an adhesion promoter before printing to acrylic, and it invented the acrylic sheet OPTIX®-DA, Digital Acrylic. This sheet is made from a specially formulated acrylic polymer that promotes optimal adhesion of UV curing inks without the need for an adhesion promoter prior to ink application.
Plaskolite also recently unveiled its OPTIX® E-DA, the worlds first erasable direct-to-print acrylic sheet with an abrasion- and chemical-resistant coating perfect for markerboard designs and many anti-graffiti applications.
A variety of methods can be used to cut and finish acrylic and polycarbonate. Routing is the most common, but Martin says sharpened standard power or hand tools with clearances for rigid plastics will also work on polycarbonate. For best results, Martin says to use the highest possible speed that will not melt the polycarbonate sheet during processing, due to the heat buildup.
Illumination
Both polycarbonate and acrylic can be used in illuminated signs, with acrylic offering greater light transmission.
Plaskolite recommends its line of OPTIX® LD MAX 2406 light-diffusing acrylic. The products are guaranteed to block hot spots from three inches out, which is important as channel letters and cabinets trend smaller and thinner.
Polycarbonate sheets have come a long way as well to meet the demand for products that can hold up in thinner cabinets. "This need for greater diffusion drove the development of polycarbonate sheets with improved additives, enabling a much better hiding power in LED applications," says Martin. "Palram's PALSUN Sign Grade (SG) polycarbonate sheets provide exceptional light diffusion while eliminating LED hot spots even in applications that require light diffusion from a much closer distance to the light source (i.e., shallow channel letters, slimmer sign cabinets)."
Photos (top to bottom): Plaskolite, Plaskolite, Palram Americas.
By Ashley Bray