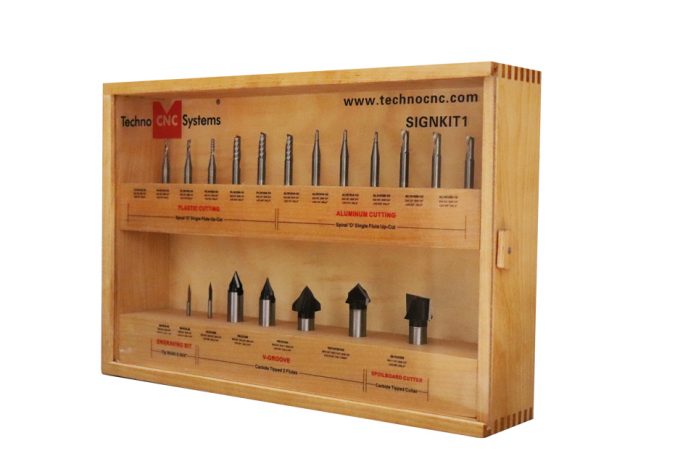 Techno CNC has developed state-of-the-art tooling kits for specific routing market applications like wood, plastic, aluminum, and foam cutting, and the company's newest tooling line makes tooling selection for production shops easy, affordable, and efficient.
Techno's nineteen-piece Signmaking tooling kit was developed by Techno's application engineers who have a vast background in sign making.
The selection, size, and tooling geometry for each router bit in this collection is specific to the materials that sign makers cut.
The tools included can rout wood, plastic, foam, and non-ferrous metals.
The kit also includes a 1-1/2-inch diameter spoil-board cutter for resurfacing the machine sacrificial deck.
The nineteen-piece Signmaking tooling kit includes:
1-1/4-inch Spoilboard Tip Cutter
120-Degree V-Groove
90-Degree V-Groove
60-Degree V-Groove
1/4-inch Spiral O'Flute Plastic Cutting Up-Cut
1/8-inch Spiral O'Flute Plastic Cutting Up-Cut
1/4-inch Spiral O'Flute Aluminum Cutting Up-Cut
1/8-inch Spiral O'Flute Aluminum Cutting Up-Cut
30-Degree Engraving Bit .004 tip
—Press Release