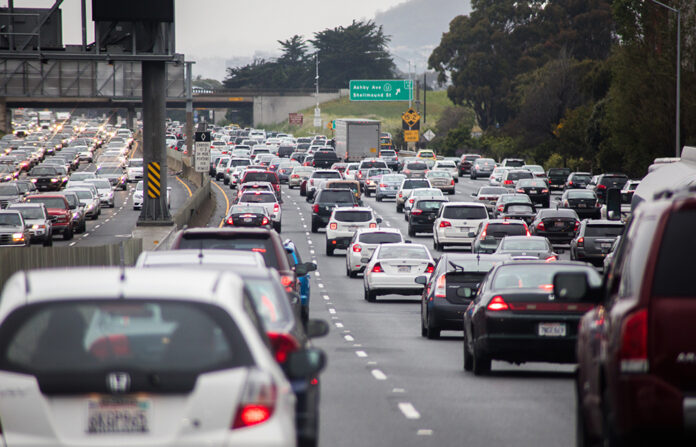 Offline advertising company Oppizi.com has analyzed the latest motorist data to reveal the most congested U.S. roads, in turn, the best roads to advertise a business. The slower the traffic in these areas, the more time drivers can spend taking in their surroundings, making these roads the place where businesses can get the best return for their investment if they advertise there.
Chicago's I-290 between I-90 and I-94, also known as the Eisenhower Expressway, has been found to be the most congested U.S. road. The average speed through it is a mere 23.5mph with a peak average speed of 18.2mph. Placing a billboard between these interstates will allow a business to display to hundreds of thousands of people a year. The max speed limit here is 55mph, and traffic is driving at less than half this speed.
To get as many eyes as possible on an outdoor advertisement, the I-495 in Queens, New York is the second-best U.S. road to place your billboard. The average speed of this road is 25.3mph, lowering to 15.4mph in peak hours.
In third position is the I-95 at SR 4 in Fort Lee, New Jersey. A billboard placed here for a business will have the third largest amount of exposure with congestion. The average speed here is 26.8mph. This road has decreased in speed by nearly 10 percent since 2021.
The fourth best U.S. road to place a billboard is the I-678 in Bronx, New York. The average speed of this road is 25.4mph meaning there will be plenty of eyes on your advert through this traffic.
The I-76 at I-676 in Philadelphia comes in fifth position. This interstate has an average traffic speed of 30.5mph whilst the current speed limit is 55mph in Montgomery County and 50mph in Philadelphia County.
I-45 at I-69/US 59 in Houston, Texas is the sixth best congested road in the US to advertise a business or brand. Drivers in this area will cruise through at a speed of 31.1mph, lowering to 20.7mph in peak times.
On average, drivers are going at a speed of 33.1mph on the I-90 at I-94 (North) in Chicago, Illinois. In peak times, this speed is reduced to 20.7mph whilst in non-peak times it is 39.4mph.
I-76 at US 1 in Philadelphia places seventh with an average speed of 33.6mph, 25.3mph in peak times.
Coming in eighth position is the I-5 at I-90 in Seattle, Washington, with drivers going at an average of 35.0mph; 27.4mph in peak times compared to 38.6mph in non-peak hours.
Meanwhile the 35.7 mph on The I-80 at I-580/I880 Oakland, California helps this highway rank as the ninth best road to place a billboard for maximum exposure. Drivers in these areas are going at an average pace of 35.7mph.
Placing just below Oakland is the I-5 at I-84 in Portland, Oregon, with an average road speed of 35.9mph for drivers in this area.
The "worst" road to place a billboard to advertise a company is the I-75 at I-24 in Chattanooga, Tennessee. This has a fast-flowing traffic, averaging at a speed of 52.3mph.
Commenting on the findings, a spokesperson for Oppizi.com said, "Billboards are a fantastic way to advertise [a] business but only if you can ensure a large number of people will see it. The routes in this analysis show the areas where large amounts of people will drive through at a speed to take in the advertisement. Perhaps some drivers will take this same route to and from work or an area they visit regularly, which will help to etch your company or brand in their minds.
"Online marketing has become a powerful tool with the ease of access to several social media apps and new sites for many people. However, this endless scrolling can mean that a person never quite takes in a message or remembers your advert; there is a risk of over consumption of many different products and confusion as to which path to take. Offline marketing can increase visibility and trust of a company/brand and help you to stand out."
—Press Release