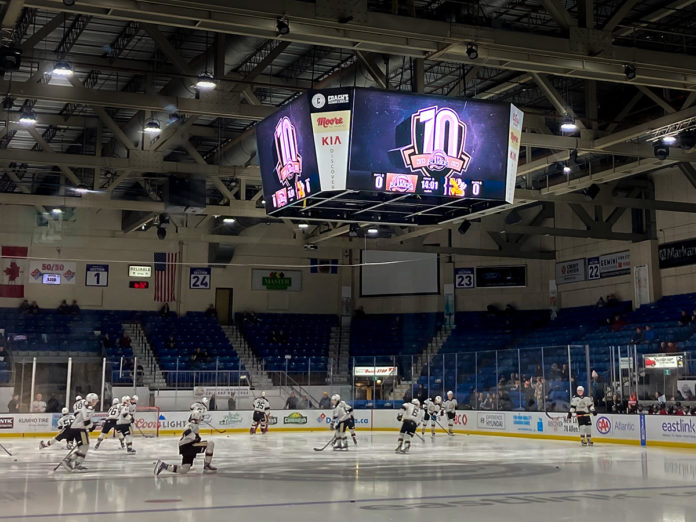 Watchfire was selected by the Eastlink Centre, a combined hockey/basketball arena and trade and convention facility located in Charlottetown, Prince Edward Island, Canada, to provide the island's first centerhung digital scoreboard.
The new four-sided centerhung display replaces an aging fixed-digit scoreboard. It provides fans in the 3,645-seat arena a 360-degree view of scores, live game and replay videos, crowd engagement videos, animations, and advertisements. Built in 1991 for the Canada Winter Games, Eastlink Centre is home to the Charlottetown Islanders of the QMJHL and the Charlottetown Power of the ECBL and hosts concerts and other events throughout the year.
The Gemini Group of Companies of Charlottetown submitted the winning bid to design and install the scoreboard and specified Watchfire to manufacture the display. The centerhung measures 8.5' x 13.5' on each side and has a pitch of 3.9mm.
"The resolution on the scoreboard is so good, it's like watching a huge television," said John Abbott, interim general manager of Eastlink Centre. Venue organizers have discussed hosting viewing events when the Islanders are on the road and streaming other important events. "It's a blank canvas and we're excited about the possibilities," said Abbott.
Fans in the arena are thrilled with the new addition and love to see themselves on the centerhung, according to Abbott. "We're still learning all the things we can do with the display, and Watchfire reps have been on-site several times to teach us all the capabilities. This display really helps us punch above our weight at Eastlink Centre."
Maintenance and repair of the centerhung also will be easier. Watchfire mounted the new scoreboard using a hoist system, so venue operators can easily lower and raise the display for routine maintenance or repair.
The new centerhung is part of a $2 million renovation of Eastlink Centre, which includes new arena glass, renovated dressing rooms and showers, and upgraded sound and lighting systems. "The new scoreboard is the crown jewel," said Abbott.
"Eastlink Centre is an important part of the P.E.I. community, and Watchfire is glad to be a part of the upgrades made at the facility," said Bob Ferrulo, Watchfire Sports Market Director. "The centerhung adds great excitement to the venue and we look forward to partnering with Eastlink Centre for many years."