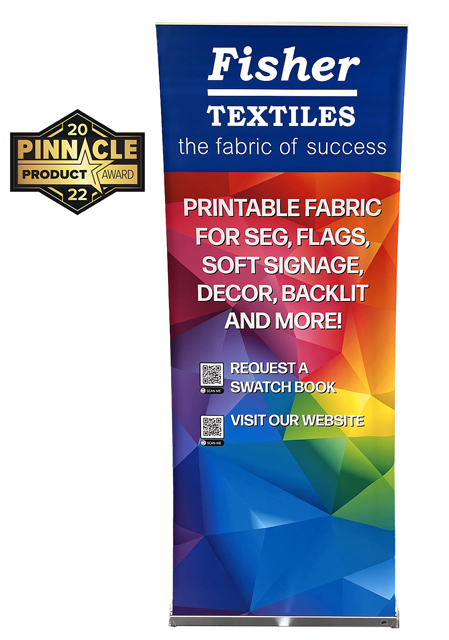 Fisher Textiles is proud to announce that GF4030 Nirvana Plus and ET8050 Super Sonic Backlit received a coveted PRINTING United Alliance 2022 Pinnacle Product Award for Textile–Media–Banner and Textile–Media–Framing Systems (Backlit). The winning entries can be found online at the Pinnacle Product Awards Gallery.
GF4030 Nirvana Plus, winner of Textile–Media–Banner, is an enhanced printable soft signage black-back fabric developed to significantly decrease smoke exhaustion during the transfer process. It has 30 percent more fabric on the face than other printable black-back media.
GF4030 Nirvana Plus is a two-in-one solution for printable fabric with a built-in liner and a finished back. It is ideal for hanging banners and retractable banner stands because of the printability and opaque finished back side.
The fabric is stocked 126 inches wide, weighs 9.5 oz/yd2, and is flame retardant. A five-meter-wide treated version is available for direct and UV-curable printing.
ET8050 Super Sonic Backlit, winner of Textile–Media–Framing Systems (Backlit), is one of the industry's only dye sub printable backlit fabrics made from 100 percent postconsumer recycled polyester. This soft, suede knit produces an excellent vibrancy of print, amplified when backlit.
Post-pandemic, there has been a tremendous ecoconscious demand for soft signage made with eco-friendly polyester to provide environmental benefits. Using recycled polyester not only keeps plastic PET bottles out of landfills, it also reduces energy consumption and conserves petroleum resources which are used in producing virgin polyester.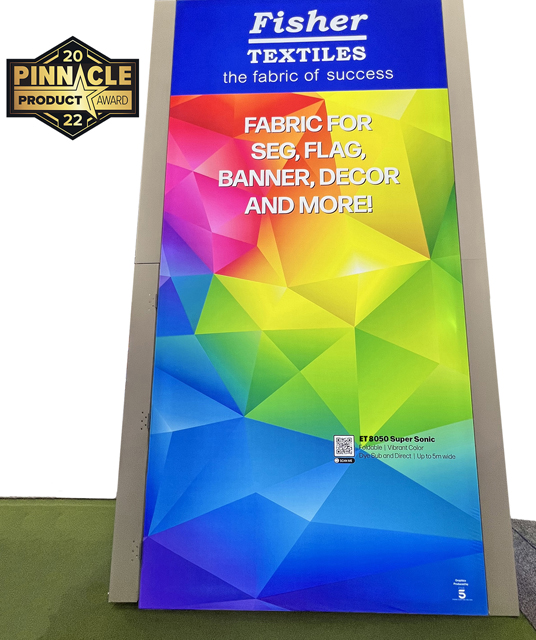 The fabric is stocked 126 inches wide, weighs 7.7 oz/yd2, and is flame retardant.
Open to all PRINTING United Alliance supplier members, the Pinnacle Product Award competition evaluates products that will be available for sale in 2022.
A highly qualified panel of judges across the printing industry evaluated the annual contest's 160+ entries in more than 58 categories spanning analog, digital, output, and non-output technologies.
"We are honored and excited to have our products recognized by PRINTING United Alliance for the Pinnacle Product Awards," said Scott Fisher, president and CEO of Fisher Textiles.
"The team at Fisher Textiles listens to feedback from our customers and develops products based on the solutions they need. Our 100 percent post-consumer recycled backlit fabric, ET8050 Super Sonic Backlit, and our improved black-back fabric, GF4030 Nirvana Plus, are direct results of customer requests, so we thank them for trusting us to produce these innovative products.
"One of the things I like best about our competition is that it is juried, and judges are basing their decisions on objective criteria. And with outstanding entries like GF4030 Nirvana Plus and ET8050 Super Sonic Backlit, they had their work cut out for them," said Dawn Nye, Program Manager Pinnacle Awards at PRINTING United Alliance. "The Pinnacle Product Award competition represents the best of the best among commercial hardware, software, consumables, and industrial and screen equipment. Congratulations to all the winners."
—Press Release