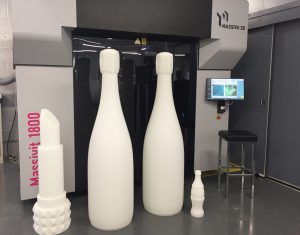 Massivit 3D Printing Technologies, the leading provider of large format 3D printing technology for visual communication projects, has announced that Deko 3D by Sépia has installed a Massivit 1800 3D Printing Solution in a bid to secure new business and overcome the constraints of traditional production processes.
Grenoble-based, Deko 3D, a specialist provider of large format 3D applications and a subsidiary of Sépia Signalétique, was founded as a full-service 3D service bureau.
"After several years of declining projects, largely due to the manufacturing constraints of CNC machining, we decided to create a dedicated division with in-house 3D solutions that could rectify this issue," says Eric Pessarossi, General Manager at Deko 3D.
"Traditionally, we used CNC machining to produce polystyrene models," he explains. "This worked perfectly for 2D applications, although proved highly problematic, in terms of time and material, when it came to outdoor 3D projects. We were unable to replicate our customers' desired requirements, which unfortunately meant having to decline a number of lucrative projects.
"With 3D printing, this is no longer an issue. Now, regardless of the scale and complexity of the application, we are able to meet our customers' demands. This is a real game-changer for us and importantly means that we're no longer having to turn business away," he adds.
Pessarossi, believes that the Massivit 1800, sold to the company by French dealer, Euromedia, will play an integral role in expanding the company's application offering and allow it to enter new markets.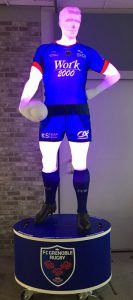 "We wanted to invest in a technology that would allow us to offer our customers unrivalled applications, as well as maintain our competitive edge, something that the our Massivit 1800 enables us to do," says Pessarossi. "Our aim is to change the face of visual communications and establish ourselves as pioneers of next generation large format applications."
Gaspare Bugli, Director of Sales for EMEA at Massivit 3D concludes, "As Deko 3D demonstrates, we continue to see a growing number of traditional print providers integrating our solutions into their existing production floor.
"As a result, companies that once had to reject certain projects, can now harness our technology to undertake 3D print jobs, thereby securing new business and increasing revenues," he concludes.