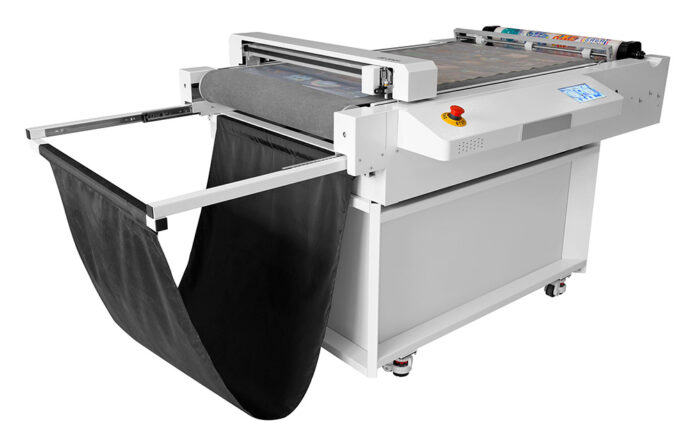 ExpressCutPRO is leading the way in digital die cutting technology, designed to streamline operations, boost profits, and enhance efficiency.
This cutting-edge machine automates the precision cutting of fully printed rolls of DTF (direct to film) transfers, sublimation transfers, pressure-sensitive vinyl, reflective vinyl, window film, sandblast masking, HTV (heat transfer vinyl), PET (polyester film), gasket material, vinyl decals, paint protection film, and various other films.
One of ExpressCutPRO's standout features is its integrated conveyor belt system, which seamlessly feeds printed or unprinted materials from rolls for precision cutting of DTF transfers, decals, prints, and more.
Key Features of ExpressCutPRO:
Robust Construction: Engineered with all-steel components for durability and reliability.
User-Friendly Interface: Featuring a seven-inch touch screen for intuitive operation and control.
Advanced Imaging Technology: Utilizes CCD (charge-coupled device) digital camera support for precise crop mark and QR code detection.
Versatile Material Handling: Supports black marks on standard media and white marks for transparent media, QR codes for job identification, and both roll and sheet cutting formats.
Seamless Connectivity: Offers USB, WiFi, and Ethernet connectivity for flexible data transfer options.
Effortless Workflow: Implements hot folder support for automatic loading of cut data after QR code scanning.
Automated Material Feeding: The conveyor system ensures seamless material auto-feed for roll formats.
ExpressCutPRO is set to redefine your business operations, making every cut precise and efficient while boosting your bottom line. Take control of your workflow today and dxperience the future of digital die cutting with ExpressCutPRO.
ExpressCutPRO is designed, engineered, and manufactured by SAGA CNC and available exclusively through Supply55, Inc., in North America. For more information, call (734) 668-0755.
—Press Release