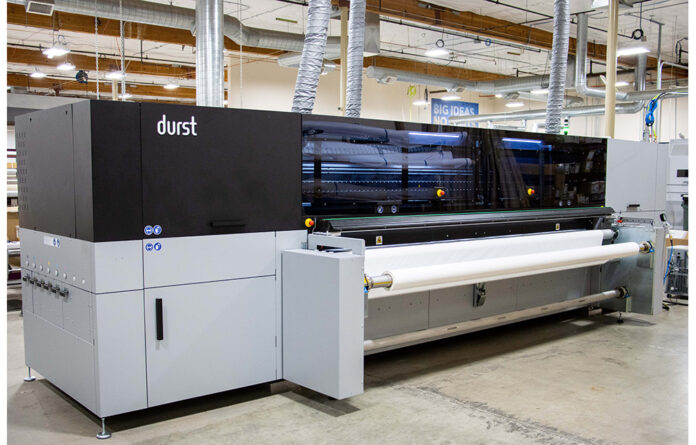 Consistency, reliability, and quality; these are three attributes a print shop looks for when investing in a new printer. They are also attributes one hopes for in a business partnership. Infinity Images, a graphics producer out of Portland, Oregon, and long-time investor in Durst products, knows the importance of those three characteristics. When looking to enhance their fabric production capabilities, they knew exactly who to turn to.
"Innovative Visuals for Exceptional Brands" greets website visitors when they open Infinity Image's homepage. It's a promise to all current and future customers, and they fulfill that promise with every piece of artwork that leaves their facility.
To continue to meet the high expectations of their customers, Infinity Images needed a printer that could do it all. "We had a long list of features we wanted in a new fabric press," explained George Gross, CEO and founder of Infinity Images. "We wanted excellent resolution, very dense solid color coverage, no pin holes, color fidelity, the option to print directly to fabric or to transfer paper and the highest reliability a printer can offer."
The Durst P5 Tex iSub was the resounding answer.
The P5 Tex iSub is an industrial-grade dye-sublimation printer with an integrated inline fixation for a one-step direct-to-fabric printing process, and also allows transfer papers to be printed and further processed regularly. In addition to single-roll printing, the P5 Tex iSub can print two rolls via the multi-roll option and the Dual-roll option.
Other features such as the built-in sewing unit, optimized dye-sub ink, and specialized software round out the full spectrum of features on this printer.
The P5 Tex iSub has been awarded the Pinnacle Product Award every year since its debut in 2021.
"Like other Durst products, the machine is robustly built and has been incredibly reliable. It is designed for very heavy use without frequent maintenance," said Gross. "The six-color ink set matches all our other printing devices and produces superior highlight areas of our clients' images. It has enhanced our fabric production capabilities to fulfill larger and/or short-delivery time projects and allowed us to reduce waste by sewing the next roll to the end of the current one.
"The P5 Tex iSub is helping us provide superior products, allowing us to increase market share."
This Durst printer joins six others, as well as Durst's Software Solutions at Infinity Image's shop.
Larry D'Amico, director of LFP and Fabric Sales, remarked, "This is the second Durst printer installation in just over a year at Infinity, and we were grateful for another opportunity to help develop their business. After over a decade of partnership, our understanding of their core business, and their trust in our products only grows deeper.
"Their success is our success, and we look forward to many more decades of it."
Gross concluded by saying "As long as Durst continues to offer devices that improve our ability to serve our clients, we will always look to them for our printing system needs."
—Press Release