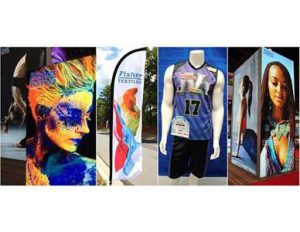 LexJet announces that it is the exclusive distributor for Fisher Textiles dye-sublimation fabrics that are converted to fit wide-format printers. Previously only available for grand-format printers, this is the first time these world-renowned, award-winning fabrics have been converted and distributed for wide-format sizes.
LexJet will carry a variety of Fisher Textile products in 61-inch-by-100-foot rolls for a multitude of applications, including trade shows, SEG frames, retail signage, back drops, home décor and furnishings, soft signage, backlit graphics, banner stands, table covers and more.
"At wide-format widths, these trusted, well-known and proven-to-perform dye-sub fabrics from Fisher open the door to the benefits of wide-format applications, such as smaller runs, one-off prototypes, quicker turn-around and customization, which is in higher demand than ever," says LexJet VP of Sales, Justin Lehman. "With the success of our LexJet InFuze dye-sub transfer paper last year, we are seeing fast-growing, high-margin possibilities with dye-sub technologies for our wide-format PSPs."
Products Now Available:
"Partnering with Fisher Textiles is natural fit for LexJet, thanks to our deep and long-standing relationships with the print service providers and end-users who will benefit the most from these wide-format sized fabrics," Lehman says. "This is a big win for the wide-format industry."
These fabrics round out LexJet's dye-sub portfolio of products, which includes Epson printers and inks, InFuze transfer papers, ChromaLuxe metal photo panels and heat presses from Geo Knight and FLEXA.
If you are interested in learning more about these Fisher Textiles products, please contact a LexJet sales representative at 800-453-9538.