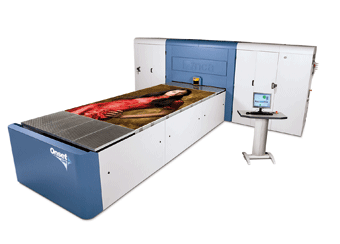 FUJIFILM North America Corporation, Graphic Systems Division will present an outstanding array of innovative solutions at GRAPH EXPO 2011, September 11-14, 2011, at McCormick Place South in Chicago, Illinois at booth # 627. Exhibiting under the banner "expect INNOVATION™" Fujifilm will demonstrate the products and technology that printers are looking for to strengthen their businesses and expand their operating capabilities.
"Printers are looking for a partner to help guide their businesses into the future," said Masahiro "Sam" Ota, division president, Graphic Systems Division, FUJIFILM North America Corporation. "Digital and wide format printing have proven to be significant opportunities for commercial printers, and offer the means to grow and diversify. Fujifilm is committed to its customers' needs, and has developed an innovative and comprehensive portfolio of products, solutions and services designed to meet their needs."
"Fujifilm continues to research and invest in innovations that will help print providers better serve their customers," said Todd Zimmerman, vice president of sales and marketing, Graphic Systems Division, FUJIFILM North America Corporation. "Visitors to the Fujifilm booth can expect to see new products and technologies designed to increase efficiencies and capabilities, helping them to expand their service offerings and grow their businesses."
Fujifilm will showcase a full range of advanced solutions, from state-of-the-art inkjet technologies to the highest-quality wide format printers.
Graph Expo 2011 marks the U.S. debut of the Inca Onset S40 wide format UV flatbed inkjet printer (pictured, above), the newest addition to the industry-leading Inca Onset Series. The Inca Onset S40, available exclusively from Fujifilm, prints at throughput speeds up to 5,059 sq. ft./hr. producing 94 full beds (63-by-123.6-inch) per hour onto a wide variety of substrates up to two inches thick, including plastic, metal and board stock. Available in either four-color (CMYK) or six-color (CMYK + Lc + Lm), the Inca Onset S40 has been engineered to provide outstanding "best-in-class" levels of quality and performance at a low cost per print. The quality of print uniquely positions the new Inca Onset S40 as the highest quality of all high-volume flatbed presses on the market today.
Also being shown for the first time in the US will be the FUJIFILM Acuity® LED 1600 wide format inkjet LED-UV printer (pictured, right). Incorporating a patent-pending LED-UV ink-curing system, the Acuity LED 1600 provides high-speed inkjet printing with exceptional quality. Reaching print speeds up to 215 sq. ft./hr., the Acuity LED 1600 provides 8 colors standard and uses specialized Fujifilm fast-curing UV inks. The state-of-the-art LED lamp design allows printing white or clear ink in a single pass, further adding to productivity. Designed for the printer who is new to wide format inkjet printing or for users who wish to reduce costs while increasing productivity and quality, the Acuity LED 1600 offers great value in an entry-level printer.
The Acuity® Advance HS UV flatbed printer offers photographic quality printing at speeds of 433 sq. ft./hr.—85 percent faster than previous Acuity Advance printers. An express mode allows speeds of more than 650 sq. ft./hr., giving printers unmatched performance for the price. The Acuity Advance HS provides precise registration and edge-to-edge printing, which saves time, labor and material. The roll media option makes it a cost-effective UV roll solution for printing onto flexible materials. The Acuity Advance HS will be running live throughout the show, also demonstrating the versatility and high quality of Fujifilm wide format media.
FUJIFILM ColorPath® Sync™ (formerly called Taskero® Universe® ColorPath Sync) is a Web-based tool for creating color curves, aligning output devices, and ensuring color consistency across platforms and locations. Backed by Fujifilm's industry-leading expertise in color consistency, ColorPath Sync allows printers to match output devices and maintain the consistency they achieved when first implementing the G7® specification. ColorPath Sync provides for on-the-fly color correction, while iterative color correction increases accuracy and minimizes downtime. Information from ColorPath Sync can be exported directly to many popular workflows, which helps eliminate the potential for error. FUJIFILM ColorPath Sync offers printers a tremendous return on a relatively small investment.
At the show, ColorPath will be monitoring and ensuring the color consistency of the live equipment, including the Inca Onset S40, Acuity HS and the Xerox Color 800 Press. In addition, printing samples will be available demonstrating the outstanding results achievable with the combined strengths of ColorPath and the J Press 720.
Several industry-leading workflow software solutions will be at work in the Fujifilm booth, including:
* FUJIFILM Workflow XMF and XMF Print Center. FUJIFILM Workflow XMF is an end-to-end APPE, PDF solution with tremendous flexibility. XMF provides printers with the flexibility and ease-of-use they need to increase their productivity, quality and efficiency. The XMF suite of products includes XMF Remote for browser-based file submission and remote soft proofing.
* XMF Print Center, shown as a technical preview, is a Web2Print solution, designed to expand business capabilities across the Internet.
* Rampage Systems provides a sophisticated prepress workflow and is an open system that offers raster and vector workflows, providing unrivaled flexibility for offset and digital devices.
* Metrix planning and workflow integration software streamlines and automates the entire planning and imposition process with a single, user-friendly application.
* DesignMerge® Pro Bundle is a powerful variable data printing software package that allows users to integrate text, graphics, objects and even entire page layouts.
* ColorGATE is Fujifilm's premier software solution for large format printers and offers the choice of three exclusive software packages. For a basic RIP with an excellent color engine, the company offers the Fujifilm Silver edition; the Fujifilm Gold edition allows for the creation of custom ICC profiles from within ColorGATE; the Fujifilm Platinum edition is ideal for use with a proofing workflow and multiple large format presses. Whatever your choice, each edition can be easily expanded by adding a number of different options and more than ten available modules. Upgrades from Silver to Gold or Platinum are possible at any time.
Visitors to the Fujifilm booth can also expect to find innovation in wide format UV and solvent roll media, which provide printers with optimal print quality and color performance while delivering durability and ease of use for virtually any application. Fujifilm media will be in use throughout the booth as well as on display for hands-on inspection.
To learn more about how FUJIFILM Graphic Systems Division can partner with all printers to help grow their businesses, please visit www.fujifilmusa.com/graphics.