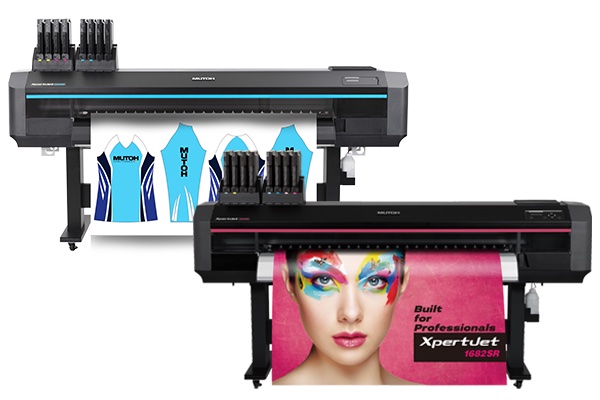 MUTOH America, known for its high-quality and reliable printers offered at competitive prices, is excited to announce a new promotion for two of its flagship wide-format printers, the XpertJet 1682SR-Pro Eco-Solvent 64″ printer, and the XpertJet 1682WR 64″ Dye-Sublimation printer. These high-speed dual print head 64" production machines are now more accessible than ever with an enticing new MSRP of only $21,995. – a significant up to $6,000 reduction from the previous MSRP.
"In a world grappling with inflation and uncertainty, MUTOH America is delighted to make our exceptional printers even more affordable and accessible to our valued customers," states Brian Phipps, President of MUTOH America. "Our made-in-Japan quality and affordability is what we pride ourselves on."
If you seek to elevate your print productivity, there has never been a better time to add these powerhouses to your lineup. With the XPJ-1682SR Pro, you'll experience unrivaled image quality paired with faster-than-ever print speeds, thanks to MUTOH's dual-staggered AccuFine HD printheads. Mesmerizing print quality enhanced by MUTOH's proprietary i-screen technology, print with confidence, knowing that each job will surpass your expectations.
Key Features of the 64″ XpertJet 1682SR Pro Eco-Solvent Printer include:
Dropmaster 2:Automatically calibrates bi-directional alignments, saving time and reducing adjustment variations among printer operators.
Feed Master Sensor:Allows for automatic media feed adjustments.
Nozzle Area Select:Reduces downtime by enabling you to temporarily turn off clogged print nozzle blocks and select active nozzle blocks for printing. Pairing this feature with the optional Automatic Nozzle Detection Unit will allow you to achieve seamless print jobs.
Media Tracker:Prints a barcode before media removal. Upon reloading specified media, a built-in sensor reads the barcode and recognizes the remaining media, providing valuable information on whether you have sufficient material for a given job.
4-Stage Head Height Adjustment:Allows for printing on a wide range of media.
Multi-Stage Pressure Rollers:Optimize print feed on various media.
MUTOH MS41 GREENGUARD Gold Certified Eco-Solvent Ink:Ideal for sensitive environments like daycares, hospitals, and schools.
Key Features of the 64″ XpertJet 1682WR Dye-Sublimation Printer include:
Automatic Bi-Directional Alignment with Built-in Sensor:Save time by automatically calibrating printer alignments, increasing ease of use.
MUTOH Status Monitor (MSM):Check the printer's operation status in real-time. MSM mobile provides monitoring with a smartphone or tablet.
Upgraded Pressure Roller System:Allows operators to manually select and engage individual pressure rollers to minimize cockling
MUTOH's DH21 Dye-Sublimation Ink:Provides excellent color stability, a wide color gamut, and optimum print quality.
With MUTOH's XpertJet-1682SR Pro and the XpertJet-1682WR, you'll experience printing excellence at an unbeatable price. Seize the opportunity to take your printing capabilities to the next level. Visit www.mutoh.com to learn more and see all of our current promotions today.