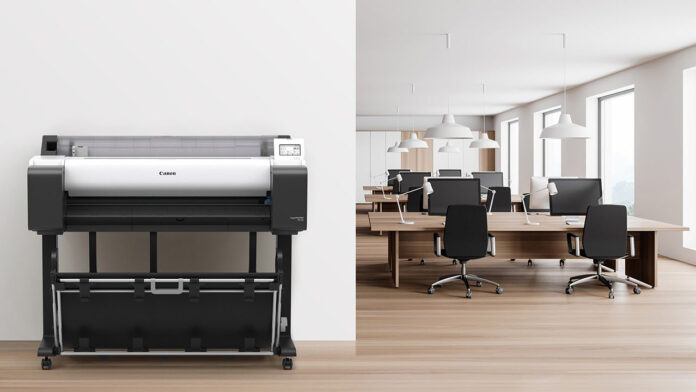 Canon U.S.A., Inc. is proud to announce the release of 11 new models of its imagePROGRAF large-format inkjet printers: 36-inch TM-355/TM-350/TM-340 and 24-inch TM-250/TM-240 models plus multifunction scanning configurations. Aligned with the company's commitment to offering products and solutions with environmental concerns in mind, these printers are currently rated as U.S. EPEAT® Gold Registered.
These new models are designed to cater to various printing needs, including CAD drawings, posters for retail and restaurants, and school classroom displays. With high-speed printing and the incorporation of newly formulated magenta ink, the new models provide vivid color reproduction in an all-inclusive, refined functional body design that allows for easier roll paper loading for beginner level users.
Newly Developed Magenta Ink and Optimized Image Processing
Equipped with newly formulated magenta ink, these printers achieve excellent red color development. Additionally, the newly designed image processing tables help ensure deep and vivid reproduction of overall colors. Even when using plain paper, the printers produce highly visible posters, making it possible to create attention-grabbing retail POPs and engaging office displays in a cost effective manner. The use of all-color pigment ink helps ensure that prints do not easily fade over time, making them suitable for long-term display, and also provides water resistance for outdoor use.
Quick Start-up and High-speed Printing with L-COA PRO II
The new L-COA PRO II image processing engine enables quick start-up from sleep mode and facilitates high-speed printing, reaching top speeds. This enhanced speed greatly improves productivity for printing posters and drawings. Specifically, the TM-355/350 models can produce up to 3.2 D-size prints per minute*, marking a substantial 28% increase in speed compared to previous models. Furthermore, the new models achieve up to a 60% boost in processing speeds for USB thumb drive printing, thanks to the upgraded processor. This capability enables users to respond promptly to urgent printing requirements.
Flat Top Design for Easy Roll Paper Set
This printer features a new flat top design, allowing roll paper to be easily set by placing it on top of the printer, attaching roll holders, and sliding it along a guide, even in confined spaces. The printer also offers automatic paper type and width detection as well as roll paper remaining estimation**, helping to save on labor and enhancing operational efficiency. The large touch panel displays paper width, type, remaining roll paper, and ink levels, making it easy for users to check consumable status at a glance. The enlarged, 4.3" touch panel is adjustable, allowing users to tilt it for comfortable viewing from different angles and positions.
Environmentally Conscious with Elimination of Polystyrene Foam
Canon is committed to reducing its environmental impact by eliminating expanded polystyrene foam from the printer's packing materials. Instead, the company uses cardboard, contributing to the reduction of single-use plastics.
Most notably, these models are registered as a gold product in the U.S. EPEAT® environmental assessment system*** by the Global Electronics Council (GEC) EPEAT Climate Criteria, a non-profit organization in the U.S. that provides verification of the environmental attributes of imaging equipment.
These models also hold Energy Star certification, aiding in the reduction of power consumption compared to their predecessors. This certification is established by the U.S. Environmental Protection Agency (EPA) and the U.S. Department of Energy, aiming to guarantee that approved products utilize less energy, emit fewer greenhouse gases, and deliver high-quality performance.
Easier Printing with Application Support
To help improve printing efficiency, the printers are compatible with the Direct Print Plus software, which enables users to batch print multiple files in different formats with a simple drag-and-drop operation. Additionally, PosterArtist, a free web-based application, helps you facilitate the creation of posters and flyers with customizable templates, text, and images.
Reduced Operating Noise for Comfortable Output
Designed with comfort in mind, the models are equipped with a new design that significantly reduces operating noise during printing. The TM-340/240 models have operating noise levels reduced to approximately 39dB, making them ideal for use in small offices, design studios, or retail stores.
The new series of multi-use large-format printers from Canon presents a comprehensive solution for various printing needs. With their high-speed printing capabilities, vivid color reproduction, and eco-conscious design, they are poised to provide exceptional performance and convenience in the printing industry.
"We are excited to introduce this new line of large-format printers designed to handle diverse printing needs from construction and design drawings to retail posters and classroom displays, delivering vivid prints on plain paper with exceptional speed," said Shinichi "Sam" Yoshida, executive vice president and general manager, Canon U.S.A., Inc. "With its state-of-the-art features and eco-conscious approach, Canon's new imagePROGRAF TM inkjet printer series sets a new standard in large-format printing, delivering unparalleled performance and sustainability for the modern office or retail space."
For more information on the new imagePROGRAF TM series, please visit www.usa.canon.com.