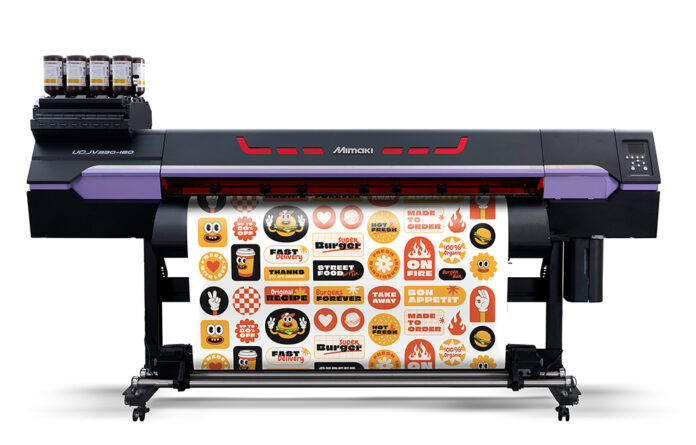 Mimaki USA, a leading manufacturer of wide format inkjet printers and cutters, has announced the UCJV330 Series of cut-and-print UV-LED roll-based printers for signage and graphics applications.
This series builds on popular Mimaki models with improved productivity and image quality, and ink options to expand the production of high-value applications.
The UCJV330 Series of UV-LED roll-based printers will make its debut in the Mimaki booth C2831 at PRINTING United Expo, October 18-20 in Atlanta, Georgia.
Since launching the world's first UV inkjet printer with white ink in 2004, Mimaki Engineering Co., Ltd., has continued to pursue UV printing technology and manufacture products that deliver higher quality and versatility to its customers.
Mimaki Engineering has brought full circle the UCJV Series by combining the high quality and productivity of its flagship 330 Series with the company's UV printing technology.
UCJV330 Series Features
Significantly improved image quality and productivity. Newly developed ink ejection technology (patent pending) reduces color irregularities in high-density areas, even in high-speed output mode. This enables the user to create sellable quality prints in faster print modes than the UCJV300 Series.
Ink options expand the production of high-value applications. Clear ink can be printed as gloss (varnish) over a color layer or as matte (frosted) on transparent film. As well, 2.5D print and watermark print functions have been added. 2.5D print capability adds realistic texture by giving the design height, such as simulating the surface of leather. The watermark capability prints a silhouette of the secondary image that is revealed by backlighting.
Support for up to five-layer printing. This popular feature expands the range of applications and adds value to deliverables. Mimaki introduced four-layer printing on the UCJV300 Series in 2017, where printing in layers—such as color, black, white, color—gave designers the capability to build layered, transformative graphics for backlit applications. Five-layer printing provides the ability to "sandwich" a color plate with a different design and a light-shielding plate in front of and behind the white plate, to produce window signs with different designs on the outside and inside.
Integrated cutting capability. The integrated cut functionality enables volume production of labels, decals, window clings, floor graphics, POP displays, vehicle wraps, packaging and prototypes, and more in a single unit. For print & cut jobs, once the print operation is completed the cutting process is automatically started without any additional input required from the operator.
Instant-dry for instant use. The UCJV330 Series prints are instantly cured at even the highest production speeds meaning users can quickly print and immediately move to finished product, unlike other technologies that require the need to accommodate for dry time or out-gassing. For many jobs, instant-dry, durable, UV printing and cutting can also eliminate the need for additional finishing, enabling print service providers to reduce time to sale while recognizing additional cost savings.
Production options available on the UCJV330 Series include:
XY Slitter for inline sheet-fed cutting with a cutting accuracy of +/- 2mm
Media Changer allowing for up to three rolls of media to be pre-installed and selected by a single operator
Plus a range of options for efficient operations
New PICT Cloud-based Printer Status Monitoring Tool
In addition to the UCJV330 Series, Mimaki is launching PICT, a cloud-based printer status monitoring tool, available for download from the Mimaki.com website for customers using Mimaki printer products.
PICT helps customers improve the efficiency of their printing operations and production management by enabling them to visualize the operational status and performance of Mimaki printers from a PC or mobile device, even from a remote location.
The printer operation and ink usage results can be useful for maintenance planning, ink inventory management, and production load balancing.
Availability
The UCJV330 Series will be available in two sizes: the 54-inch (137 cm) UCJV330-130 and the 64-inch (162 cm) UCJV330-160 models.
Both models will be equipped with standard CMYKLcLm plus White and Clear LUS-170 inks for printing onto a variety of media including translucent, transparent, white or colored base media, PET, PU (polyurethane) and other resin films, cloth, and paper (including uncoated paper).
The UCJV330 Series is expected to be available for order at the end of October 2023.