The new year is finally here, and with it, lots of chances to capitalize on sublimation trends to grow your business. Among them are a stable of trending products and designs that sublimation product decorators can leverage for increased sales throughout the year.
"In 2018, we saw a range of trending substrates and applications that have generated enormous buzz and excitement among product decorators," said Jimmy Lamb, manager of Education for Sawgrass. "Among them are sublimation transfer papers for cotton fabrics and dark colors, substrates that can stand up to outdoor environments, all kinds of creative new drinkware and a renewed focus on home décor."
Here is a look at some of the trending products Lamb recommends for product decorating businesses to explore in 2019.
Sublimation Trends – Cotton and Darks
Sublimation for cotton fabrics has long been a missing piece of the puzzle for product decorators. However, last year, several transfer paper products hit the market that enable those with a sublimation system to print and transfer their digital images to cotton. New transfer media offerings from PrintLAT and FOREVER, along with new Virtuoso Print Manager settings for each, deliver impressive results.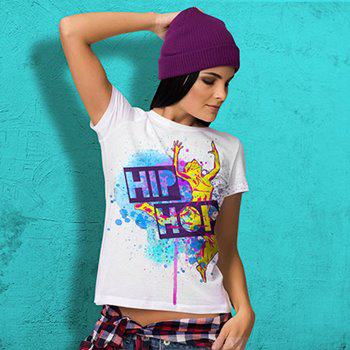 In addition to these new papers that enable sublimation to cotton, there are also new twill and flock media options from Chemica and Poli-Tape that enable customers to create transfers for use on dark and cotton fabrics. This media enables you to print directly onto the flock or twill with your Virtuoso printer and Virtuoso Print Manger, use a plotter to cut around the design and then heat set the transfer to the fabric. Within this process, your designs sublimate for permanent coloration and the final transfer adheres to the surface of the fabric.
All of these transfer media options open up new worlds of products that you can offer your customers—and on their favorite fabric. These are a must-try and a massive opportunity for increasing sales in 2019.
Sublimation Trends – Outdoor Applications
The effects of UV light have inhibited recommended use for sublimated signage or other products for use outdoors. Unisub and ChromaLuxe, really moved sublimation applications forward in 2018 with their lines of outdoor products.
All year, we saw an upswing in the number of products that sublimation businesses offered—everything from outdoor business and event signage to garden stakes, yard signs and decorations, outdoor art installations and home placards.
These will be especially popular come spring and summer for yard decoration, in addition to year-round applications for art installations, exhibits, business and organizational signage, and advertising.
Sublimation Trends – Drinkware
The entire drinkware segment is incredibly popular right now. One reason for this is the demand for double-wall vacuum-insulated tumblers, which keep beverages piping hot and frosty cold for hours on end. We are also seeing many of new types of drinkware, such as clear and frosted mugs, steins and shot glasses, metallic coatings, and even coated stemless wine glasses and growlers (holds up to sixty-four ounces of draft beer).
This growing diversity of drinkware offers many opportunities to creatively bundle products for your customer base or break into the craft brewery/restaurant market. Either way, these are great substrates to try out, build samples of and use to drive new sales.
Sublimation Trends – Sublimated Décor
There are a number of opportunities to offer sublimated products meant for turning a house into a home. You can use your system to decorate baby and throw blankets, sequin pillows and faux-textured pillow cases, welcome mats, hand towels, key and jacket hangers, and many other items people will love to have in their homes—or give as gifts! Even if you have a smaller printer—SG400 or SG800—you can use multiple transfers and presses to imprint larger products, such as blankets and doormats.
What's even better with items for home décor is that there is often demand for personalization, which gives you the opportunity to set premium prices. It costs little to add a name or photo to a product, but customers pay more for the value delivered.
For more information, contact Robin Kavanagh at [email protected] or visit SawgrassInk.com.