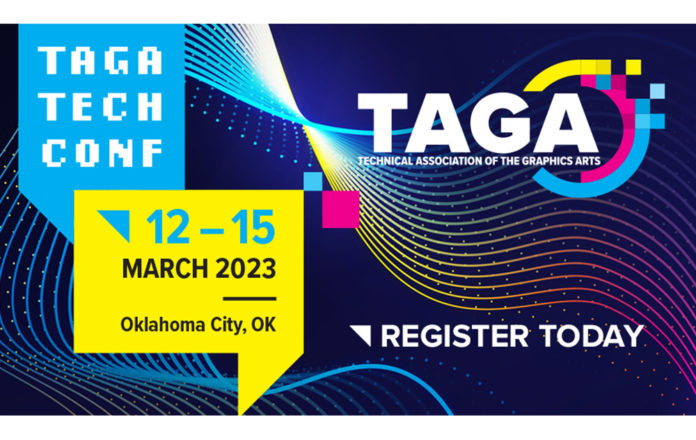 PRINTING United Alliance, the most comprehensive member-based printing and graphic arts association in the United States, has announced that registration for the popular annual Technical Association of the Graphic Arts (TAGA) Conference is now open.
Being held March 12-15, 2023, in Oklahoma City, this premier event recognizes the most prestigious and comprehensive advancements in graphic arts sciences and technologies. Event registration is discounted for Alliance members and available online.
The TAGA Annual Technical Conference is a must-attend event for print executives, especially those responsible for technology and innovation; product managers, scientists, and researchers at equipment and consumable suppliers; research and technical staff at graphic arts institutes worldwide; university professors and academic researchers; and students majoring in graphic communications, packaging, and related fields.
A powerful lineup of education begins on March 12 with speakers Dr. Kate Stone, founder and CEO, Novalia; Dr. Volker Jansen, academic dean, Stuttgart Media University; and Kerry Maguire King, senior director, process innovation for textiles and wallpaper, Shutterfly.
In addition to thought-provoking presentations, companies that received a 2022 Pinnacle InterTech Award will present their game-changing technology during the event.
The conference will conclude with an exclusive tour of Vox Printing, now one of the country's largest producers of quick-service paper goods.
"We are thrilled to gather again with this ever-phenomenal group of technical professionals and students," says Dawn Nye, TAGA managing director, PRINTING United Alliance. "The TAGA Conference represents some of the most brilliant minds in our industry and those planning to attend are in for many days of education, networking, a special commercial printer highlight tour, and so much more. Spaces always fill quickly, so we encourage you to reserve your spot at this wonderful venue."
—Press Release