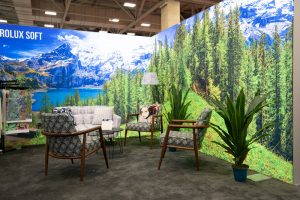 Over the last few years, soft signage and apparel has exploded, driven by an increase in demand from markets such as retail, tradeshows, and home décor. In fact, the World Trade Organization assessed the value of world textiles exported as $315 billion and apparel exports as $505 billion for 2018. Both markets experience the highest rates of growth since 2012: 6.4% for textiles and 11.1% for apparel.
In this article, we take a look at the trends currently driving demand, as well as how COVID-19 has caused sign shops to pivot to new products and applications.
Sustainability
One of the growing influencers on the soft signage and apparel market is the demand for sustainability. "Fabrics with sustainable options have been in the marketplace for a number of years now, but the price point has been high, which has kept them from widespread use," explains Ray Weiss, director of Digital Print Programs, PRINTING United Alliance.
Growing adoption from large companies and brands is helping to change the price point. "Lately, large brands are requiring a sustainable option in their printing (think of Nike and Walmart, to name a couple), which is driving up demand and helping to bring the cost down," says Weiss. "As the costs come down, the acceptance and use across all sectors is going up."
Consumers are also helping to drive up demand. "Consumer demands have pressured brand owners to spearhead sustainable change across the value chain," says Tiffany Hua, research associate at Lux Research, a research and data company. "In the last decade, Lux has seen a large shift in consumer values toward sustainability and solutions that support the circular economy."
Suppliers in the sign industry are answering the call for sustainable options with a number of products. At TVF (recently rebranded from Top Value Fabrics), they are seeing a growing demand for their sustainable products. "For print media, this includes our Deko-Green, which is constructed of fibers made from plastic bottles," says Michael Compton, TVF product marketing manager. "Major brands are requiring Deko-Green due to it's sustainability, 100% recyclability, as well as it being manufactured by our partner—Georg+Otto Friedrich in their state-of-the-art green facilities."
TVF also offers apparel products manufactured with REPREVE® yarns from UNIFI®, which are also made from recycled plastic bottles.
Personalization
Also driving the fabric market boom is the increase in requests for personalization and customization. This is especially true in home décor.
"Personalization is playing a major role in the home décor market. Customers want the ability to customize design elements and colors," says Weiss. "Just looking in the dining category alone, you see that there are napkins, tablecloths, table runners, placemats, and wallpaper just to name a few of the items. Everything is custom designed for extreme personalization."

Apparel has always been a market where customization thrives—think sports team shirts, custom-designed T-shirts, etc. But digital personalization capabilities are on the horizon and no longer relegated to the realms of science fiction. According to Lux Research, smart textiles or e-textiles are a range of products that integrate electronic capabilities into common fabrics that can interact with the environment and/or the user.
"Smart connectivity or sensor integration in apparel can enable dramatic innovations in user experience, including improved wearability, added biosensor functionality, and seamless app connectivity," says Hua. "For healthcare and performance sports, smart connectivity or sensor integration can enable critical monitoring for patients and athletes. These technologies can enable a number of scenarios including patient exercise tracking, athletic training plan optimization, and potential joint injury alerts."
Brands will also be getting in on the move to digital personalization in the future (Lux Research anticipates five-plus years before the tech is commercially adopted), as they find ways to offer consumers a customized experience. "This relationship can be mutually beneficial, as the consumer receives a customized experience, be it through digital sales and ads, mobile apps, beacon technology, targeted geography-based promotions, or engravings, and the retailer amasses consumer data to study and predict consumer preferences and behavior, driving further sales," says Hua.
COVID-19 Effects
It's undeniable that the COVID-19 pandemic has had an effect on the sign industry, and the textile market is no different. According to Andy Paparozzi, chief economist at PRINTING United Alliance, from mid-March through mid-April, sales fell 68.3% for the apparel decorators surveyed. For graphic and sign producers, sales fell 51.9% for the same time period.
"For most shops, it's all about the markets they were serving pre-COVID-19. Those in the medical, government, and food-product labels (packaging) are doing well, while others are at limited production or full stop," says Weiss. "This is a time to look for new markets and/or pivot to new products.
"Many companies on both the apparel and soft signage side have pivoted to masks and PPE production as traditional signage and trade shows are not in demand right now. One exception is social distancing signage, along with business open and curbside delivery signage."
Weiss cites other new fabric applications as shelters, drive-through medical testing, and drive-through restaurant canopies and umbrellas. "And, of course, who has been on a Zoom or GoToMeeting virtual event and wished they had a pop-up backdrop to hide the bedroom closet or other unsightly element?" he says. "Think about other virtual events such as trade shows, gallery exhibits, and concerts where branding and messaging are important. Soft signage serves these applications well."
COVID-19 has also led to an uptick in demand for anti-microbial fabrics, which include an agent that destroys or prohibits the multiplication of bacteria, fungi, parasites, and viruses. The material is ideal for creating separation and divider walls, such as hospital curtains and booth dividers at restaurants. The material can also be used for masks and in retractable banner stands for social distancing messages.
"Anti-microbial fabrics are a better option than Plexiglas or acrylic, as textiles deaden noise. Less time is spent cleaning, and there are no fingerprints," says Weiss. "Anti-microbial fabric is 99.9% effective on bacteria and mildew. You can wash it without taking out the anti-microbial properties, although you don't want to use fabric softener when washing. Dye sublimation or direct disperse are best processes so as not to cover up the properties."
TVF recently announced its new Deko-Tex 7048AMPGFS fabric, which contains an antimicrobial finish and is also Oeko-Tex Standard 100 Class II certified for skin contact, making it ideal for soft signage and non-medical PPE such as masks. "Ideal applications for Deko-Tex 7048AMPGFS include SEG frame separation/divider walls for retail, restaurants, bars, offices, airports, grocery stores, schools, production facilities, trade shows, hair salons, health care facilities, and many more," says Compton.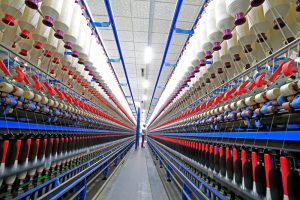 Lux Research foresees coatings, like anti-microbial, as having a medium impact in the textile space in the upcoming year or two. "Functional coatings can help brands differentiate themselves through performance improvements or convenience. Desired characteristics can include stain prevention, odor abatement, increased durability, or pilling prevention," says Hua.
Lux Research also cites hydrophobic and photocatalytic coatings as possibly making an impact on the sign industry. These coatings enable easy cleaning and additional protection of surfaces. "When applied to facades and billboards, the functional coatings can reduce the need for cleaning labor and maintenance," says Hua. "Photocatalytic coatings use energy from light to break down organic compounds, destroying organic pollutants on its surface, leading to a self-cleaning effect. Photocatalytic coatings also fight pollution and smog by neutralizing volatile organic compounds in the air."
When entering a new market or offering a new product, above all else, Weiss says to make sure your customers are knowledgeable about your new services. "Customer education about these and other options that soft signage provides will help attract business that can be profitable for your operation," he says.
By Ashley Bray
Photos (top to bottom): Printing UNITED, Lux Research.