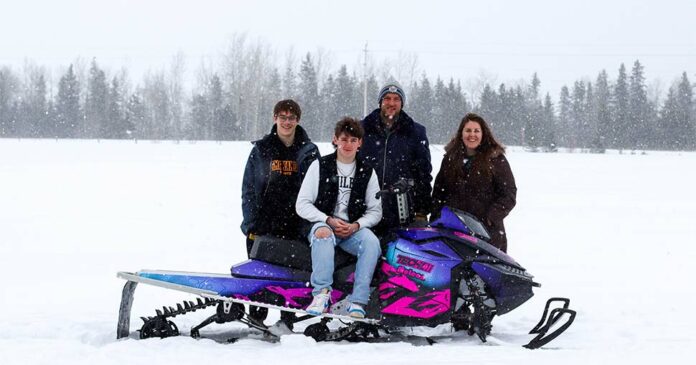 Talented students on the Communications Technology Specialist High Skills Major program at Timiskaming District Secondary School in Ontario have used Drytac Polar Grip Air white polymeric self-adhesive PVC film to complete a challenging vehicle wrap project featuring a snowmobile.
The specialist program was launched at the school in September 2022 and offers students an insight into a whole range of creative markets. A Communications Technology part of the course allows students to learn graphic design, animation, video editing and other technology skills, and then work on their own independent projects at the end of the course.
Keen to test the skills and showcase the talents of the first batch of students on the course, the idea of wrapping a snowmobile was put forward. As outdoor powersports are popular in snowy Northern Ontario, students were excited at the prospect of taking on the challenge.
Teachers enlisted the help of an expert designer from specialist ECD Customs to offer guidance on the project, with students set the task of designing, printing, laminating, and installing the wrap on a 2008 Skidoo Summit.
Due to the unusual shape of the snowmobile, the project required a flexible material that could also stand up to the elements when the vehicle was in use. After speaking with approved Drytac partner ND Graphics, Drytac Polar Grip Air combined with Interlam Pro Gloss were selected for the job.
"We were looking for a strong print material and laminate that could handle our northern winters and stand up to the terrain that vehicles like snowmobiles are subjected to," said Katie Kacur, Specialist High Skills Major Lead Teacher on the course at Timiskaming District Secondary School.
Students used an HP Latex 315 printer and HP Latex 54 Cutter Plus to print and cut all 52 parts of the design to shape, with the final project – the largest of its kind undertaken at the school – drawing plenty of praise from course teachers.
"The colors were vibrant and accurate," Katie Kacur said. "The wrap installed smoothly and went on well with very little experience."