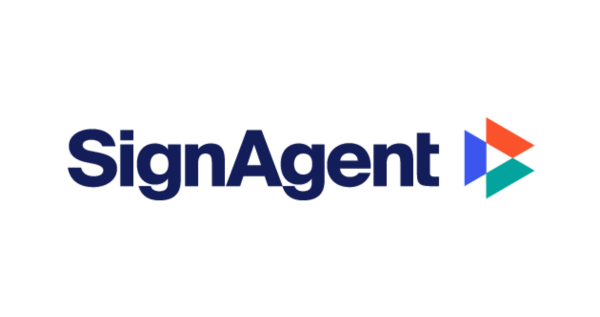 SignAgent officially announced the launch of its newly updated brand identity. The announcement was made at SEGD's Annual Conference, in Washington DC, where the experiential graphic design society is celebrating its 50th anniversary.
SignAgent's rebranding project began in January 2023 with the help of J2, a Philadelphia-based branding agency. The new brand system includes a new wordmark and icon, a tagline, and incorporates three iconic colours to represent the three key functional areas of the company's software platform: design, build, and manage. As part of the project, J2 also created a comprehensive brand guide that SignAgent will use to maintain the consistency of the brand implementation as the company continues to mature.
SignAgent president and founder David Jorritsma (a wayfinding designer by trade) said, "I'm thrilled to unveil our new brand identity today, especially here at SEGD's 50th Anniversary conference. SEGD's experiential designers and wayfinding experts have been among the early adopters of SignAgent. The organization and its membership have been instrumental in our growth and development as a company. So, it's fun to present our new brand in this creative setting."
SignAgent's new tagline is "Lead the way." The logo itself includes a new icon comprising three overlapping triangles which combine to form a single internal triangle that points forward.
SignAgent Vice President of Marketing Communications James Bosma explained the concept: "SignAgent's growing customer base includes three key types of users: architectural and wayfinding design firms, signage fabricators, and facility owners and operators. All of those users play their part in improving people's experience as they navigate the built environment. Our new tagline and icon both play on this theme of convergence: Whatever role you play in the creation, implementation or management of signage, you are literally helping to lead the way forward for hundreds of thousands of people."
The SignAgent platform is a collaborative, cloud-based project management software used for the planning, design, production, implementation, and ongoing management of physical signage and wayfinding programs. SignAgent has been used to manage projects in over 30 countries, including some of the world's most iconic hospitals, airports, transit systems, museums, universities, stadiums, and even major international sporting events. Since SignAgent was launched in the cloud in 2018, over 5.7 million signs have been captured and planned within the platform.
During SEGD's 4-day conference, representatives of SignAgent will be on hand to connect with existing clients, meet new prospects, and join in the organization's various tours, presentations, and celebrations. SEGD attendees are encouraged to visit SignAgent's team at their newly designed trade show booth (Booth #302).