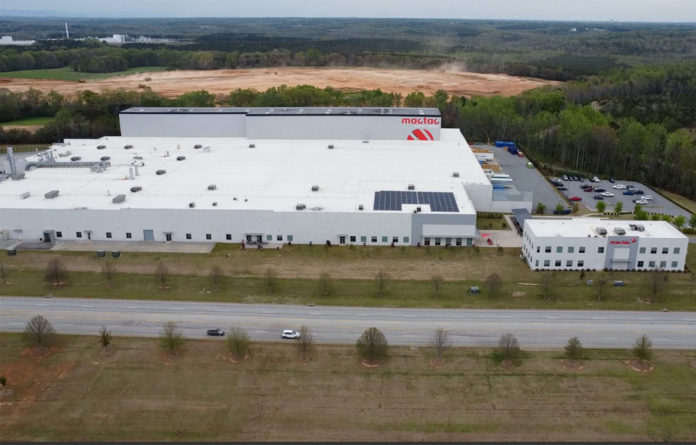 Mactac® Graphics & Signage Solutions proudly announces a new Service and Fulfillment Center supporting North American customers.
The Service Center is located at the Mactac Spartanburg, South Carolina manufacturing plant, which in the past year, has become the most innovative pressure-sensitive graphics manufacturing site in the U.S.
"Mactac is continually making investments that enhance our services and expand our capabilities to better serve customers and the graphics industry," said Dave Browske, Vice President Sales & Marketing, Mactac Graphics & Signage Solutions. "Recent Spartanburg investments include equipment, talent, resource allocation, continuous improvement processes, waste reduction, and other productivity enhancements."
Featuring advanced automation technologies and processes that deliver highly efficient manufacturing and shipping of stock and custom products, the Spartanburg facility is cutting-edge. At 350,000 square feet and spanning 37 acres, it boasts state-of-the-art equipment, including an 80-inch dual hot melt/emulsion coater, a 60-inch dual solvent/emulsion coater, a 60-inch vinyl casting line, five world-class slitting assets, and hot-melt adhesive extruder.
Graphics customers can begin taking advantage of the Service Center immediately.
Mactac and its parent company, Lintec, a global leader in the field of adhesive materials, are committed to advancing the pressure-sensitive adhesive industry and will continue to invest heavily in R&D and operational enhancements that benefit the graphics and signage markets.
—Press Release