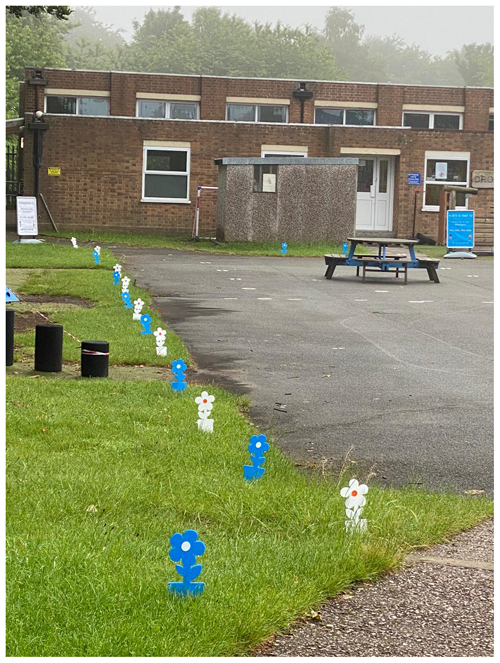 Hillstone Primary School in Birmingham, England recently approached HNS Signs for both innovative and friendly signage solutions to help their pupils adhere to social distancing best practices. HNS Signs is an award-winning, fourth-generation sign writing company that aims to design, produce, and install unique, high-quality signage that is consistent with their client's brand.
With their re-opening for selected years in June, they needed the scheme to be designed, manufactured and commissioned within just a week without compromising on the brief's quality or effectiveness.
"We wanted to create a friendly positive environment for pupils, whilst reassuring staff and parents that we were conforming to government guidance and that the safety of everyone on our site was our top priority," stated Hillstone Strategic Business Manager Kerry Cartwright.
The challenge was to help the one hundred young children to make their way safely into the building whilst maintaining their bubbles. The school decided to do this by telling different classes to go to dedicated gates at staggered times but they still needed to work out how to direct them to their new classrooms.
The Birmingham sign company relished the challenge. HNS Signs Managing Director Michelle Henry stated, "There's been a lot of concern about school's reopening, both in the press as well as in the local community, and we wanted to help prove that it really doesn't have to be such a daunting prospect."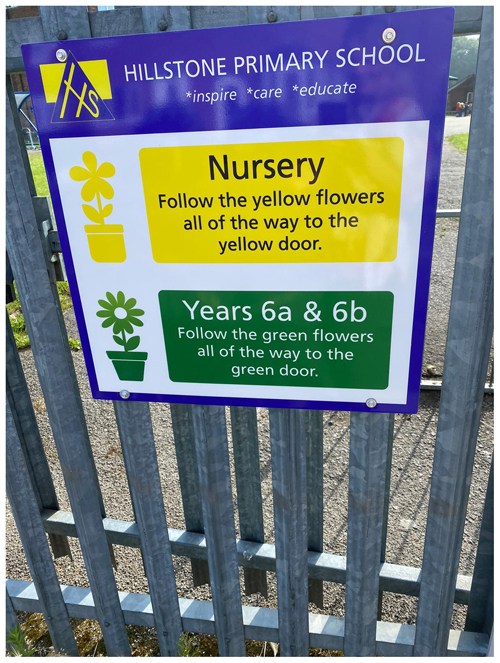 HNS suggested that the class names were placed onto the signs so that forgetful or stressed parents wouldn't need to go to reception to ask. [Michelle] explained "We had already discussed markers for the children to follow, but we wanted them to be cheery for the children. We suggested having different colored flowers to follow. This was then incorporated into the design. We wanted to make it exciting to be back at school, and by being told to follow your colored flower certainly added to that excitement."
The flower markers were laser cut from acrylic on their Mercury 3 Laser Pro. HNS then designed a poster to fit into A-boards to let children know that they had reached their destination.
Both posters and signs were printed by HNS onto vinyl through their Roland XR640 and laminated onto various materials using their Easy Mount hot and cold laminator. This had to incorporate the social distancing guidelines but in a way that young children (some of which cannot read) could understand.
For this, the HNS team reached out via social media to see what parents (and their children) thought would work. Through this consensus and by adopting an inclusive design process it not only help to finalize the design but also helped both children and parents understand the scheme long before returning to school.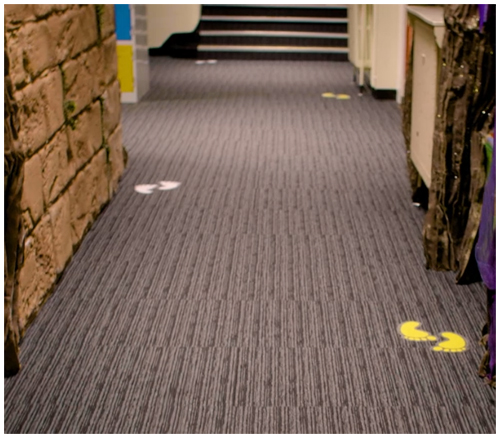 Once the pupils were inside, yellow- and white-colored foot print signage ensure children stayed apart in the corridors. HNS used Hexis floor vinyl laminate to ensure floor graphics were anti-slip and long lasting.
From outside to inside, the scheme has received wide ranging praise. "Michelle at HNS was amazing to work with. She clearly understood our requirements and made positive recommendations about our COVID-19 signage and we've received numerous positive comments from the parents about how friendly and inviting the school looked," stated Cartwright.