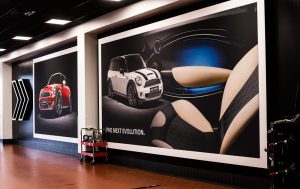 A recent trend among customers is the desire not just to create utilitarian or promotional signage but to use custom-printed graphics to utterly transform interior environments.
And clients today are hungry for innovative, creative ideas for designs, and surfaces that can be customized with printed vinyl and fabric graphics.
Ideas for personalized décor are almost limitless, so it's helpful to categorize them into the types of environments in which they're used.
For residential spaces, advances in printing technology have made it possible to personalize almost anything affordably.
"In residential spaces, imagination is the only limitation," says Dean Lambert, vice president of LexJet. "Printable fabrics have come a long way, particularly in the latex market.
"Designers can work with printers to create customized curtains, pillows, murals, accent walls, or other surface printing. They can match color schemes or original art and reproduce it using print on a wide variety of surfaces."
In corporate settings, custom-printed graphics can transform ordinary workplaces into exciting and inspiring environments. Companies can use printed décor to create consistency among multiple locations and enhance branding in their workplaces.
Custom graphics can also include motivational messages or inspiring artwork throughout a facility. Companies can also incorporate custom-printed graphics into office improvements that are designed to help employees' comfort and productivity.
"Using a window film on glass partitions can add privacy," explains Lambert. "They can implement designs with different characteristics and even reduce noise by printing on an acoustic fabric."
In commercial spaces, printed graphics can set the tone for all kinds of interior environments ranging from retail storefronts to tradeshow exhibits.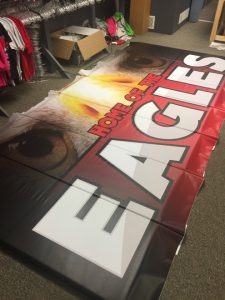 "Many clients are choosing Silicone Edge Graphics (SEG) using specialized fabric," explains Korby Guthrie, vice president of Sales & Marketing at XCEL Products. "Innovative frame designs with custom lighting options create stunning images with a sleek, modern, upscale appearance."
Pitfalls to Avoid
Transforming indoor environments isn't as simple as printing on every surface the customer has available.
Beyond the creativity it takes to transform these environments with printed images, it's also critically important to avoid the common pitfalls that can cost printers valuable time, resources, and money.
"One major issue we've seen is that printers are not doing enough quality control checks before sending printed wallcovering panels to an installer," says Lambert. "Before they roll up and ship the panels, they really need to lay them out and check them, panel by panel, to ensure the color and print sizes are consistent and that the overlap in the seams will be correct once they're installed.
"Double-checking the panels is an easy extra step that will set everyone up for success."
According to Lambert, printers really need to treat the installers as if they were the end customer. "If the panels are not properly QC'ed, it could cause a lot of extra rework and push back the timing of the installation," he says.
In addition to rigorous quality control, product choice is of the utmost importance to ensure the materials you're using to bring the customer's vision to life are compatible with your biggest and most ambitious ideas.
"Hot spots from inferior lighting quality or choosing the wrong fabric and lighting option for the application are among the most common mistakes we see," says Guthrie.
The Materials World
Choosing the best fabric or vinyl materials for the job will come down to weighing several considerations—such as the expected foot traffic in the space, how long the graphics are expected to last, as well as the nature of the environment.
For areas facing significant foot traffic or wear-and-tear, durability and the ability to clean the graphics become significant factors.
"In a commercial environment, you want a long-term commercial-grade PVC Type II wallcovering, like Vescom," suggests Lambert. "They may also want to add a post-finishing to protect the product, like Marabu Wall Armor
Top Coat."
"SEGs are very versatile," says Guthrie. "Fabric graphics with SEG frames provide impressive imagery, are reusable, washable, and cost effective to ship and install."
Another key question to ask include how long the graphics will be used and whether they will need to be removed without damaging the walls, as is often the case in office or residential spaces.
"If it needs to be easily installed and removed, good choices are one-step products like LexJet Print-N-Stick Fabric for wall murals or HP PVC-free Durable Wall Paper, which goes up easily with water since it's pre-pasted," recommends Lambert.
Finally, consider the nature of the environment. Graphics in sensitive settings (such as a hospital) will, by necessity, strike a different "tone" than those in a retail environment.
"Choose SEG frame depth (profile) and light options to match the desired 'feel' of the image and message in the environment in which it is placed," suggests Guthrie. "Soft lighting, bright imagery, or variable lighting all create very different messages for the audience; all are possible with SEG."
Safety should also be a consideration. "If it's a sensitive environment, look for GREENGUARD certifications that ensure the wallcovering is safe for children and the elderly," recommends Lambert. "Look for anti-microbial products like HP PVC-free Durable Wall Paper.
The key is asking these critical questions up front and seeking as much input as possible from the customer about their wants and needs.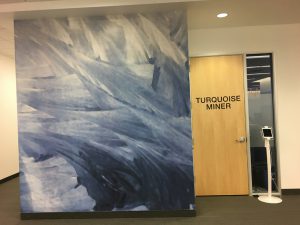 "The final product choice will include decisions like texture and finishes—matte, metallic, sand, mylar, linen, etc.—there are all types of aesthetic choices," explains Lambert. "Ask the client all the pertinent questions—environment, duration, traffic, removal, and desired aesthetic—before choosing the products and the installation methods."
Conclusion
With the right combination of creativity, practical materials, quality control, and excellent graphics, the possibilities for transforming interior environments are limited only by a sign shop's imagination.
Asking your customers to articulate their vision and choosing the best materials for the environment they desire will help to save time and money and prevent costly rework and headaches in the long run.
The payoff, though, can be astonishing; successfully transforming a mundane space into a unique environment is sure to thrill customers.
"Work with a knowledgeable materials provider to get the best substrate for the job and provide technical support throughout the project, if needed," recommends Lambert.
By Jim Cirigliano
Photos (top to bottom): XCEL Products, LexJet, Z Wrap Nation.