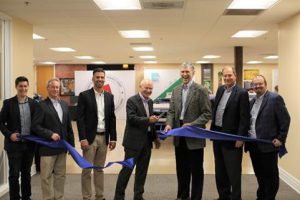 Epson announces that IT Supplies in Chicago has opened its Epson Certified Solution Center. The operational solution center showcases unique Epson printing solutions and applications, with a comprehensive portfolio that includes dye-sublimation, signage, photography, and direct-to-garment printing solutions. This center will allow IT Supplies to provide its customers with the opportunity to engage with product experts and run test print samples using their own files.
"We want to inspire customers to do tremendous things, and are excited to partner with IT Supplies in the first official reseller solution center opening," said John Meyer, manager, Wide Format Channel, Epson America, Inc. "These Epson Certified Solution Centers are designed to showcase the depth of capabilities that Epson has to offer, as well as allow end-customers to realize the full potential of partnering with Epson."
The Epson Technology Center showcases unique Epson printing solutions and applications and provides a comprehensive, hands-on experience for customers and dealers with the full Epson wide format printing portfolio.
This new Epson Certified Solution Center is conveniently located at the IT Supplies' offices in the greater Chicago area. It will provide customers with an immersive experience, including:
Full suite of SureColor® production equipment
Extensive print samples and applications
Comprehensive customer training opportunities
"We are excited to partner with Epson to bring this Solution Center to our customers here in Chicago," said Jeff Lucido, general manager, Commercial Sales, IT Supplies. "Epson offers a wide variety of digital print technology that allows our customers to be successful in their businesses—from small- to wide format inkjet aqueous printers to production-level wide format solvent printers. This new Solution Center will allow us to demonstrate firsthand the benefits of working with Epson technology."
IT Supplies is a full-service printing solutions company that offers everything for the perfect print. Knowledgeable professionals help assess the best solution to fit customers' needs. IT Supplies is a one-stop shop for ink, media, canvas, sign/banner, and more.
For additional information or to schedule a visit at the new IT Supplies Epson Certified Solution Center, visit www.itsupplies.com.