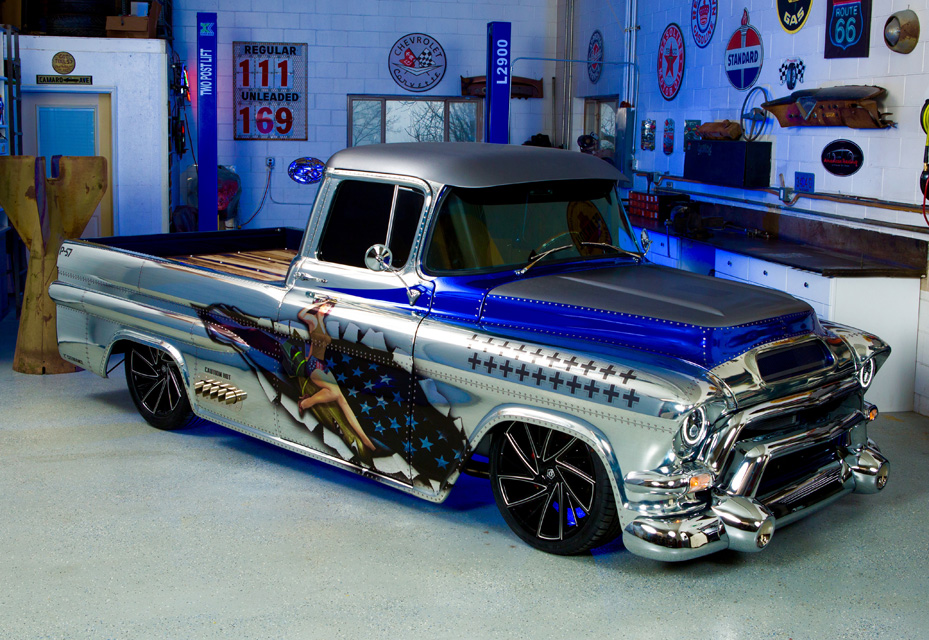 The P-51 Mustang was an American fighter plane that patrolled the skies and fought in aerial combat during the days (and nights) of World War II. This aircraft also served as the inspiration behind a recent custom truck build and accompanying chrome wrap that landed in triumph at last year's Specialty Equipment Market Show (SEMA) show in Las Vegas.
This warplane-on-wheels was displayed in synthetic lubricant manufacturer AMSOIL's booth at the show. It took some barnstormin' collaboration between several vehicle professionals for them to take a little bit of history and make their own history here.
One of the figures responsible for this wrap is Nate Kraus, owner of IVS Wraps in Holmen, Wisconsin. This custom wrap shop focuses on color-change and custom print wraps.
Kraus is also a huge part of the local hot rod and car culture scene. It was while displaying his Tribal Chrome F150 wrap at one such car show two years ago that he met Chris Meyer, owner of Legendary Customs in La Crosse, Wisconsin (a customizer and restorer of classic automobiles). "We had a great discussion about how wraps could be prevalent in the classic/hot rod scene," says Kraus, "and we kept in touch from there. I'd been wanting to do a killer wrap with him for awhile."
This wish became reality when Meyer contacted Kraus in early 2018 with a request to do something special appearance-wise for an only-one-of-its-kind custom-build hybrid truck he was working on for a client.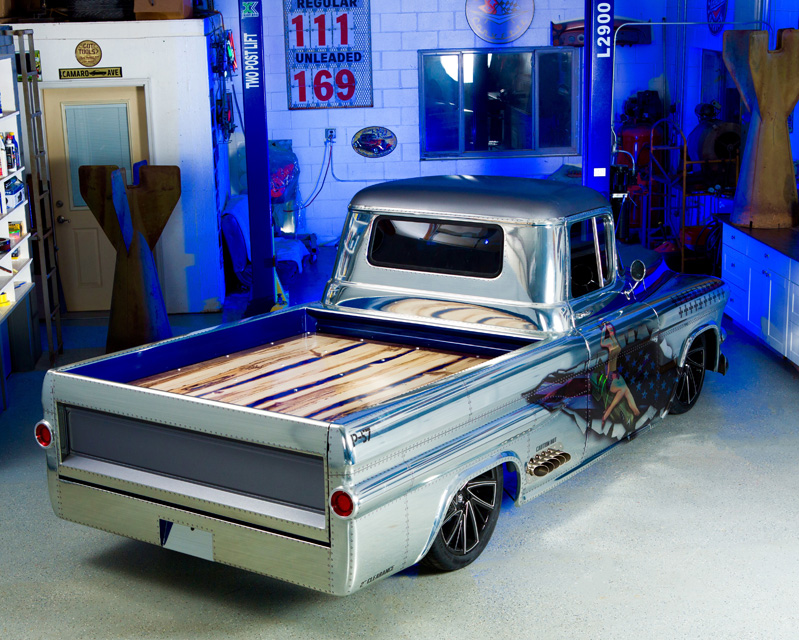 The truck is a combination of 1955-1958 GMC 3100 pickups. "However the bed and the '57 cab were grafted together to create a seamless transition, as well as the addition of a fleet side box replacing the step side box," says Kraus. "And to top off the uniqueness, it boasts a Dodge Viper V-10 engine!"
The custom vehicle was dubbed the "P-57" (the average year of the parts used). The P-57 designation also fit into the theme of a P-51 Mustang, so Meyer's idea was to have Kraus transform its exterior into a warplane-theme wrap. Although deadlines prevented them from being able to work up this idea in time for the annual Avery Dennison Wrap Like a King contest, Kraus plotted a course of action instead for the wrapped truck to take off at the SEMA show later that year.
Kraus is also vice president of the International Brotherhood of Wrappers (IBOW), a training organization in Indiana, so he reached out to IBOW Founder Dan Nava for design help. Nava played a key role installing booth graphics for the AMSOIL booth at SEMA back in 2016 and 2017 and had brought Kraus along with him to help.
Armed with Kraus's idea, Nava worked up an initial concept to present to AMSOIL officials. At this time, the concept for the custom truck was already done. "Fortunately it just happened to fit the narrative of their booth—'American Made Oil,'" says Kraus.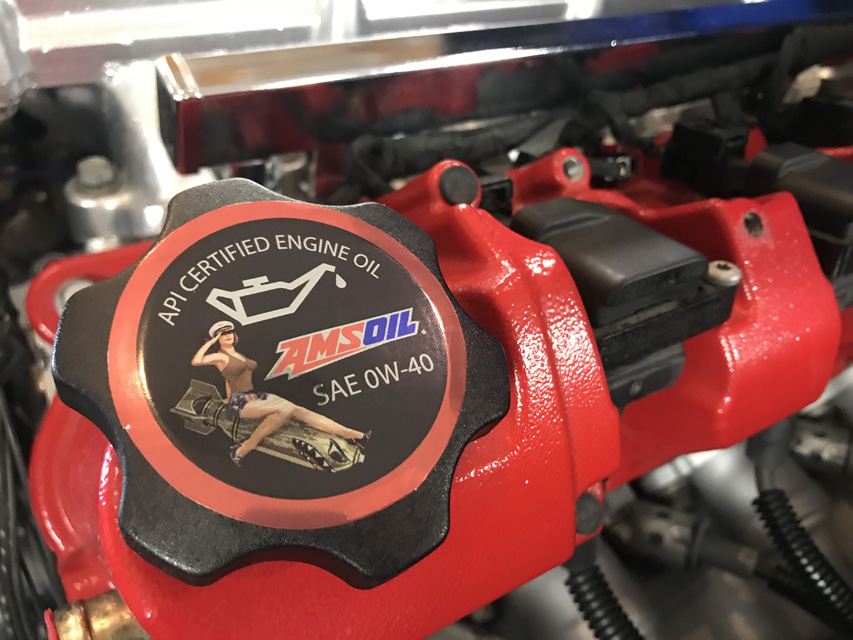 The wrap would transform the custom truck into a '40s-era P-51 Mustang complete with a shiny metal exterior, vibrant color schemes, a U.S. flag, faux-pilot markings of enemy aircraft "shot down," rivets, and pinup art on its sides.
The initial concept won the acceptance of AMSOIL officials and other SEMA sponsors. "This evolved into a second design that would take ultimately 200 hours of work with final concept, creating a template, and providing final output print files," says Kraus. "We had to keep it a secret as long as we could, to prevent it from being duplicated by someone else before SEMA."
Nava used Adobe Illustrator and Photoshop programs to work up the wrap design. A majority of the concept is custom-made. The pinup-inspired art is the only piece of the design drafted from Clip Art. "The tears were drawn in Photoshop," says Kraus. "The flag was drawn in Illustrator and detailed in Photoshop. All the shadows were brushed in instead of standard Photoshop drop shadows. All of the other aspects were custom created."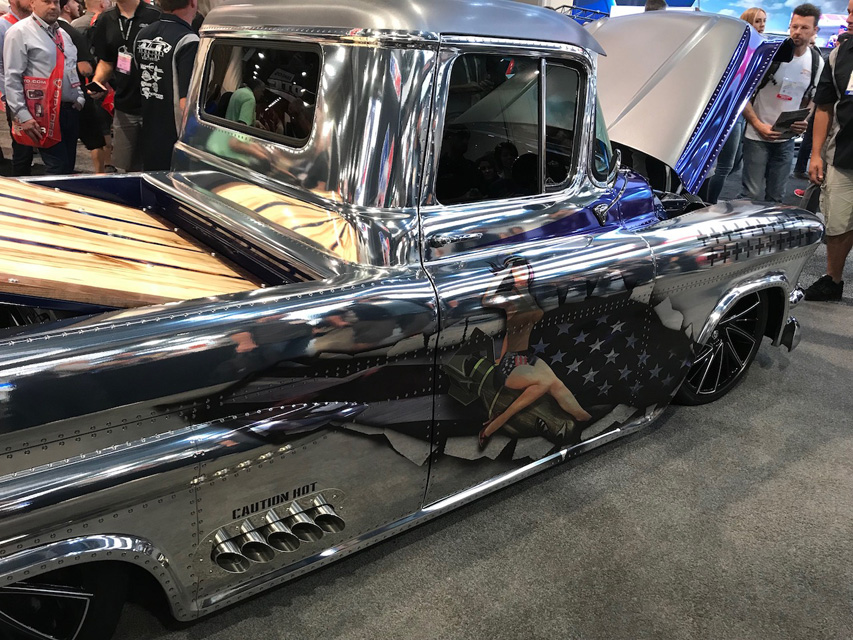 Legendary Customs fabricated the entire truck in-house starting that fall. The P-57 features an all-metal body (no fiberglass whatsoever).
However Kraus and Nava couldn't begin templating the truck until Legendary Customs had completed the body fabrication. Even more challenging—the SEMA show was fast approaching.
Nava traveled to Wisconsin two weeks before the SEMA show to create a custom template for the truck as it was being assembled. The concept was built off of truck images and manipulated in Photoshop.
"Keep in mind that the '57 Chevy cab was being merged with a GMC Fleetside bed and custom-fabricated with no division between the cab and the bed, so there were no exact measurements available," says Kraus. "[Nava] and I spent hours measuring the vehicle with a fabric measuring tape. Then he created a custom template in Illustrator at 1/20 scale."
While the design ended up experiencing some final adjustments before being printed, ultimately Kraus and Nava had everything right. "The challenge of the design was mostly due to not having accurate measurements, as the concept was made months before the truck was built," says Kraus. "[Nava] had to plan ahead with the possibility that things could change or be completely different than we had originally envisioned."
It was only when the truck fabrication was finished and being painted that Kraus was able to template the truck the old-school way using transfer tape and photos.
Bucking the trends of other military-themed vehicle wraps, the goal for this wrapped truck was to make it look brand new. "I've seen several other warplane themes before, but I don't ever remember seeing one that looked straight off the assembly line," says Kraus. "They always look tattered and patina."
Even though the truck was super curvy, Kraus used Avery Dennison Conform Chrome™ film here because of his previous experience printing on it and knowing that it would help him achieve the goal of the off-the-assembly line mirror finish that those warplanes possessed back in the day. "I had built my own print profile for printing on chromes from previous projects and was confident it would get the results I needed," says Kraus.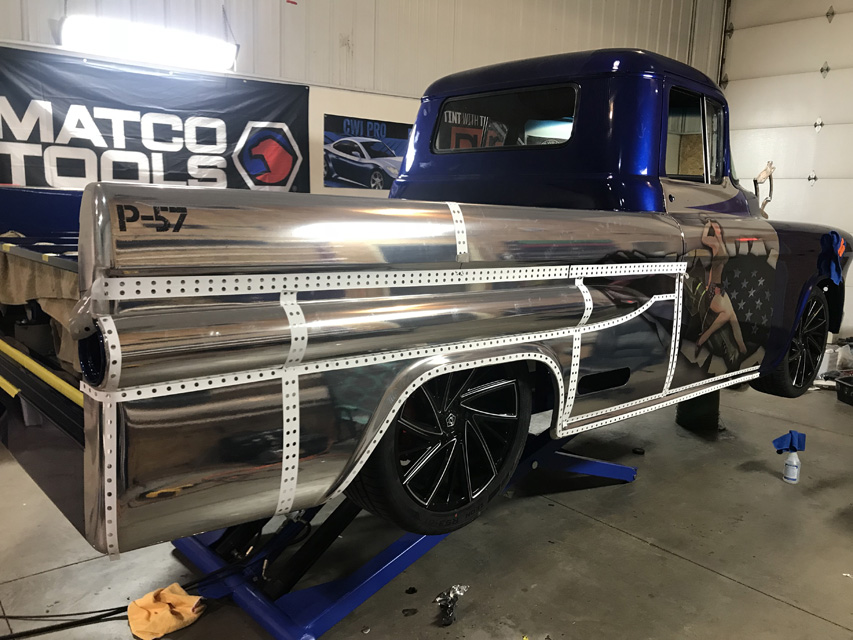 IVS Wraps printed the graphics directly onto Conform Chrome using their HP 365 Latex printer and laminated them with Avery 1460Z. Since Kraus had done several printed chrome wraps prior to this project, he knew how to dial his printer in without an issue. "[Nava] supplied me with print/swatch sample files, and we had positive results within a matter of a few minutes," he says. "After that, we never looked back."
The design is featured on both sides of the truck. Kraus also wrapped the top of the hood, the roof, and the insert of the tailgate in Avery Brushed Titanium material. "I really wanted to accent the truck with something to complement the chrome as well as stick to the warplane theme," says Kraus. "It really broke it up but tied it all together amazingly."
Between test prints to nail colors and printing the actual wrap, Kraus used roughly thirty yards of film. As far as separate pieces, there are fifteen printed Conform Chrome pieces as well as three Brushed Titanium pieces.
Kraus wanted to make the rivets on the wrap look three-dimensional, so after some investigation, he reached out to a company that did decal doming. Nava used Illustrator to design the 3/8-inch rivets with a circle gradient that Kraus sent them to produce the printed "3D" chrome-domed rivet heads. "I hand-applied 6,000 of them to the truck," he says.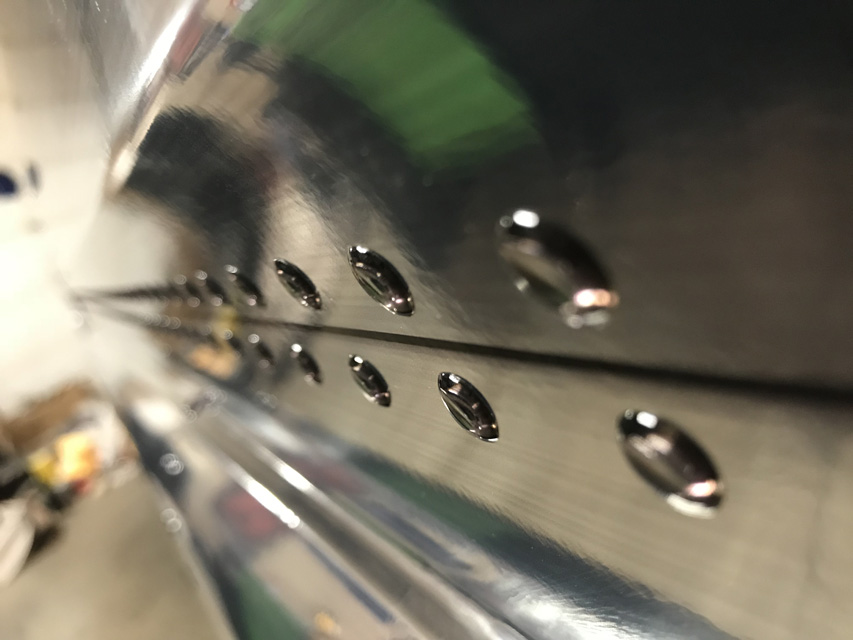 Kraus had to overcome the looming SEMA deadline in order to complete this mission. The truck arrived at Kraus's shop for wrapping on the Monday before the Sunday move-in for this year's SEMA show. At the time, it had no interior, so much of the final assembly took place while he was wrapping it. The vehicle had to be finished and loaded onto a trailer by Friday at midnight to head out for a thirty-two-hour ride to Las Vegas. "To say it came down to the wire is an understatement!" says Kraus.
Kraus performs all his installs solo on a lift so he can put the vehicle in the air to eliminate static pulling dust off the floor. He also uses Yellotools Wrapbar Pro and MagStrapz Magnets a lot during installation. "With this particular design, the placement of the pinup art was key, so I placed that panel first and then work out from there," he says.
Another challenge was that Legendary Customs had fused the cab to the box, so Kraus had to get really creative with the seams for it to still appear seamless. "I was taking scraps of chrome from the panels getting cut down and doing a few different layouts in those challenging areas to visualize what would look best before the actual install," says Kraus. "I'm a firm believer that a little bit of pre-planning can save you a ton of headache when it comes to the installation."
In the end, Avery Dennison named this vintage-yet-new wrap as one of its "Top Five Vehicle Wraps of 2018," and reactions to the P-57 warplane truck have been incredible. "The truck got tons of love from the wrap community and so many guys in the industry I have looked up to, as well as making it on the local news," says Kraus. "The truck owner saw the finished version for the first time at the SEMA AMSOIL booth, and he was quite overwhelmed."
Current plans are for an aggressive travel schedule for the warplane truck this coming car show season. "I am 100 percent happy with the outcome," says Kraus. "Being trusted to pull everything off by the SEMA deadline was overwhelming at times, but I would absolutely sign up to do it all over again."