Interior graphic design has grown recently, and more vertical markets are turning to sign companies for environmental graphic design (EGD) solutions.
According to the Society for Experiential Graphic Design (SEGD) Web site, EGD "embraces many design disciplines including graphic, architectural, interior, landscape, and industrial design, all concerned with the visual aspects of wayfinding, communicating identity and information, and shaping the idea of creating experiences that connect people to place."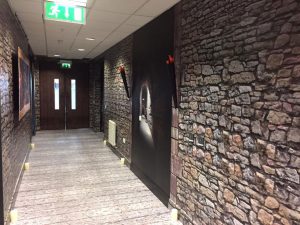 And it's a growing market. "Interior design elements have increased in popularity," says Michael Maxwell, senior manager, Mimaki USA. "Improvements in material and adhesive technology have created an opportunity for public spaces to be refreshed more often with digitally printed graphics."
Maxwell says that hotels, office lobbies, and medical treatment areas are spaces that most frequently request interior graphics. "Creating more inviting spaces are a requirement as people shift more and more to e-commerce," says Maxwell. "[Environmental graphics] are desirable because they can be tailored to a building, floor, or even a single room."
Jeff Stadelman, marketing manager for Mactac, also sees interior graphics being used in a variety of markets. "We are seeing more custom printing being used in hotels, offices, schools, and even residential spaces," says Stadelman. "Restaurants, retail stores, libraries, and much more are often upgrading or refreshing their corporate look.
"This allows for a much more diverse portfolio offering and more revenue opportunities for printers."
Stadelman also sees open offices using interior graphics. "Businesses still want the light and airy feel in the office but are also looking for privacy," he says. "A frosted or dusted window film can help provide both benefits."
Ray Weiss, director of Digital Print Programs at SGIA, cited numbers from the association's Markets and Products Survey, released in quarter one of 2019.
"In the question about markets served, architecture/construction came in at 64.8 percent, and food services (restaurants, bars, cafes, cafeterias) came in at 54.7 percent. So it appears that printers are clearly serving this market space," says Weiss. "Markets that are seeing growth from those surveyed were architecture/construction (56.4 percent), interior decorators and designers (55.6 percent), and health care (hospitals, clinics, nursing homes, pharmacies) (52.5 percent)."
Weiss says that when looking at products offered, banners/soft signage/flags were offered by 84.3 percent of those surveyed and wall/architectural/building graphics were seen as a growing market by 67.4 percent.
"Think back just a few years ago—tradeshow graphics were vinyl or hard surface walls that were expensive to ship and hard to maintain," he says. "With soft signage, the material is much more forgiving and lighter."
To show off the wide array of possibilities in the EGD space at its inaugural printing expo last October, PRINTING UNITED created an "Experience Zone" on the show floor where everything to do with print was on display. "Some of what you saw printed were pillows, chair cushions, wall coverings, lamp shades, window treatments and blinds, and of course, prints on canvas," says Weiss.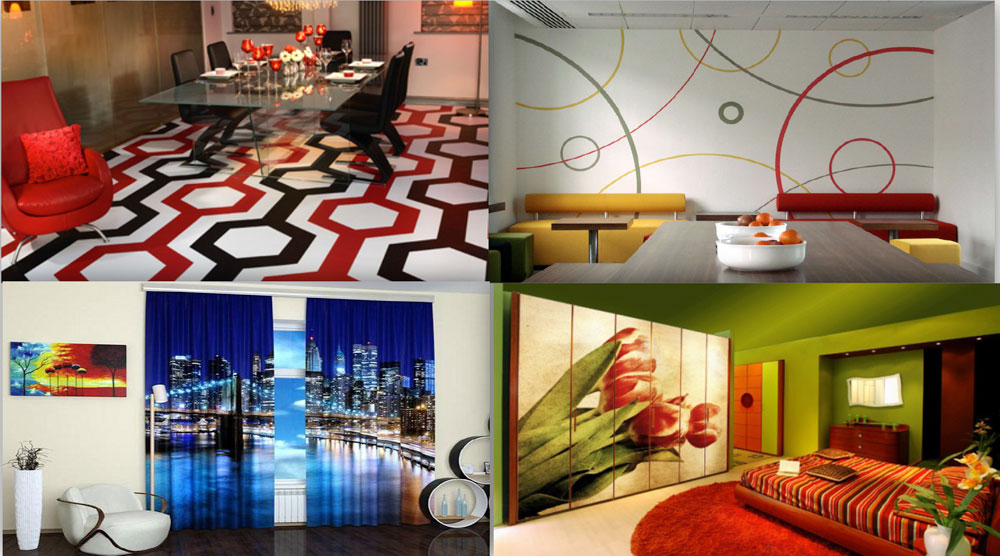 Interior graphics are most frequently found on windows, walls, and floors. "Examples include floor graphics for advertising and wayfinding, decals on walls and windows to bring color or messaging, tinted or frosted windows for sun filtering or privacy screening. Even applications like countertop graphics to remind customers of the latest sale or marketing message," says Stadelman. "The biggest benefit is customization. With digital printing, the ultimate customer can design exactly the right message and create just the right 'feeling' for their intended audience."
Maxwell agrees. "Wallcovering material that is digitally printed gives businesses an opportunity to customize the space very quickly," he says. "Digital printing offers a wider range of colors versus cut-vinyl, painting, or even screen printing to create environmental graphics.
"It's repeatable, meaning every print will be the same as the first (no variation in quality or color), and enables higher production runs in a shorter period of time versus manual production methods."
The quick change out of temporary graphics has led companies to seek out ecologically friendly products. "Ink manufacturers such as Mimaki understand that air quality is a concern with printed goods, so development of inks to meet high standards such as GREENGUARD are important," says Maxwell.
The concern with air quality has led to aqueous printing being a popular option in EGD projects. "Aqueous printing (primarily latex) is a big player in this market just because of the lack of off-gassing that can take place," says Weiss. "Eco-solvent or UV typically need to out-gas and then have a laminate applied to avoid any unpleasant odors that a heavy layer of ink offers. As buildings become more air-tight, the requirements for low- or no- VOC will dictate the type of printing that can be used."
Outgassing and air quality shouldn't be the only parameters considered. A wide color gamut is also important. "Advances in eco-solvent ink technologies offer digital print service providers the ability to use that same technology for indoor prints," says Maxwell. "For example, printers that support orange and light black ink sets offer print shops the option to offer services for traditional interior graphics while serving their existing customer base."
Also take note of how much sunlight the graphics will be exposed to—despite being inside. "In cases where sunlight is prominent, exterior rules apply. In this case, solvent technology provides the most durability with UV-curable a close second," says Maxwell. "Aqueous technologies such as dye sublimation and latex offer the least amount of UV durability."
In a market where deadlines seem to get shorter everyday, turnaround time is key. Maxwell says UV-LED curable printers take the lead on production times.
Aside from digital printers, sign shops also need to choose their media wisely. First consider the type of surface where you'll be applying the graphics. Then confirm whether the graphics will be temporary or permanent, as this will affect removability and adhesive needs. Lastly consider the power of textiles and textured media to transform a space in addition to color and graphics. "People really can customize a space by their messaging, color choices, and media textures," says Stadelman.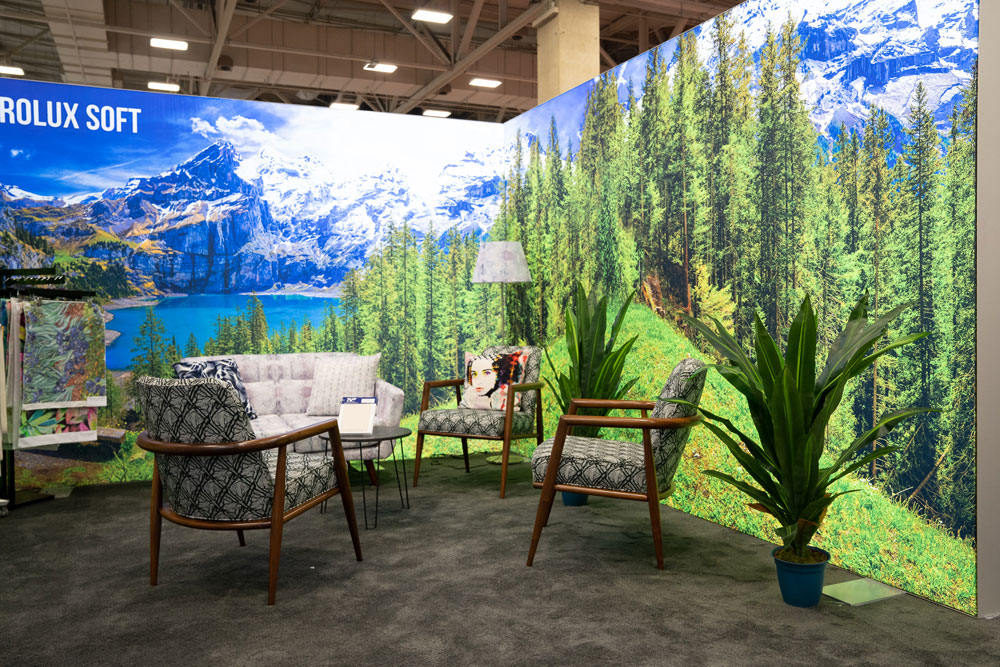 For shops just getting involved in interior design, be sure to stay educated on the trends and printing processes. Turning to resources from sign associations can make a big difference here. Weiss cites SGIA's digital textile community on its Web site and as well as its PRINTERLink platform as good places to ask questions and connect with other printers. SGIA also offers Webinars and workshops on topics like dye sublimation and color management.
It's also important to make sure your existing customers know you offer EGD solutions. "Start by surveying your own customers. Many will have you pegged as doing a particular type of work, and when they need another service, may not even think of you," says Weiss. "Get a good understanding of what your customer base is doing and then let your customers know of your new capabilities."
To drum up new business, talk with your local architects, construction firms, office managers, and school business managers. "They may be in the market for interior design options," says Stadelman, "and the printers can be their perfect resource for choosing the right product."