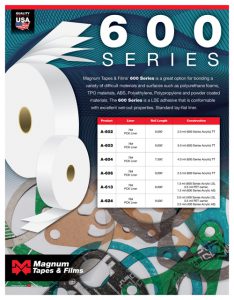 Committed to innovation and taking care of industry demands, Magnum Tapes and Films, part of the Magnum family of brands, is excited to announce recent addition of the 600 Series to their already robust line of high-performance tapes designed specifically for foam bonding. The 600 Series is a solvent-free, low-VOC acrylic adhesive with varying values for adhesion, shear, and tack, allowing the tape to be used on many surfaces and perform in a wide variety of applications.
Magnum's 600 Series is a great option for bonding a variety of difficult materials and surfaces such as polyurethane foams, TPO materials, ABS, Polyethylene, Polypropylene, and powder-coated materials. It is also an LSE adhesive that is conformable with excellent wet-out properties; a standard lay-flat liner.
"We're very excited about now offering our new 600 Series tapes. Our team has listened to what our customers are demanding and we're doing our best to take care of them", said David Wesel, manager of Magnum Tapes and Films.
"Majority of the companies we partner with are looking to make their processes greener and more efficient. That is where Magnum Tapes and Films really shines. We have created the 600 Series to satisfy that demand plus addressing safety with a very low-VOC acrylic used resulting in very low surface energy", he continued.
Magnum Tapes and Films offers a full line of foam bonding PSA Tapes that includes an aggressive rubber adhesive for bonding to polyethylene and polyurethane foams. Configurations are available with both rubber and low-VOC acrylic-based adhesive systems in double-coated and differential-coated constructions.
About Magnum Tapes and Films
Magnum Tapes & Films is a division of Magnum Manufacturing™. Since beginning operations as Magnum Magnetics® in 1991, the company has grown and broadened its manufacturing capabilities steadily, dramatically expanding its magnet manufacturing capacity during 2004-2005 and launching its inks & coatings division in 2014. As North America's largest manufacturer of flexible magnetic products, Magnum has been a high-volume user of adhesive tapes and films for decades.
For more information, visit www.MagnumTapes.com.