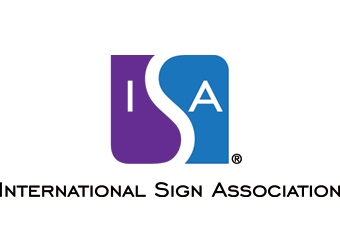 As the sign industry confronts workforce development issues, a record number of companies have responded by committing significant resources to training through the International Sign Association's International Sign Academy. Companies and individuals meeting certain thresholds receive the Quality Training Accomplishment designation.
In all, 86 companies and 46 individuals received the distinction of sign education excellence in ISA's most recent awards. Companies can earn one of four levels of Quality Training Accomplishment awards based on employees' cumulative participation. Individuals accruing more than 15 Professional Development Units (PDUs) also are recognized.
"We have continued to hear about challenges in workforce development in recent years," said Lori Anderson, ISA president and CEO. "ISA has responded with a robust educational lineup and companies have taken full advantage of those courses to help develop new skills for existing employees and train new hires."
ISA offers education through its online training program, which features on-demand courses, and through webinars, which occur regularly throughout the year. ISA International Sign Expo offers in-person training designed to meet the most pressing needs of sign companies.
Quality Training Accomplishment Awards
PLATINUM (76+ PDUs)
*Barlo Signs Hudson, NH
*Broomfield Sign Company, Inc. Broomfield, CO
*Century Sign Builders Pinehurst, TX
*Federal Heath Sign Company, LLC Oceanside, CA
Green Line Media, Inc Burlingame, CA
GOLD (51-75 PDUs)
Blue Rhine Industries Dubai, UAE
*FastSigns International Inc. Carrollton, TX
*Huston Sign and Services Kokomo, IN
*Pearson Signs Phoenix, AZ
*Persona Inc. Watertown, SD
*Poyant Signs New Bedford, MA
*Priority Architectural Graphic San Francisco, CA
*Schlosser Signs, Inc. Loveland, CO
*Western Neon Seattle, WA
SILVER (26-50 PDUs)
*3M Commercial Graphics Saint Paul, MN
*Addis Signs Tucson, AZ
*Advance Sign Group Columbus, OH
*Allen Industries, Inc. Greensboro, NC
*ASI Signage Innovations Grinnell, IA
Automated Display Systems Austin, TX
Best Banner & Sign Rogers, AR
*Bootz and Duke Sign Co. Phoenix, AZ
*Clear Sign & Design, Inc. San Marcos, CA
*CNP Signs & Graphics San Diego, CA
Creo Industrial Arts Woodinville, WA
GraphicLabsTV Helena, MT
*Hupp Signs & Lighting Inc Chico, CA
*Indigo Signworks, Inc. Fargo, ND
*Johnson Sign Co. Jackson, MI
*Lauretano Sign Group Terryville, CT
*N. Glantz & Son LLC Louisville, KY
*On Time Signs Dallas, TX
*Ready 2 Run Graphics & Signs Worcester, MA
Riot Creative Imaging Cleveland, OH
RP Signs Charlotte, NC
*Samsung Electronics America Ridgefield Park, NJ
*Saxton Sign Corp. East Greenbush, NY
*Sign-Age of Tampa Bay, Inc. Clearwater, FL
*Signature Signs & Image Niagara Falls, ON
*Signtech Electrical Advertising Inc San Diego, CA
*SMI Sign Systems, Inc Frederick, MD
*TR Trades Reproduction Ltd Vancouver, BC
*Visible Graphics Canoga Park, CA
Wolfpack Sign Group Vista, CA
*Ziglin Signs Washington, MO
BRONZE (15-25 PDUs)
*A & B Sign Company Incorporated Prescott, AZ
*Aetna Corp. Cambridge, MA
*Affordable Signs Temecula, CA
ALL STAR SIGNS & GRAPHICS Pago Pago, AS
*Amor Sign Studios, Inc. Manistee, MI
Babendure Design Group Dallas, TX
*Baldwin Sign Company Spokane, WA
*Champion Neon LLC Dubai, UAE
*Cima Network, Inc. Chalfont, PA
City Blue Print, Inc. Wichita, KS
*Color-Ad, Inc. Manassas, VA
*Colorado Signworks Denver, CO
Creative Design Associates Rowland Heights, CA
*Duluth Sign Duluth, MN
*Enloe Sign Company, Inc. Aiken, SC
*FSG SignsAustin, TX
Gensler San Francisco, CA
Genti Studios Inc. Dallas, TX
In Mall Media San Juan, PR
*Keyhole Technologies, LLC Casper, WY
*Letter Graphics of Saginaw, LL Saginaw, MI
*Mantis Communications, LLC Rochester, NY
Molto Signs McAllen, TX
*North American Signs, Inc. South Bend, IN
Oklahoma State University Oklahoma City, OK
PR Graphix Logan, UT
*Radocy Inc Rossford, OH
*Ramsay Signs, Inc. Portland, OR
Ross/Luthin Creative Santa Rosa, CA
SEGD Washington, DC
*Sign Masters Yuma, AZ
Sign Post Lincoln, NE
*Spectrum, Inc. Colorado Springs, CO
spirit Oklahoma City, OK
*Star Signs LLC Lawrence, KS
*SummitWest Signs Gilbert, AZ
Tangram Design Denver, CO
TollesonMcCoy Nashville, TN
*Trademark Sign Co Boise, ID
*Turner Signs (2009) Ltd. Calgary, AB
*Van Bruggen Signs, Inc. Orland Park, IL
INDIVIDUAL AWARDS (15+ PDUs)
Jamison Allen AD Systems Austin, TX
*Danielle Anglin Advance Sign Group Columbus, OH
*Thomas Archer Baldwin Sign Company Spokane, WA
*Kyle Burke Huston Sign and Services Kokomo, IN
Steve Estabrooks SMSC Gaming Enterprise Prior Lake, MN
*Jack Floyd SMI Sign Systems, Inc Frederick, MD
Alexander Forman Green Line Media, Inc Burlingame, CA
Kiran Genti Genti Studios Inc Dallas, TX
*Gabriel Griffin Clear Sign & Design, Inc. San Marcos, CA
*Martin Hieb Persona Inc. Watertown, SD
Tim Hodges Oklahoma State University Oklahoma City, OK
*David Holien Persona Inc. Watertown, SD
*Craig Horn Persona Inc. Watertown, SD
*Jim Johnson Johnson Sign Co. Jackson, MI
Anand Joseph Blue Rhine Industries Dubai, UAE
John Joseph Blue Rhine Industries Dubai, UAE
Rahul Joshi Blue Rhine Industries Dubai, UAE
*Chad Kindel Clear Sign & Design, Inc. San Marcos, CA
Olga Kosikova Green Line Media, Inc Burlingame, CA
Alexander Kramer Green Line Media, Inc Burlingame, CA
Ken Krans In Mall Media San Juan, PR
*Linda Levitan Sign-Age of Tampa Bay, Inc. Clearwater, FL
*Shoaib Merchant Champion Neon LLC Dubai, UAE
*Samantha Milburn Huston Sign and Services Kokomo, IN
*Matt Musselman Radocy Inc Rossford, OH
*Ryan Nix Turner Signs (2009) Ltd. Calgary, AB
*Charles Occhino Aetna Corp. Cambridge, MA
*Bill Parfitt 3M Commercial Graphics Saint Paul, MN
*Bruce Patterson Affordable Signs Temecula, CA
*Lisa Peterson Federal Heath Sign Company, LLC Euless, TX
*Mike Peterson Persona Inc. Watertown, SD
*Michael Petrone Mantis Communications, LLC Rochester, NY
*Chris Post Century Sign Builders Albuquerque, NM
*Michael Quigley Sign-Age of Tampa Bay, Inc. Clearwater, FL
*Steven Raniszewski Century Sign Builders Albuquerque, NM
Roberto Repreza Molto Signs McAllen, TX
*Lynn Rodell Keyhole Technologies, LLC Casper, WY
Clive Roux SEGD Washington, DC
Kale Schuenemann Best Banner & Sign Rogers, AR
*Minho Song Samsung Electronics America Ridgefield Park, NJ
*Samantha Stratman Huston Sign and Services Kokomo, IN
*Sam Van Bruggen Van Bruggen Signs, Inc. Orland Park, IL
*Jeff Wallis Signature Signs & Image Niagara Falls, ON
*Mark Wallis Signature Signs & Image Niagara Falls, ON
*Daniel Winchester Ready 2 Run Graphics & Signs Worcester, MA
*David Winchester Ready 2 Run Graphics & Signs North Yarmouth, ME
* Denotes ISA member company