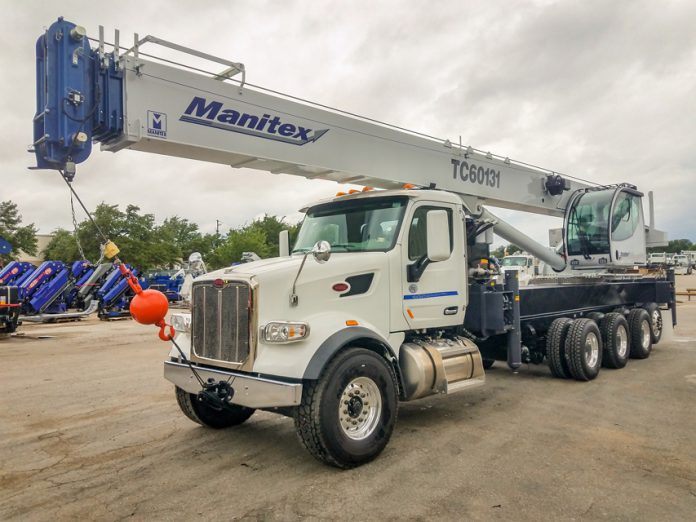 Manitex International, Inc. (NASDAQ: MNTX), a leading international provider of cranes and specialized industrial equipment, is pleased to introduce the TC600, the newest model in the next generation TC-series lineup. The TC600 features a base rating of 60 tons and a maximum main boom height of 141 feet and a 194-foot maximum height when equipped with an optional jib, expanding the company's heavy-crane product offerings.
The TC600 incorporates a four-section boom and offsettable lattice style jib utilizing high strength steel and components providing high strength-to-weight ratio for increased capacities at long radius. The TC600 includes a spacious, high-visibility cab and the advanced hydraulics of the Manitex TC line of lift solutions with increased lifting capabilities. Featuring a removable counter-weight system and uniquely designed trapezoid subframe, the TC600 provides added stability and precision control.
Steve Kiefer, president and COO of Manitex, added, "We are excited to add the TC600 boom truck to our line of products, supporting the industry's growing need for high-capacity machines. Manitex has consistently been an innovator in meeting end-users' needs for equipment delivering high-value, operator comfort, and overall performance. The TC600 is available for immediate sale through the Manitex dealer network, and we are looking forward to displaying the TC600 at the International Construction & Utility Equipment Exposition (ICUEE) in Louisville, Kentucky in early-October and beginning deliveries in the fourth quarter of 2019."
About Manitex International, Inc.
Manitex International, Inc. is a leading worldwide provider of highly engineered mobile cranes (truck mounted straight-mast and knuckle boom cranes, industrial cranes, rough terrain cranes, and railroad cranes), truck-mounted aerial work platforms, and specialized industrial equipment. The company's products, which are manufactured in facilities located in the USA and Europe, are targeted to selected niche markets where their unique designs and engineering excellence fill the needs of our customers and provide a competitive advantage. For more information, visit www.manitex.com.