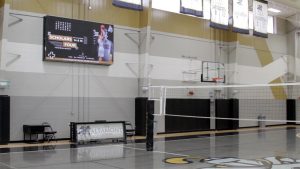 Fueled by price drops and consumer demand for dynamic displays, the digital signage market continues to grow. While EMCs and digital displays are fairly ubiquitous outdoors, they're now becoming more widespread in interior applications as well.
"It is something that is being asked for all the time," says Josh Brasher, president of EBSCO, which recently started offering interior digital signs in addition to its line of outdoor products.
William Kurtzer, president of Gallery Digital Signage Solutions, a division of VCom IMC, agrees. He says the sign shops with the greatest understanding of the technology stand to do well, "If they understand the applications, the benefits, and the content management system, they can make it a very attractive financial proposition."
Deciding on a Display
EBSCO's indoor LED digital displays come in three pixel pitches: 1-1/2, 2-1/2, and 4 mm. Customers can choose between a coated product for displays that are closer to the ground and could be bumped or touched or an uncoated product for those signs that are safely out of reach.
Choosing the best pixel pitch is closely tied to the viewing distance. Brasher says for larger viewing distances, the 4mm works well. He says the majority of what EBSCO will sell will be the 4 and 2-1/2 mm products, with the 1-1/2 mm serving as a premium product reserved for very close viewing where a higher resolution is needed (such as in a conference room).
Gallery offers a wide range of LCD, LED-backlit interior digital signage products. These LCD products are not to be confused with televisions; they are commercial grade and have an average expected running life of over 50,000 hours, plus the content can be distributed and managed across signs at hundreds of locations from one central location. The products are characterized by unique all-in-one hardware systems where the proprietary BrightShow content management system is embedded in the display. Products include a rugged, durable line of displays for high-traffic applications, thin bezel wall mount displays, stand-up kiosk displays, and video walls.
Gallery recently rolled out a number of new products, including thin bezel hanging single-sided digital signage, double-sided displays, mobile signs that run on fourteen- to sixteen-hour battery packs, and stretched display signage for shelves.
Applications & Uses
The uses for interior digital signage vary. "Advertising is number one. Number two is wayfinding. Informational is third," says Brasher.
Popular applications for interior digital signage can be found in multiple verticals.
"The ones that people are most familiar with are menu boards associated with the restaurants, foodservice, hospitality, and directories associated with education, libraries, real estate, healthcare, corporate, and hospitality," says Kurtzer. "Sales and promotions are very, very big, and that's primarily in the restaurants, retail, grocery, and convenience store world. Branding is very popular for video walls as well as big digital signs in the corporate, retail, healthcare, and hospitality verticals."
Kurtzer says hotels also use digital displays for schedule and travel information.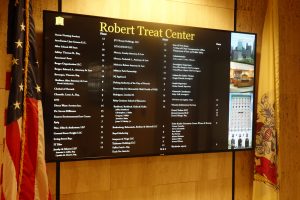 Brasher has seen a growing demand from car dealerships. "Because the price is starting to come down, you're also starting to see dealerships use them in place of LCD televisions," he says. "[With LED digital displays], you get a lot longer life and a lot better quality of the picture itself. And obviously, if people are paying for advertisement, it's important that you're portraying that in the best way possible."
Digital displays have also become a cost-viable option for large churches looking for an informational display to replace their high-end projectors. Brasher says competing area churches will even try to outdo each other by buying a better pixel pitch. "Sometimes 1-1/2 mm becomes the ability to one up the guy down the street," he explains.
Install Know-How
When it comes to installing interior digital signage, placement is key, especially if the displays are used for wayfinding.
"Walk the property with them and look at what they currently have," says Brasher, who says to also look out for places to mount the displays as well as power sources. "What's existing, what walls are where, and what makes sense for what they're trying to accomplish?"
For places without walls for mounting or for clients who want something more portable, freestanding products may be an option, however, most people don't prefer them. "Rarely do we see them wanting to do a portable version," says Brasher. "They really want something that looks mounted, affixed, and permanent."
Since most signs will be placed in high-traffic areas, Brasher says to look for high mounting points—eight feet or higher—to avoid people touching or bumping into the display.
Kurtzer says there are also other things to consider. "One, the access to connectivity issues associated with WiFi or just wiring," he says. "Number two, the lighting impact within the location. Maybe you need a higher brightness type product.
"Number three, which may be the most important (especially in banks and healthcare), you have to understand the potential needs for a non-wired solution." (Note: This relates to customers who deal with sensitive information and need a more secure solution.)
Both EBSCO and Gallery will work with the installer to ensure that the installation runs smoothly.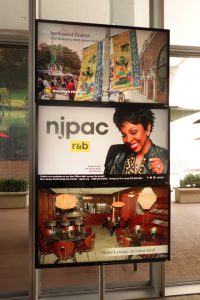 "We work very closely with the sign companies, especially ones that may not be as expert in that field, and assist them on anything associated with the portal installation, the wiring on the installation, etc.," says Kurtzer. "A key thing the installer needs to understand is what is the wiring situation like in the field, how are they going to work with the facilities manager to make sure everything is put in place at the right time, and that there are no surprises when they're putting that thing in from an internet connectivity standpoint."
EBSCO provides a mounting solution with its displays. "It can't be mounted directly against the wall; there's got to be a space between the back of the LED and the wall because we do need airflow back there," explains Brasher, who cautions to also be aware of what's behind the wall and what you'll be mounting to.
On a final note, teaming up with a company that offers support—online, over the phone, or both—will ensure that the sign shop and its customer have peace of mind and a place to go for answers.
By Ashley Bray
Photos (top to bottom): EBSCO, Gallery Digital Signage Solutions, Gallery Digital Signage Solutions.