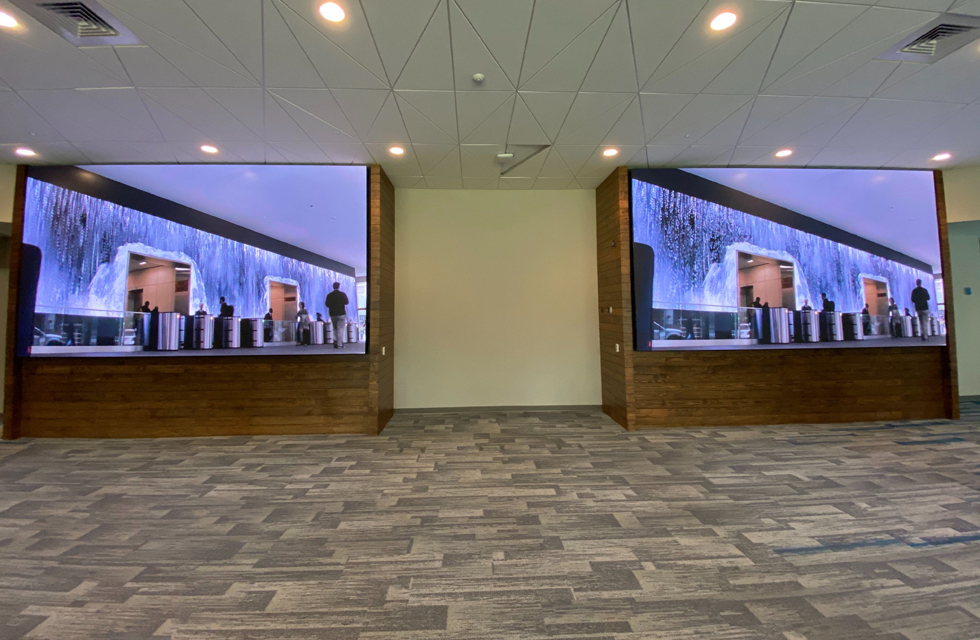 SNA Displays recently partnered with world-class A/V integrator Baker Audio Visual to manufacture and install a pair of BOLD™ interior LED displays for SMC3's newly built corporate headquarters in Atlanta. The two high-end video walls will be used to help showcase the company's products, train employees, and host corporate events.
That the company could have a conference call in a full room while still allowing everyone to participate, even those in the back of the room.
While video walls are sometimes built to fit an existing space, in this case, SMC3 consulted with Baker AV during the design phase so that the room could maximize the benefits of the attention-grabbing displays. This unifies form and function while demonstrating the wisdom of having a clear vision and communicating it to the design team.
"Because we were brought in so early during the design process, we were able to design architectural components around the technology in some cases, not the other way around," said Jacob Dylan, project executive for Baker AV. "The main reason SMC3 chose SNA Displays' direct-view LEDs for its new video walls is they wanted a high-quality system that would support their needs into the future. We lead with SNA Displays for just about everything. Baker is a super family-oriented company and SMC3 is part of our extended family. When you get someone you really care about as a customer, you go with a company you really trust."
Both displays are part of a fully integrated audio-visual system within the Training Room, which includes complete audio reinforcement with ceiling-installed microphones as well as wireless mic solutions.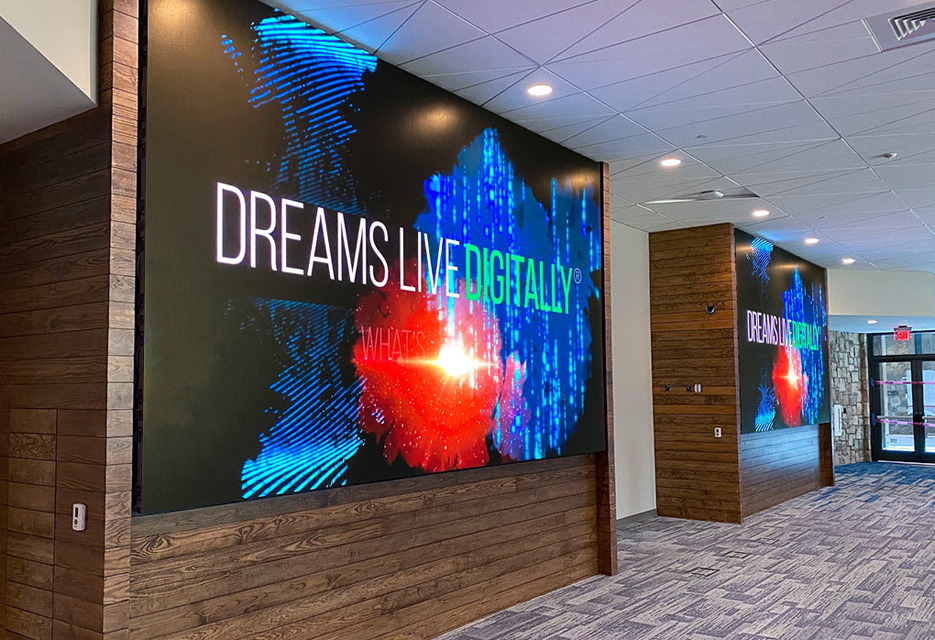 Each LED video screens is 8-feet-10-inches high-by-15-feet-9-inches wide and employs a 2.5 mm pixel pitch, providing both displays with a high-definition (HD) resolution of 1,080 pixels high-by-1,920 pixels wide. Combined, they contain more than four million pixels.
SMC3 has eighty-five years of experience supporting the complex niche of LTL transportation with technology solutions. Shippers and 3PLs use SMC3's technology tools to optimize their freight spend, achieve unrivaled shipment visibility and streamline their transportation planning, while carriers turn to the company for costing solutions and other innovative products.
For more information on the high-resolution LED displays at SMC3's new corporate headquarters, visit www.snadisplays.com/projects/smc3.
About SNA Displays
SNA Displays brings creative visions to life by building high-end digital displays as vivid and dynamic as the imagination. SNA Displays employs a team of SNAPros®—engineers, skilled project managers, systems experts, installation managers, and support staff—whose mission is total project satisfaction.
SNA Displays is headquartered in Times Square and has worked with clients to design and build some of the largest and most recognizable digital spectaculars in the world. Discover how Dreams Live Digitally® at www.snadisplays.com.
About Baker Audio Visual
Baker Audio Visual, established in 1953 and based out of Atlanta, Georgia, is one of the nation's longest continually operating audio/visual companies. They operate in various market sectors such as sports & entertainment venues, corporate, higher education, and hospitality. Baker Audio Visual is a full-service firm, with the capabilities to design, build, and support A/V projects of all sizes and varying design criteria. For more information, visit www.bakeraudiovisual.com.
About SMC3
With more than eighty years of history supporting a complex transportation niche SMC3 is a leading less-than-truckload (LTL) data and solutions provider to help optimize LTL freight transportation across the supply chain. To learn more, visit www.smc3.com.