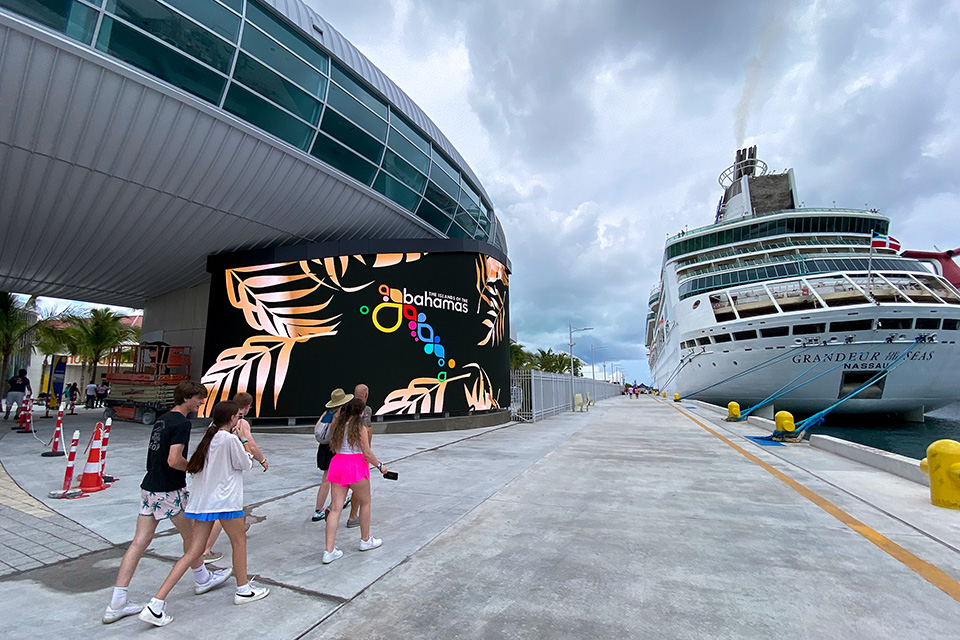 As part of a massive four-year revitalization project to upgrade and expand its port system, Nassau's international cruise gateway Nassau Cruise Port (NCP) added two large format LED video displays to the highly trafficked port area. Now the second-busiest cruise port in the world, the enhanced NCP can accommodate up to six cruise vessels, including three of the world's largest Oasis-class vessels simultaneously—a daily capacity of 30,000 visitors.
Both of the new large format LED displays were built from SNA Displays' EMPIRE™ Exterior line of video display technology. The screen at the Nassau Port arrivals gate is twenty-two feet tall and forty-five feet wide (1,008-by-2,064 pixels).
Directed at cruise ship passengers to welcome guests as one of their first touchpoints on the island, the arrivals LED display features a curve with a nine-foot radius to follow the building's façade.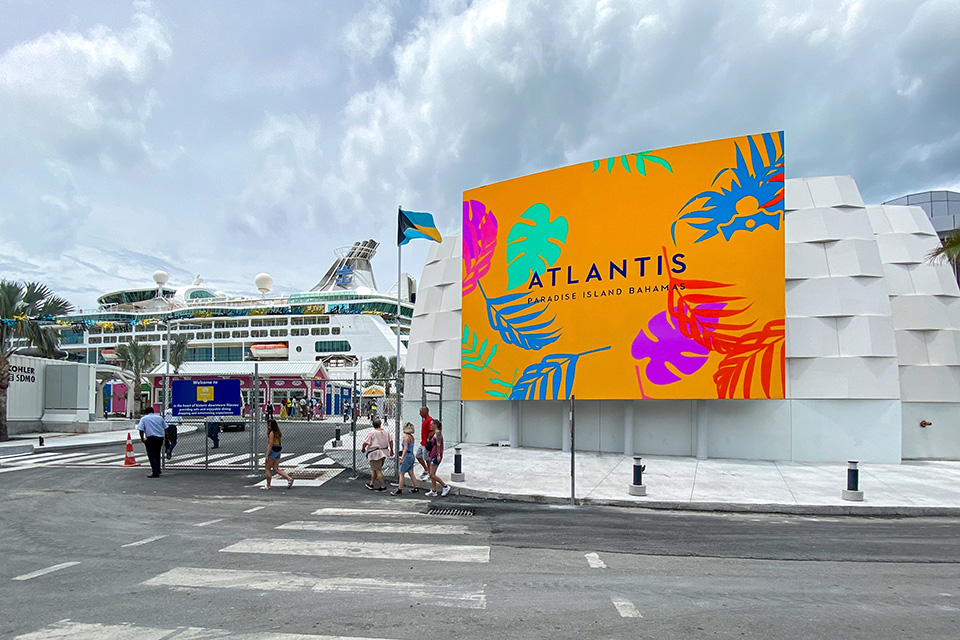 An additional LED video display measuring 22-feet-10-inches-by-29-feet-5-inches (1,044-by-1,344 pixels) was installed on the façade of Nassau's newly built Educulture Junkanoo Museum in the port city's downtown area. Video content on the screen largely reflects the museum's emphasis on honoring Nassau's culture and heritage.
"This project really highlights the versatility that large format LED displays provide," said Jason Helton, executive vice president at SNA Displays. "In this case, the displays not only show creative content that welcomes and wows guests as they arrive and depart the cruise terminal, but they're also being tasked to provide additional services like wayfinding, out of home, community-focused content, and engaging visitors with wow-factor anamorphic video."
Eastern Sign Tech provided installation services at both display locations.
The passenger terminal upgrade and overall enhancement to the arrivals plaza is expected to be completed by 2024.
—Press Release