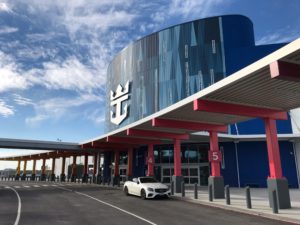 For years, Sign Builder Illustrated has annually honored a handful of young sign makers in the industry with a feature in the magazine and some additional website content that highlights their work.
Past young sign makers that we've spotlighted have gone on to become leaders at large companies, top designers, successful salespeople, and more. However, this year, we decided to add a competition element to the mix, rather than selecting a group of young professionals to feature as we had in the past.
So we created the Top Young Sign Makers competition. We received forty-five nominations from nominators all over the world who submitted three images of their nominee's work from the past year with a short description of what makes them a Top Young Sign Maker.
Images of signs for brands from Coca-Cola to Royal Caribbean flooded in, along with anecdotes from managers, co-workers, owners, family, and friends. It wasn't easy, but we chose three under-forty professionals in the sign industry who are making waves and breaking ground to take home our inaugural Gold, Silver, and Bronze awards this year (along with two honorable mentions).
Gold Medalist: Julie Quiñones, 35
Manufacturing Operations Manager – Comet Signs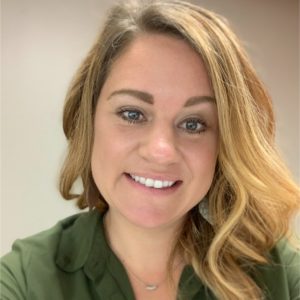 Julie Quiñones often runs the show during big projects at Comet Signs as the Manufacturing Operations Manager. She's worked her way up the ranks using her work ethic and versatility to become a leader in the workplace.
"She leads production teams including assembly, print and vinyl, and logistics," says Mikal Harn, Chief Operating Officer, Comet Signs. "Her leadership skills and ability to deliver great projects is invaluable to the success of our business and to Comet Signs customers."
Quiñones developed her work ethic as a child on her family's farm in a small town, where her father told her and her siblings that they had to care for the family property (including many farm animals) daily, even as kids.
"My parents are the sole reason for my work ethic and determination. My father taught us the value of a dollar, hard work, determination, and having a 'no excuses' attitude," says Quiñones. "He always said we couldn't eat until our animals were fed; we had to do our chores before we were able to hang out with friends or have any kind of fun. I'll admit, at the time, I wasn't happy with these rules, but hindsight is 20/20. Now I realize I was learning life lessons that would set up my future."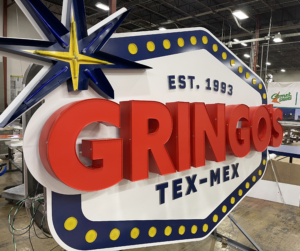 Her professional career started as an HR manager at a small family business. She moved on to work for Comet Signs in San Antonio, Texas in a similar role, but the company quickly realized her value.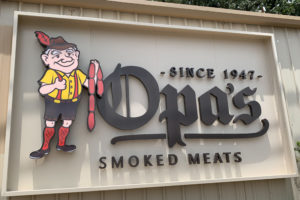 "I've been able to grow significantly with Comet, moving from HR onto the production floor as a Manufacturing Coordinator. There I gained extensive knowledge of our sign manufacturing process as well as logistics," she says. "From there, I continued to grow into my current role as Operations Manager. I oversee the custom side of our business including fabrication, paint, assembly, digital print, and vinyl and continue to manage the logistics department."
For Quiñones, the only way is up!
Silver Medalist: Elizabeth Arenella Toynes, 38
Co-Founder – Studio Dzo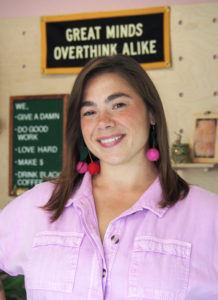 Elizabeth Arenella Toynes was raised in an entrepreneurially motivated home as her father was running his own sign shop while his wife, an attorney, ran her own firm.
"Growing up, my dad owned one of the larger sign companies in Austin, Texas. It's what's known today as FSG Signs. I grew up in that shop. If you've ever had an entrepreneur for a parent, you know that you get pretty involved in the business," says Arenella Toynes. "I've definitely done just about everything in a sign shop or have at least seen it done. I had every poster framed with huge custom frames built at the shop. I had vinyl all over my car [laughs]. I grew up around all of that."
In her early twenties, Arenella Toynes swore off the sign industry because she wanted to blaze her own path. This led to acquiring a Class A Barber license in the state of Texas to put herself through college to study accounting.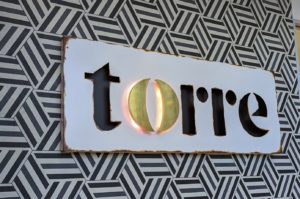 Her first job after college was at a tech startup that grew quickly. This led to her moving on to work for none other than a child fashion prodigy.
"My boss was thirteen years old!" says Arenella Toynes. "Isabella Rose Taylor was the designer. She was the youngest to ever have a New York Fashion Week runway show. I was there for that, and it was a really cool experience," she says. "What I took away from that the most was that you can run a business successfully and not be so serious. You can take a different approach to it, and everyone in the company can be a lot happier that way."
Her next big role would be co-founder of Studio Dzo, which was initially a signage project of her father's that he quickly realized he wasn't willing to handle. Elizabeth decided to take over the business with her husband, a talented graphic designer in his own right.
Six years later, Studio Dzo is handling massive projects for large companies like Indeed, while also leaving their mark across Austin small businesses like Cute Nail Studio.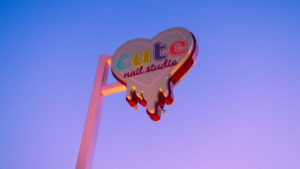 "We came together with a goal to disrupt the sign industry a bit and put our own stamp on it. A lot of the people I work with today, I grew up with at my dad's shop. They're all over the country now, but we get to come together for events and jobs," she says. "My husband's passion for design is strong, and what we've done is bring design front and center.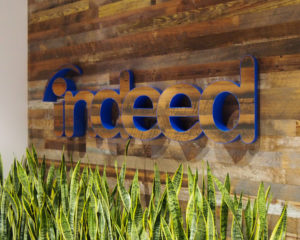 "We don't do construction bids; we don't work in that capacity. We work with architecture firms and interior designers. We bring the brand to life because we understand the importance of that brand."
Bronze Medalist: Zac Bethel, 32
Senior Sign Maker – House of Signs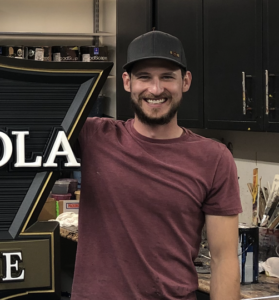 Zac Bethel and the team at House of Signs in Silverthorne, Colorado pride themselves on offering one-of-a-kind dimensional signage that withstands and shines in the extreme weather conditions of the state. Bethel, who got his start working at a shop in St. Louis that specialized in vehicle wraps, has become the shop's leader with his CNC designing and production skills.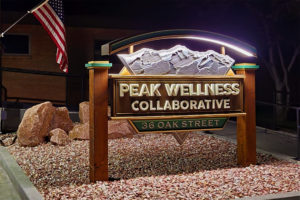 "We specialize in carved 3D signs, so not necessarily like the channel letters or the light up cabinet signs that the majority of sign companies are doing. We use a special high-density urethane material for our signage because we're at 9,000 feet up here. As opposed to wood, it doesn't shrink or grow in hot and cold," says Bethel. "Colorado is known for having four seasons in one day, so the temperature can go from zero degrees to fifty in a matter of hours. There's snow sitting on our signs all the time. Once upon a time, this company used wood, but we now specialize in CNC and 3D modeling."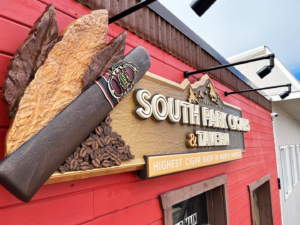 So how did Bethel become a CNC expert? Well, to put it simply, he was taught by a legend.
Periandros Damoulis, a world-renowned Greek dimensional signage designer, worked at House of Signs on a special work visa for ten years. For three and a half of those years, he took Bethel under his wing.
"He changed the game for House of Signs with his knowledge of CNC work and 3D modeling and design. He taught me all of his secrets and skills and trained me to take over the shop," says Bethel. "He's been gone for about a year and a half, but he still does 80 to 90 percent of our design work for us from overseas. The first three years of my career here, I was by his side every day."
Bethel is now involved in most elements of sign design and production—from beginning design phases to CNC milling to custom painting. His work led House of Signs Owner Paul Clukies to nominate him for this award.
"We take pride in using all water-based acrylic paints instead of oil-based paints. It's just safer and better for the environment," says Bethel. "I like to say that our signs are definitely one of a kind. We don't see too many people producing the products that we make."
Honorable Mention: Corey Shano, 32
Project Manager/Vice President – Associated Sign Company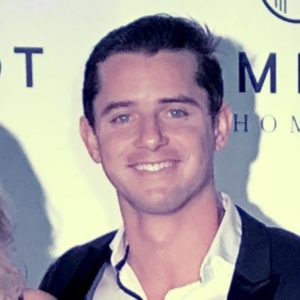 As vice president of Associated Sign Company in Phoenix, Corey Shano knows what needs to happen to take a project from design to installation. From installing indoor and outdoor signage on an entire 300-unit apartment complex to branding athletic facilities for Arizona high schools to a comprehensive makeover of a restaurant, Shano and his team get the job done. He also implemented a business management software system at the company to improve efficiency at the shop.
Associated Sign is known in the area for taking on wide spanning projects that include different combinations of both indoor and outdoor installations, so their offerings and relationships with vendors are key to continued growth. This is an element of the business Shano prides himself on, and he hopes to continue to build the shop's relationships.
Honorable Mention: Brittany Gacsy, 36
Executive Director of Project Management – Sign Producers Inc.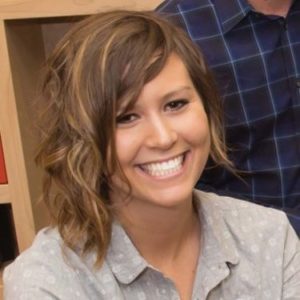 Brittany Gacsy and her team at Sign Producers Inc., in Orlando, Florida zeroed in on the flourishing amusement park market in Orlando and have become experts in the amusement park signage realm as a result. Gacsy's projects start at a very broad level and then get finely tuned with her team as the discovery process goes along.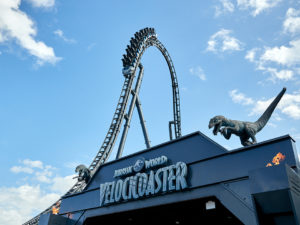 "Typically we receive a loose design from the owner, and we are tasked to design, fabricate, and install. On both the Velocicoaster and Super Nintendo World installations, I was operating as the design and project manager, and often times, a creative liaison as well," says Gacsy. "My role is to bring a concept to reality to enhance the story and provide guests with a sense of arrival when they embark on their adventure. Through innovative techniques and fabrication strategies, we were able to help bring these brands to the masses."