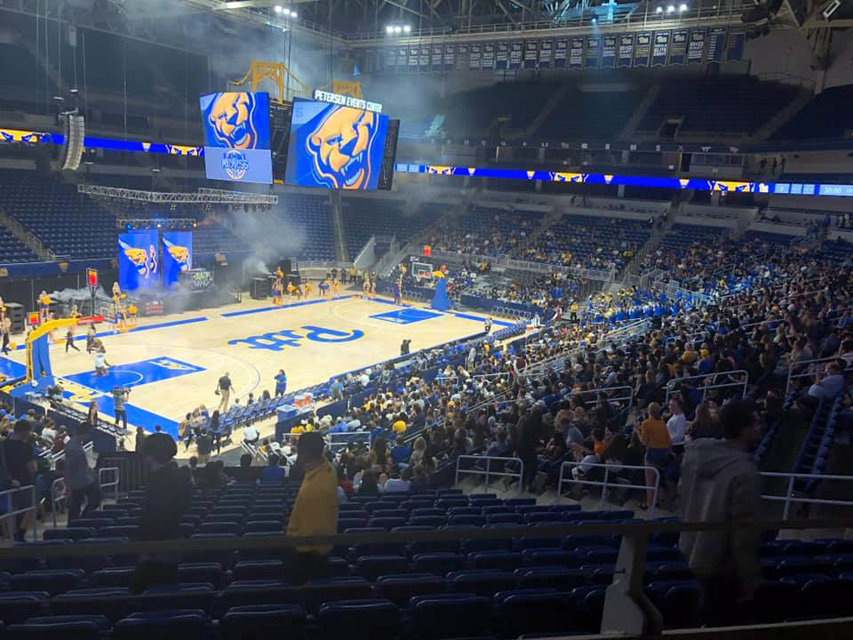 The University of Pittsburgh in Pennsylvania recently upgraded to new LED display technology and identity-type signage at multiple athletic facilities on its campus—Fitzgerald Field House (volleyball), Ambrose Urbanic Field (soccer), and Petersen Events Center (basketball). The latter venue actually hosts the first collegiate center-hung Daktronics LED video display in the country that features less than 4-millimeter LED line spacing. It also sports a host of creative dimensional components complementing (and adorning) it.
The Petersen Events Center center-hung features four outward-curved LED video displays that are attached to a behind-the-scenes rectangular framework. Each display boasts 3.9-millimeter line spacing, as all four screens combined total eight million LEDs. The sideline-facing displays each measure approximately 15 feet high-by-28 feet wide, while the end-line-facing displays each measure 15 feet high-by-16.5 feet wide. In addition, two end-wall displays inside the facility feature 10-millimeter line spacing and measure 16.5 feet high-by-31 feet wide.
According to Daktronics Sales Representative Scott Willson, this is actually the fourth center-hung that his company has manufactured and installed at the Petersen Events Center. "Much of the design [for this new project] was selected by the university to fit their specific needs," he says.
The display made its in-action debut this past fall (just in time for the tip-off of the Pitt Panthers basketball season). Content enjoyed by those in attendance includes live video, data and statistics, graphics and animations, and sponsorship messages—all managed as either one large image, multiple zoned images, or data frames through the Daktronics Show Control system.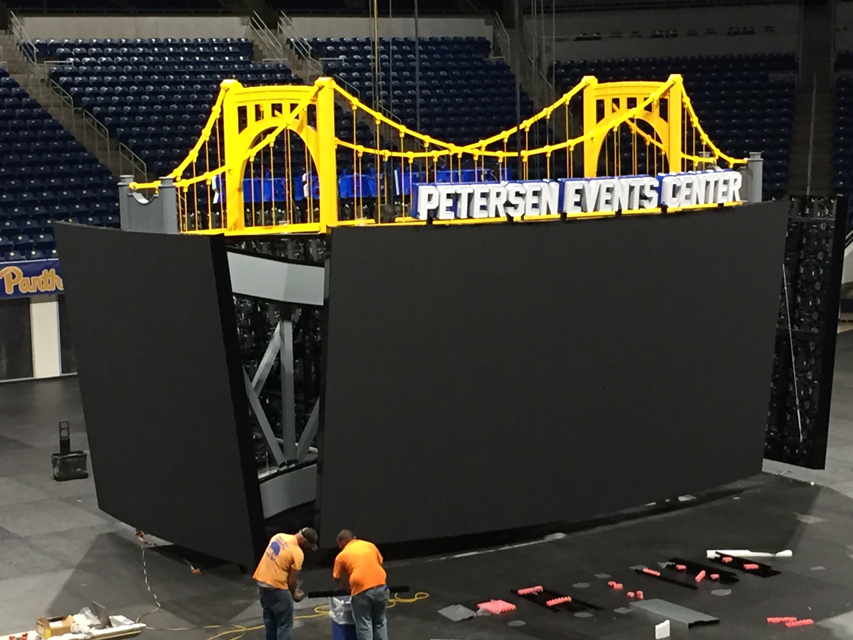 The less-than-4mm line spacing on the center-hung provides significant advantages for how the pictures and images appear on the display. "The tighter pixel spacing brings higher resolution and better image quality to all the content shown on it," says Willson. "This makes for a better experience for their fans and also a better overall presentation for sponsors. [And] the displays' dimensions and design provide a unique aspect for the university to connect with their brand and style."
The company in charge of managing the production of the LED display was Masstar Signs, a full-service company out of Greenville, South Carolina. Masstar Signs also ended up doing signage for all three facilities, including vinyl wall and sideline graphics, seven-foot-tall "Pitt" channel letters (located on the bottom of the scoreboard, and an LED internally illuminated panther head logo made from polycarbonate and an aluminum framework. "The Pitt Panther head was our 'signature mark' for the entire project. It created a lot of attention and feedback about being a focal point of the project," says Masstar Signs General Manager Lee Stegall, noting that each of these projects required extensive fabrication and multiple Matthews Paint colors.
Over the past twelve years, Masstar Signs has completed multiple signage and iconic branding projects for universities throughout the country. "We excel in custom projects that require significant design and fabrication components, and this [one] included multiple elements," says Stegall. "So we were confident that our teams would be able to successfully complete this project."
(Note: The sign company worked closely with Sheldon Malcom of Daktronics in managing this project throughout.)
Masstar Signs was in charge of evaluating the conceptual drawings of the overall project that were supplied by A/V consultants Anthony James Partners of Richmond, Virginia. "Our goal is to take the consultant's conceptual ideas and 'fabricate them into life' for a successful installation," says Stegall. "The conceptual drawings provided to us were impressive and well thought out."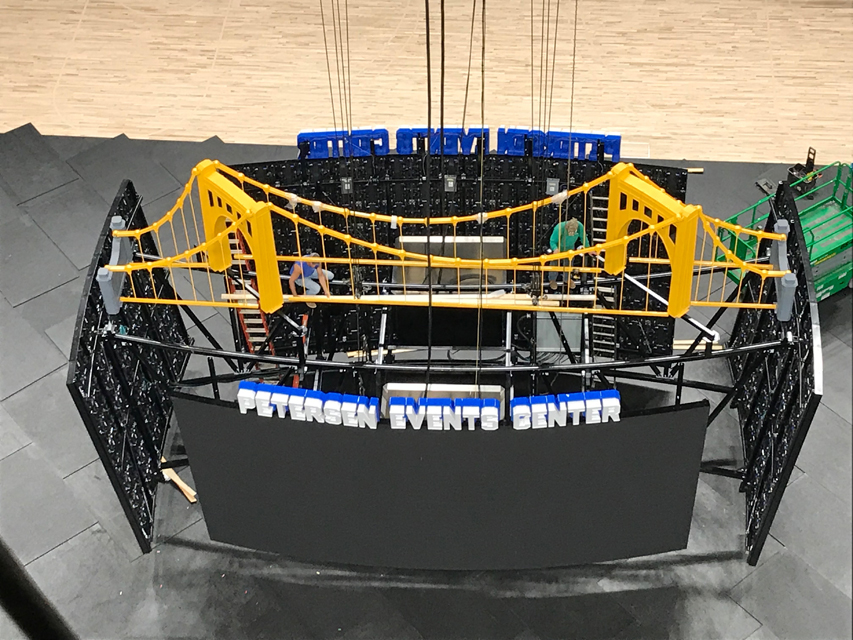 As mentioned earlier, the new LED video display was but one item of these athletic facility upgrades. Each of the accompanying projects' elements at the three venues features something either significant to the city of Pittsburgh landscape or unique to the University of Pittsburgh. For Petersen Events Center, the conceptual drawings for the LED display included one of the nearby Three Rivers bridges atop it.
Measuring roughly seven feet tall and thirty-eight feet in length, the cabled bridge rests in between all four Daktronics screens above the main structure. It was important that this bridge element needed to be lightweight so as to not weigh down the massive new display, which meant foam-core material would prove the opportune choice here.
With this in mind, Masstar Signs sought out foam-core monument provider Signs By Benchmark of Watertown, South Dakota to complete this decorative sculpture atop the center-hung scoreboard. Stegall had first met the company years ago at ISA International Sign Expo and followed up with various Web-based conversations.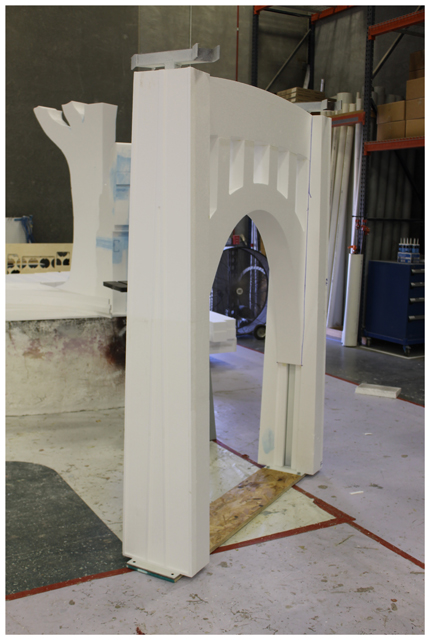 Masstar Signs supplied Signs By Benchmark with the provided conceptual drawings. "From there, we used photos of the actual bridges to create our drawings and be as true to the original concept as possible," says Signs By Benchmark Senior Designer Jamie Kakacek, noting that they shared all the drawings they created with the involved groups prior to starting any actual fabrication.
Kakacek reports that the Daktronics screens didn't really affect the pieces they were responsible for producing. "We did, however, have to be cognizant of the structure underneath so we could anchor the foam-core bridge to the central frame," he says.
The bridge was made from a combination of foam and steel. "The versatility of our foam-core products lends itself well for the major gateway pieces, but certain elements, such as the cabling system were not suitable for creating out of foam," says Kakacek. "We used lighter weight materials in the foam and metal, including aluminum, so we wouldn't be adding too much strain to the display."
The two main five-foot-wide gateways were cut to shape using a combination of CNC hot wire cutting equipment and a CNC router. The steel cable system connecting the gateways was made with a combination of a CNC router and a laser, as well as a break for the metal brackets. Mounting hardware was concealed below the bridge deck or inside end pylons and was not visible on the face end of the pieces.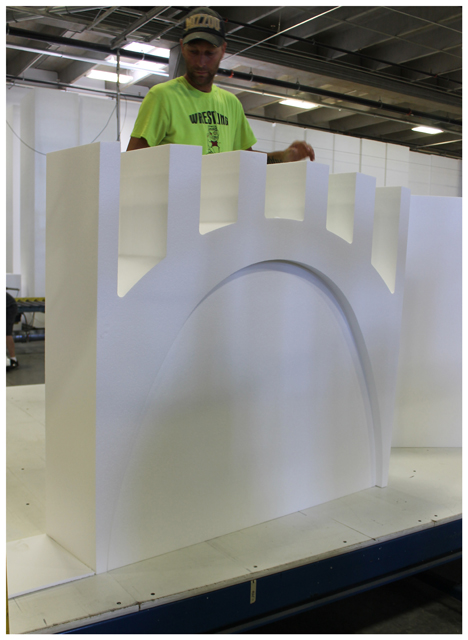 As mentioned earlier, weight played a big concern for the bridge structure; because of this, Signs By Benchmark fabricated the core of the bridge out of one-pound-density expanded polystyrene (EPS) foam. "Had this been in an area that was more susceptible to damage, we may have chosen a higher density material to give it a bit more strength," says Kakacek. "But aside from the occasional cleaning, there really shouldn't be much reason for these to be touched for the foreseeable future."
After assembly, Signs By Benchmark encapsulated all the foam parts in their polyurea hard coat system to give everything the necessary strength.
The bridge was constructed entirely on the floor of Signs By Benchmark's shop. "We then broke everything down for painting," says Kakacek. "The bridge shipped out as ten separate pieces on a dedicated truck where they could be picked up on site and installed onto the framework.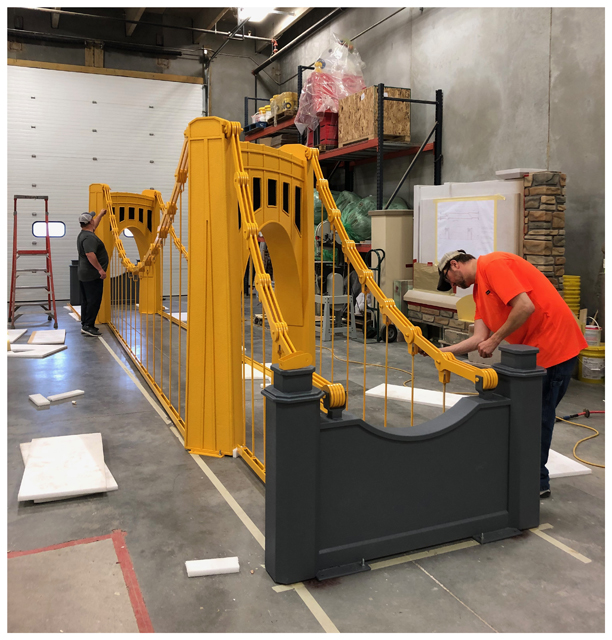 "We built cradles for the cables to ride in, which would also serve as pick points for installing the bridge. The joints where the cables bolt to the gateway pieces also doubled as pick points for lifting each section onto the frame."
Two other companies worked on the installation. While Masstar Signs did not handle this actual installation, they did go to the site for part of the installation and work closely with the install crews.
The massive screen structure was lowered down to the ground level. After getting each bridge section lifted into place and maneuvered around the framework, the foam-core structure simply bolted to the frame provided by Daktronics. "No other specialty equipment was necessary," says Kakacek.
Everything on the display is tied to eight main steel support posts that support the entire load. "Each gateway section houses two support poles with match plates that marry up with the Daktronics-provided framework," says Kakacek.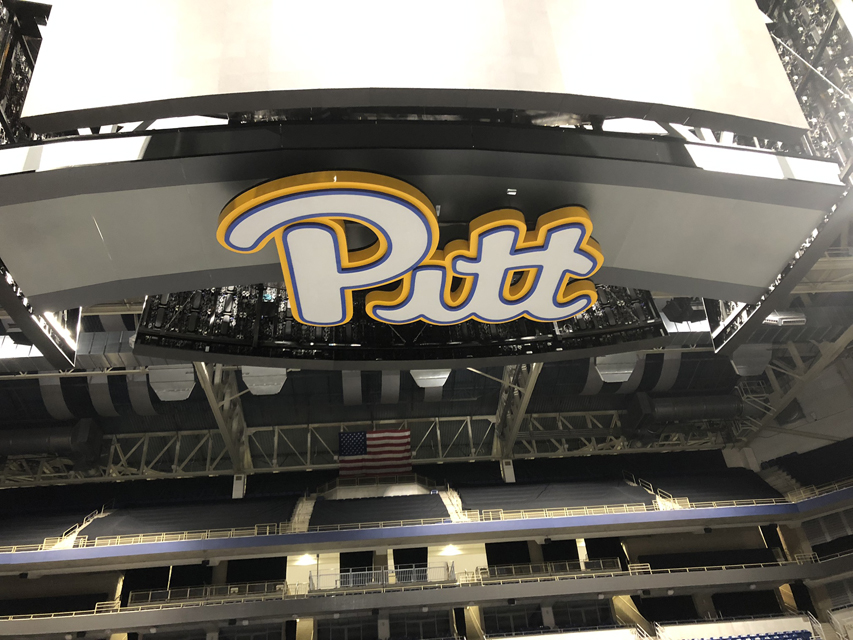 Also attached to the framework supporting the Daktronics LED display screens were venue ID channel letters at the top and "Pitt" channel letters on the underbelly. Masstar Signs used different shades of Matthews Paints to bring these components to life. (Note: The bridge body was painted using PMS Gold 1235C gloss enamel and the end pylons PMS GG10 satin.)
The University requested a very tight timeline to complete this project, yet all parties rose to the challenge in meeting this ticking clock. "We always try to meet the needs of our customers and worked around their existing practice and game schedules to deliver their product," says Willson.
Kakaceck reflects that this project took his company a bit out of their normal comfort zone in terms of materials that were used and how to properly tie each piece together. "However, through close collaboration with Masstar Signs, I think we managed to work through any topic of discussion pretty easily and quickly," he says.
Pitt Director of Athletics Heather Lyke, in a prior released press announcement, said, "Thanks to a great partnership with Pitt Sports Marketing and our JMI Sports team, we have installed video boards that should help us create one of the best in-venue viewing experiences in all of college basketball. Our commitment to enhancing the game-day experience for our fans is absolutely being realized."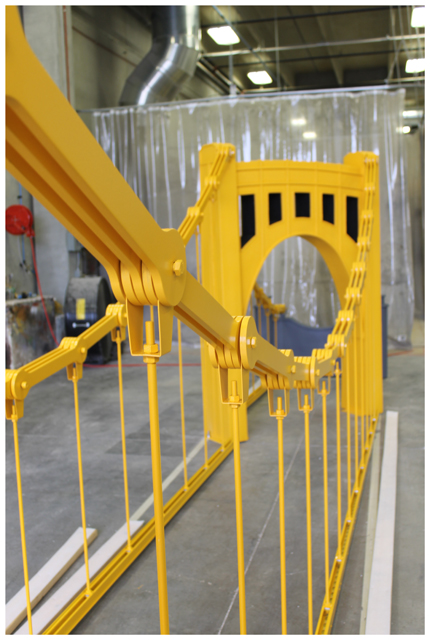 Stegall credits his in-shop team and how their approach works well on complex projects. "This project included three venues, each with elements all being built at the same time, in addition to other projects that were being manufactured at our facility during this timeframe," he says. "Multiple meetings with our design, project management, and fabrication teams were required so that the project could maintain its timeline."
In the end, Stegall says that the consultants, engineers, project managers, and installers made this project a success from the initial vision through design, build, and installation. "The [Pitt Panthers] project is a great example of how communication, teamwork, and execution with a tremendous amount of planning equals a successful project that provides the end-customer a showcase environment for years to come," he says.
One can easily say that this fast-break project ended up being slam dunk for all the parties involved. Their end-creation is an experience that Petersen Events Center guest can soak in and enjoy.
—Jeff Wooten