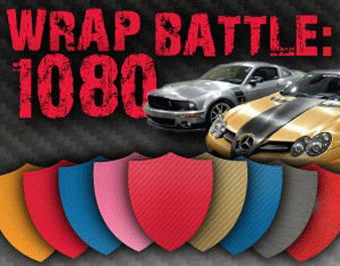 3M Commercial Graphics is giving its Facebook fans the power to choose the next color and finish for its Scotchprint brand Wrap Film Series 1080. The Wrap Battle: 1080 contest asks fans to vote for their favorite color to give them a chance to win a roll of the film.
On the Facebook page, www.facebook.com/3MGraphics, fans can choose their preferred color/finish combination, and can then share their choice with their Facebook friends. Voters in the U.S. can also fill out an entry form to be entered into a contest to receive a free roll of the winning film.
Voters can choose from nine new color/finish combinations:
• Gloss Red Metallic
• Brushed Black Metallic
• Carbon Fiber Blue
• Carbon Fiber Gold
• Carbon Fiber Red
• Matte Pink
• Matte Blue
• Matte Red
• Matte Orange
Voting will close on Monday, November 7, and the winning product will be announced on the Facebook page and via Twitter (@3MGraphics) on Wednesday, November 9. The winning product will become available for sale in January 2012.
Car enthusiasts have embraced Scotchprint brand wrap film series 1080 from 3M thanks to its variety of finishes, textures and colors, which help users create a cool and distinctive look. Film series 1080 is a long-term, removable, dual-cast film that offers graphics installers the same convenient installation features found on Controltac brand graphic films with Comply brand adhesive from 3M. The film is slideable and repositionable, with a pressure-activated adhesive and non-visible air release channels to allow virtually bubble-free applications. The film is also backed by the industry leading MCS Warranty from 3M, bringing peace of mind to discriminating users who require optimum performance.
For more information, visit www.3mgraphics.com/1080.