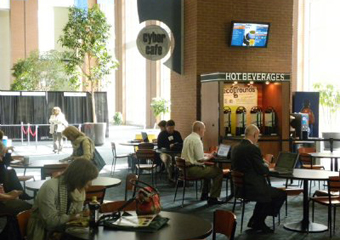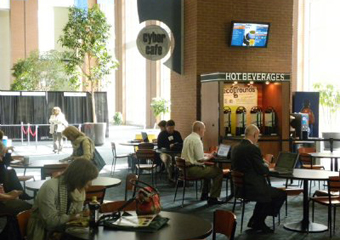 To better match the "digital" feel of the Greater Richmond Convention Center restaurant, Cyber Café, Noventri installed digital menu boards. Working with ARAMARK, the convention center's food and beverage partner, the company replaced the paper menu boards with the new digital boards.
The technology allows for an easier viewing of menu choices over a larger area. The menu boards are unique because they have removed the high costs of traditional digital menu board options and are extremely stable and low-maintenance. Eco-Series players also assist in meeting green agendas since each player uses 98% less power than a PC.
The convention center hopes to see a significant increase in sales since the Cyber Café renovation and new digital menu boards. The Noventri boards add a more current and up-to-date feel, which ties in well with the look of the Cyber Café and its computers and free wifi. The digital menu boards will also promote food options available at other food outlets within the convention center when the café is closed.