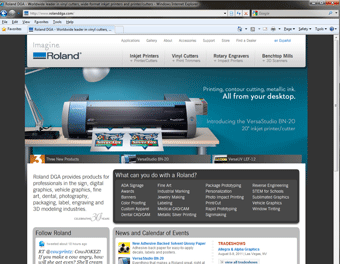 To better serve customers and keep in step with new online technologies and trends, Roland DGA Corp. has redesigned its Web site home page with an updated navigation layout that makes it easier to access product information, support resources, and the company's online store.
"We realize that, for many customers, their first impression of Roland is made through our Web site home page," said Andrew Oransky, director of marketing and product management for Roland. "The new home page focuses on the information most valued by our customers, including examples of real-world applications, as well as in-depth product information and extensive support resources."
The redesigned home page prominently showcases the company's latest products in a colorful, signature graphic that includes links to in-depth overviews of each new product. Users can quickly and easily search the entire line as well, through dropdown menus divided into four main categories: Inkjet Printers, Vinyl Cutters, Rotary Engravers, and Benchtop Mills. Visitors can also browse through applications for Roland products—ranging from signage, labels, and vehicle wraps to rapid prototyping, apparel decoration, awards, and more.
Additionally, the site's new home page makes it easier to access Roland's online store, which features special promotions for accessories and supplies, including the Roland certified media line. Links to popular social media sites, including Facebook, Twitter, YouTube, Flickr, and R-Blog, bring site visitors into the Roland community where they can interact with industry peers.
"We are proud of the new look and feel of the home page," said Oransky. "Effective online communication is more important than ever for businesses, and we believe this new introduction to our site will enhance the experience for both existing and potential Roland customers."
For more information, visit www.rolanddga.com.