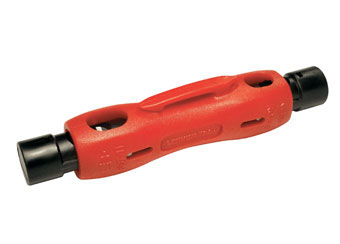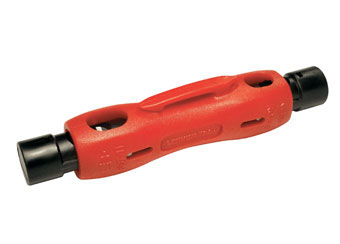 Platinum Tools
®
announces its new double ended coax stripper (part # 15020C) is now shipping.
"Designed for the professional contractor, our new, lightweight, compact, double-ended coaxial cable stripper is the fastest and cleanest way to strip your coax cables," explained Lee Sachs, Platinum Tools, Inc. president and general manager. "Designed for fast, accurate stripping right out of the box, the blades in this new 'must have' tool are pre-set for industry standard ¼-inch cable preparation, eliminating the need for time-consuming blade depth adjustments."
Additional features of Platinum Tools' double ended coax stripper (15020C) include:
works with RG7/11/213/8 and RG59/6/6 Quad cable types
quickly and easily remove the cable jacket and inner conductors in a single step
preset, no adjustments required
two stripping ports for a broader range of cables
rugged high impact plastic housing
long life stainless steel blades
compact: conveniently fits into shirt pocket
MSRP: $9.95
For more information on Platinum Tools and its complete product line, please call (800) 749-5783, or email [email protected].