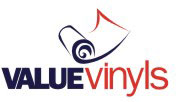 Value Vinyls
, a supplier of Printable Sign Media and Industrial PVC since 1984, recently improved the formulas for Ad-Flex 8 oz. and Ad-Flex 12 oz to allow the products to print exceptionally well when using UV or solvent inks at high speeds. These products have been developed so they can be printed at maximum speeds on the newest UV printers, achieving excellent print results with only single pass printing. In return, great savings can be achieved with lower ink costs.
Ad-Flex 8 oz. and Ad-Flex 12 oz. products are available in black back as well as white back with matte and
gloss finishes. Widths available for each of these are 150, 174, and 196 inches. All of the Ad-Flex 8 oz. and 12 oz. products can be used for long-term indoor or outdoor signage, with high durability against vigorous winds.
While designed with a soft hand for easy handling and billboard installation, the products are resistant to
tearing and fraying. They are used for single-sided printing and are compatible with screen printing,
digital printing, and pressure-sensitive lettering.
For more information, email [email protected], or call 800-406-8845.