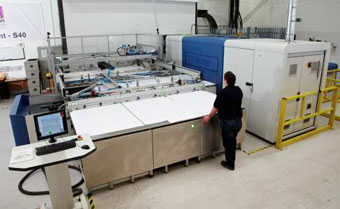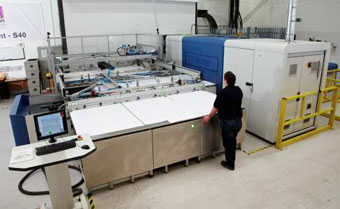 Inca Digital Printers
announces the launch of the Inca Onset S40,
the latest addition to its market-leading Inca Onset range of wide-format UV flatbed inkjet printers. The new Inca Onset S40 prints at up to 5,059 sq ft/hr (with automation).
With the addition of the Onset S40 to the Inca Onset range, there are now 18 different Onset configurations available, offering a choice of productivity levels and ink options. This enables companies to pick the right model, at the best price, performance and, therefore, return on investment (ROI) for their business.
The new printer meets the high-volume, fast-turnaround production needs of specialist display print companies by using up to 168 new-generation, user-replaceable printheads (28 per color) on a full width print bar delivering a 27 picolitre drop size. This, combined with Inca's precision ink drop placement, produces superb 600 dpi print quality with the option of four or six colors using Fujifilm's UVijet OB ink.
Offering the features associated with the Inca Onset range, including wide colour gamut, satin and controllable gloss levels, variable job management, and the option of automation, the Onset S40 produces superb POS-quality display graphics economically at throughput speeds of up to 470 sqm/hr (5059 sqft/hr), equivalent to 94 full bed sheets/hr (3.14 x 1.6m) and onto substrates up to 2 in thick. A choice of uni-directional, bi-directional, and super high-quality print modes can be selected depending upon specific job requirements. As a result, the versatile Onset S40 is ideal for the production of single and double-sided display POS, exhibition graphics, backlit/frontlit displays, outdoor signage printing, cosmetic/fashion graphics, etc.
At this throughput level, production efficiency is important to ensure maximum productivity and cost-efficiency with minimal downtime in order to deliver the best ROI. As a result, the Inca Onset S40 is compatible with Inca's flexible automation system, which offers customers the choice to operate in manual, semi, or three-quarter automation from the same configuration, as well as Inca's Print Run Controller (PRC) software module.
The first Onset S40 in the world has been installed at Kolorcraft in Ossett, UK. The POS specialist has rigorously tested the new printer over the past few months, experiencing significant benefits to its business by being able to mirror its retail client's objectives and maximize their budgets.
"The success of the Inca Onset and Onset S20 printers worldwide over the past three years has raised the quality bar in digitally printed graphics and demonstrated the considerable market for fast turnaround, quality display graphics on a wide range of materials and at a competitive price. It quickly became apparent that there continues to be a strong market for an Onset with all the features and functionality that it offers," says Dr Linda Bell, Inca Digital CEO. "The Onset S40 is the logical next step for us in our printer portfolio. It fits nicely into the market and is highly competitive. Many companies are starting to invest in multiple Onsets, and we are giving them the flexibility to mix and match the models to suit their customer's needs and production requirements and provide room for growth."