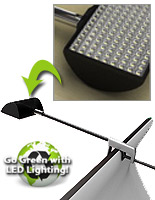 AllBannerStands.com
, a DisplayShops specialty Web site, has just released a new line of LED trade show lights that comply with the North American "Go Green" initiative. The LED lights, sold in bundles of two, use five watts of power each. This number is considerably lower than the amount of energy conventional LED light bulbs use.
"The set of LED lights burn more slowly than incandescent, halogen, or even our competitors' LED lights," states Sandra Reno, the new product advertiser for AllBannerStands.com. "The result is a system that is not only in compliance with the 'Go Green' low voltage standards, but also safer technology. These LED lights run cooler, which helps prevent against fires."
The set of LED lights are designed primarily for spotlighting advertisements and other displays. Each light is attached to a 20-inch-long rod. These rods have clamps at the end for attaching to the top of a trade show poster or banner. There is a 20-foot-long cord included with each model for convenient plugging into an electrical outlet. Although designed for Waveline graphic walls, these LED lights can attach to most poster frames and table tops.
"Even though these lighting systems use only five watts of energy, they are designed to be as effective as any other LED light," adds Reno. "The lights are designed to cover 10 foot posters with a substantial amount of light."