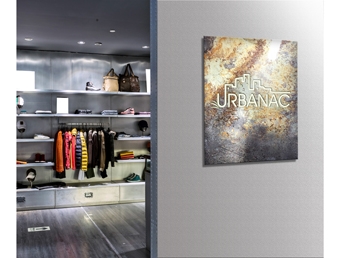 Móz Designs' organic Blendz Patina Collection now offers creative new concepts in signage and wayfinding displays for shopping centers, hotels and resorts, entertainment facilities, and other interior installations.
Patina integrates the depth of color and variegated tones of copper and other geo materials in a lightweight, easy-to-install Móz metal. Patina's earthy, natural finish offers a unique alternative to standard signage materials.
Along with Patina finishes, the Blendz Collection features multiple palettes of blended colorways in a varied range of tones. Standard Moz textural grains can be incorporated into the colorways. The entire series can be viewed at www.mozdesigns.com/blendz/.
Blendz is fabricated from solid core aluminum, available in thicknesses ranging from .040-inch to .125-inch. Standard sheet sizes are: 48-by-96 inches and 48-by-120 inches. Custom dimensions can also be ordered.
All Móz products are rust-resistant and offer consistent color integrity. Móz metals are manufactured from recycled aluminum and contribute to LEED 2.0 MR Credit 4 – Recycled Content.
Blendz wall coverings are shipped ready to install with hardware and mounting accessories. Polycoat matte and gloss coatings are available.
For more information or product samples, contact Móz Designs at 510/632-0853.