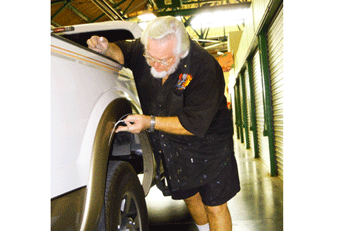 By Jim Hingst
More than forty-five pinstripe artists gathered at Artie's Party in Syracuse, New York at the New York State Fairgrounds this past July 15-17. Pinstripers donated their time and talents to decorate a variety of objects—including toolboxes, purses, toilet seat covers, and garbage cans. Their works of art were auctioned off with all of the proceeds going to the McMahon/Ryan Child Advocacy Site.
The pinstripers raised more than $68,000 here. This year, Evernham Family Racing for a Reason Foundation and Jaxsun Supply Co., sponsored Artie's Party. Many vendors also donated merchandise. For example, Ingersoll Rand provided two compressors and supplied equipment to air condition the building where the stripers convened, and Trane/Ingersoll Rand/Midstate Golf Car donated a golf cart.
The 2011 Artie's Party was the fifth pinstripe artist gathering at the Syracuse Nationals, a classic car event that typically attracts more than 70,000 visitors each year. This was the fourth year that proceeds went to support the McMahon/Ryan site. In that time, Artie's Party has raised nearly $200,000 in contributions for the advocacy site.
Housed in a homelike setting, the McMahon/Ryan Child Advocacy Site provides a safe haven for sexually abused children. According to Executive Director Julie Cecile, "One in four girls and one in six boys are sexually abused in this country before the age of eighteen."
In June, the McMahon/Ryan Child Advocacy Site moved into a newly renovated, three-story building in Syracuse. The 30,000-square-foot facility provides medical, legal, and mental health services to victims of physical and sexual abuse. The fifty-person staff includes doctors, lawyers, police officers, county case workers, and psychotherapists.
Previously the McMahon/Ryan Child Advocacy Site had been housed in a 3,000 square-foot facility, which was cramped and inadequate. "Money raised at last year's Artie's Party contributed to the amount needed to make the move," says Show Organizer Artie Schilling from Surfside Beach, South Carolina. (Note: "East Coast" Artie Schilling is a legendary striper and artist and one of our industry's most knowledgeable vinyl graphics specialists.)
Many of the finest stripers in the world traveled from as far away as California and Canada to participate in this year's event. The legendary Tom Kelly (pictured, below) dazzled visitors with his striping and mural painting. In the 1950s, Kelly had worked with Von Dutch and Ed "Big Daddy" Roth in Roth's custom paint shop called the "Crazy Painters." He is the only surviving member of that original magnificent seven who worked in the shop.
Other artists participating this year included Julian "Mr. J" Braet, Brian "The Brush" Briskie, Sal Cabrera, Robert "Nub" Collard, DeWayne Connot, Donny Edwards, Mike "Mikey Boy" Fredrick, Zeke Lemanski, Howie Nisgor, and John "Tramp" Warner.
No one epitomizes the bold and colorful Jersey Style of automotive graphics more than Julian "Mr. J" Braet (pictured, below). Beginning his artistic career at the age of twelve, Braet has been painting old school pinstriping since it was new. He is also known as the designer of the Xcaliber pinstriping brushes, which are prized for their ability to make tight turns.
Abounding in raw talent, Brian "the Brush" Briskie (pictured, below) can and does do it all. Known for his colorful designs, Briskie is a master striper, automotive painter, gilder, cartoon artist, and sign maker.
Meanwhile I was admiring one of Zeke Lemanski's pinstripe panels (pictured, below), when Howie Nisgor, a pinstripe legend in his own right, walked up beside me and said, "That's not pinstriping! That's art!"
He was right. Lemanski's work is truly unique and beautiful, which is why he is so highly regarded by his peers. Lemanski is shown below working on one of his numerous panels created at this event.
Although the pinstripers participating in the event enjoy the camaraderie of their fellow artists, what motivates them to devote their weekends to this charitable cause is the sense of satisfaction that they get knowing they're helping children in need of care. "I would like to thank all of my pinstriping friends," says Schilling, "for contributing to the success of Artie's Party."