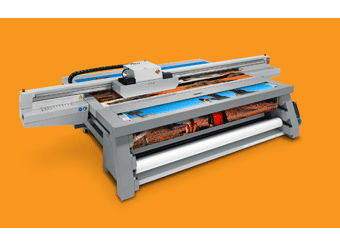 Océ, a Canon Group Company, will be placing an Océ Arizona® 360 GT UV flatbed printer at the Printing Industries of America headquarters in Sewickley, Pennsylvania. The printer will be used for market education, member training and internal production.
"The convergence of markets and technologies due to digitalization in the graphics industry provides new spin-off opportunities for commercial printers," said Sal Sheikh, Vice President of Marketing for the Wide Format Printing Systems division of Océ North America. "The capabilities of flatbed-based UV printers enable commercial printers to capture new business and enter new markets—from traditional graphic applications to imaging on manufactured goods to packaging applications."
The Océ Arizona 360 GT model will be the first flatbed and first digital UV printer to be installed at Printing Industries headquarters. The facilities at Printing Industries headquarters include state-of-the-art prepress, workflow solutions, printing facilities, post press, testing laboratories, libraries, and classrooms that provide a world-class platform for innovative digital and offset research, while producing leading-edge publications and instruction.
"The addition of the Océ Arizona 360 GT printer complements what we're doing here with our offset and digital printing presses," said Dr. Mark Bohan, Vice President, Technology and Research for Printing Industries. "We want to show our members how wide format digital printing can fit in partnership with traditional printing presses. With the Océ Arizona 360 GT printer on-site, we have the capability to educate our members on what is possible, to open their eyes to new business opportunities."
In addition to demonstrating an array of applications to its members, the Océ Arizona 360 GT printer will be used for training members on wide format print production. It will also be used for internal production of banners and signs for the conferences and programs produced by Printing Industries. Further, the ONYX® ProductionHouseTM software RIP that drives the printer will assist staff in educating members on wide format color management techniques.
About the Océ Arizona 360 GT Printer
Introduced in April 2011, the Océ Arizona 360 GT UV flatbed printer features enhancements over previous models that enable customers to increase productivity and application versatility and open doors to technical and industrial applications. The printer offers the standard table size of 49-by-98.4-inch and an Express Mode print speed of up to 377 square feet/hour, which is ideal for banner and outdoor work. A new High Definition print mode delivers fine feature reproduction including the ability to print text as small as two-point, enabling commercial printers to offer higher-margin technical and industrial applications such as printing on lenticular lenses and membrane panels.
The White Ink Option, which will be included on the model for Printing Industries, enables under-printing for non-white media or objects, over-printing for backlit applications on transparent media and/or printing white as a spot color.
Océ Arizona Series printers are true flatbed systems, which open the door to producing specialized applications. A vacuum system holds rigid media stationary on the printer's flat table surface, ensuring perfect registration even on multiple imaging passes or double-sided printing applications. Users can produce edge-to-edge (full bleed) prints to save time and labor costs in finishing.
Unlike conventional rigid capable printers that use friction or belt feed systems, Océ Arizona Series printers can print on just about anything less than two inches thick. These systems can handle irregularly shaped or non-square items, heavy substrates and materials that have an uneven surface, such as wood. They are ideal for complex technical or industrial printing applications where accurate, repeatable print geometry is critical.
About Printing Industries of America
Printing Industries of America is the world's largest graphic arts trade association representing an industry with approximately one million employees. It serves the interests of more than 10,000 member companies. Printing Industries of America, along with its affiliates, delivers products and services that enhance the growth, efficiency, and profitability of its members and the industry through advocacy, education, research, and technical information. For more information, visit www.printing.org.
About Océ Display Graphics Systems
Océ Display Graphics Systems is a leading provider of professional, wide format solutions for indoor and outdoor color display graphics applications. Océ solutions are specifically designed to enhance the revenue and profit opportunities for service providers by combining hardware with workflow software and the expertise to help companies expand into digital large format color. From extremely high-quality UV flatbed printers and roll-based printers to advanced finishing systems, Océ offers a total solution including hardware, software, imaging supplies, finishing systems, applications expertise, hardware support, and financing. Customers benefit in working with a full-service partner they can count on to help their businesses grow.
About Océ
Océ is one of the leading providers of document management and printing for professionals. The Océ offering includes office printing and copying systems, high speed digital production printers and wide format printing systems for both technical documentation and color display graphics. Océ is also a foremost supplier of document management outsourcing. Many of the Fortune Global 500 companies and leading commercial printers are Océ customers. The company was founded in 1877. With headquarters in Venlo, The Netherlands, Océ is active in over 100 countries and employs more than 20,000 people worldwide. For more information visit www.oce.com.
Océ North America is headquartered in Trumbull, Connecticut, with additional business units in Chicago, Illinois and Boca Raton, Florida. North America represents 34 percent of Océ's worldwide revenues, and employment is over 8,000. For more information about Océ North America, visit www.oceusa.com.
Océ and Canon: Stronger together
In 2010, Océ joined the Canon Group of companies with headquarters in Tokyo, Japan, to create the global leader in the printing industry. Canon develops, manufactures and markets a growing line-up of copying machines, printers, cameras, optical and other products that meet a diverse range of customer needs. The Canon Group comprises over 197,000 people worldwide. Global net sales in 2010 were more than US $45 billion. For more information, visit www.canon.com.