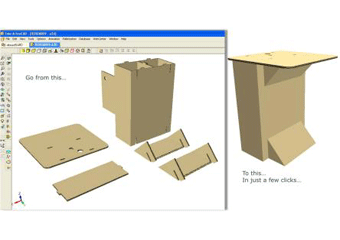 EskoArtwork has released a new version of ArtiosCAD that offers a wide array of new features. New features help the packaging design shop and converter, as well as sign and display shops with enhancements that make designs with special display materials trouble-free.
New features benefit the complete supply chain, from design to die-making to palletization.
"We want to make our customer's production workflow more efficient. New features in ArtiosCAD will help converters demonstrate more efficient palletization of packaging and produce special diemaking tools easier," explains Richard Deroo, EskoArtwork Product Manager, Structural Design.
New features include:
* New Blanking tool: ArtiosCAD has a wide, new range of tools for the creation of steel, flattop, grid and combo blankers, including the addition of upper and lower boards, grid holes, blank holes, and pusher—to name just a few.
* Round trip CAPE workflow: Specifications of cartons designed in ArtiosCAD can be sent to CAPE software for a pallet solution—which can then exported back to ArtiosCAD to create and show a realistic, 3D pallet-load.
* Enhancements in die-making and rubbering tools: Additional enhancements to the design and die-making tools increase designer efficiency and optimize the manufacturing of cutting dies.
In an industry that is becoming more commoditized, sign and display shops are realizing that the uniqueness of 3D display projects offers higher margins. Thus, more and more companies are investing in ArtiosCAD as an important structural design 'tool' in their design departments, to work alongside their digital flatbed presses and Kongsberg finishing tables.
In the past, EskoArtwork has recognized the P-O-Pularity of ArtiosCAD as a design tool by adding P-O-P display standards to the style catalog. Users browsing the P-O-P library will find parametric design templates from which to either design P-O-P displays in minutes or stimulate the creative design process. The latest version of ArtiosCAD provides two important new tools:
* Support for Re-board and V-notch linetypes: Re-board and other multi-wall substrates are typically very thick. V-notches are now correctly designed, and can be easily visualized as angle cuts. In addition, they can be accurately folded in 3D for quality control to ensure they are properly designed and to create amazing, visually accurate client presentations.
* Tab & slot assembly tool for displays and multi-component designs: A true time saver for P-O-P display designing. Using a 3D visual, the Tab & slot assembly tool will help to 'assemble' components of a display with just a few clicks.
These tools are added to an already full list of features that help sign and display shops do an exceptional job creating structural designs for 3D displays. For example, the Mate tool allows for the simple assembly and visualization of connected folds and parts. Users can identify glue areas and corresponding targets to quickly connect designs or perform simple assembly of displays. Curved Creases, a patent pending technology only available in ArtiosCAD, makes it easy for designers to work with curved folds and cuts by allowing them to visualize designs with curved creases as part of its 3D module. To assist with a shop's administrative department's, ArtiosCAD can create automated bill of material reports that can be generated on multi-part design projects with the click of a button.
Meanwhile V-notches on Re-board displays are much easier for Digiforma. Digiforma, based in Turnhout, Belgium, produces stands, panels, and a wide range of displays and furniture using Re-board. The Re-board is printed on two digital flatbed presses and cut on a Kongsberg cutting table. They have been a user of ArtiosCAD for three-plus years and have been testing the newest features of ArtiosCAD for three months.
"The most important part of ArtiosCAD is that you can virtually fold Re-board in 3D, like you do in reality," explains Olivier Ceulemans, Digiforma CEO. "Before designing from 2D to 3D was inexact, especially when we created V-notches. We had to check to see how things would look when they were cut and folded. To be safe, we created scale models and folded them to see if they were correct. With ArtiosCAD, the 3D design feature lets us cut exact V-notches all the time. We even show the 3D designs to our customers. It saves us a lot of design and approval time—perhaps a day or two-because we are making less prototypes.
"In fact, there was a recent job we produced: a large version of a washing powder box. It was 3.5 meters high and contained a ton of washing powder. The entire box was done in Re-board. We designed it in 2D, checked it out in 3D, and we didn't even have to make a prototype. Everything fit perfectly and we went straight to production."
Ceulemans adds, "We are also cutting single-cut V-notches at the corner of materials. ArtiosCAD does a very nice job adding customer graphics right on our 3D designs. Everything in ArtiosCAD was on our wish list. To me, it's great. There is no other structural design software solution like it."
"EskoArtwork continues to invest heavily in the research and development of structural design—and for good reason," concludes Bernard Zwaenepoel, EskoArtwork Senior Vice President Software Business. "Many of our customers, both packaging and sign & display shops, rely on ArtiosCAD to offer exceptional structural design. It is the combination of structure and graphics that makes EskoArtwork prepress and production workflows unique in the industry—and thus, our customers indispensible to everyone in the supply chain. This includes features such as automatic registration of graphics with structure, that provides a seamless roundtrip workflow between ArtiosCAD and Adobe® Illustrator®. Our ArtiosCAD customers can be assured that their investment is protected and they will benefit from continued product upgrades and enhancements."
ArtiosCAD is the world's most popular structural design software for packaging design. It is used by industry-leading professionals throughout the world. With dedicated tools for structural design, product development, virtual prototyping and manufacturing, ArtiosCAD increases productivity throughout packaging and sign design. In particular, ArtiosCAD is the ideal product for all corrugated, folding carton and P-O-P display designers. Structural design has always been important to EskoArtwork. In fact, ArtiosCAD technology is present throughout a big part of the EskoArtwork portfolio. ArtiosCAD completes the true end-to-end packaging design workflow. It enables the integration between structural design, graphic design and packaging production.
For more information, visit www.esko.com.