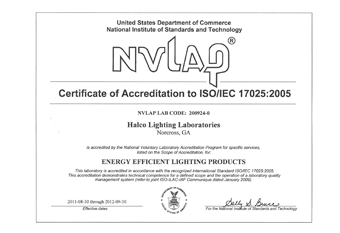 Halco Lighting Technologies® announces the accreditation of the company's energy efficient lighting testing division—Halco Lighting Laboratories.
Halco Lighting Laboratories received NVLAP (National Voluntary Laboratory Accreditation Program) accreditation (NVLAP Lab Code 200924-0) in energy efficient lighting products. The scope of this accreditation consists of 28 test methods that are conducted to measure colorimetric, electrical and photometric properties of lamps. Certification was granted after the laboratory submitted evidence of its ISO/IEC 17025: 2005 based Quality Management System and successfully completed an on-site assessment, which included thorough Quality Management System and technical evaluations.
According to NVLAP, accreditation is granted when an applicant laboratory has demonstrated that it operates in accordance with NVLAP management and technical requirements pertaining to: quality systems, personnel, accommodation and environment, test and calibration methods, equipment, measurement traceability, sampling, handling of test and calibration items, and test and calibration reports.
The lab contains a 0.5-meter, a 1.5-meter and a 2-meter integrating sphere. The different sphere sizes ensure that accurate tests can be conducted regardless of a lamp's size and light output, while tests requiring specific ambient temperatures are conducted in a temperature controlled integrating sphere in a temperature-controlled room in the facility. Directional light sources and intensity measurements utilize a goniophotometer with a broad range of capabilities.
Halco Lighting Laboratories will provide internal quality control and compliance testing for Halco Lighting Technologies products in addition to conducting testing for third-party customers.
Halco Lighting Technologies® is a leading manufacturer of lamps and ballasts designed for industrial/commercial, residential and specialty lighting applications. Halco's extensive product line includes the following brands: Halco®, Sollos®, ProLED®, ProLume®, HaloXen®, Prism®, ProFormance®, Eco-Shield®, CoverShield® and SureColor®. Established in 1974, the company has U.S. distribution centers in Atlanta, Cleveland, Houston, and Phoenix.
For more information, visit www.halcolighting.com.