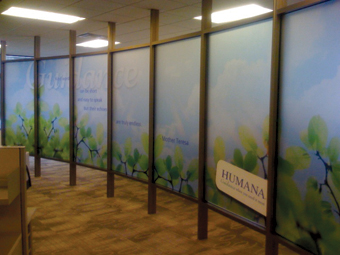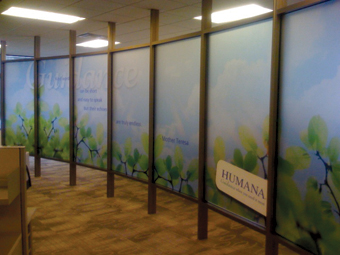 Joseph & Carol Berke
Clients sometimes bring projects to sign shops that provide an interesting challenge to sign design, sign construction, and/or sign installation. In these instances, it helps to have experience.
Maggie Harlow of Sign-A-Rama Downtown in Louisville, Kentucky has been in the sign industry for eight years now. (Note: Prior to joining the industry, Harlow served as manager of a Jaguar auto dealership.) She was also joined in the business by her husband, Brian. "We enjoy working together, which keeps it fun—even on a hard day," says Harlow.
A big challenge initially for Harlow was learning the business, the different products, and the different uses for those products. The other big challenge was understanding the custom service business. "I had never been in a custom service business," says Harlow. "It was a big transition to learn that if you didn't make it right for any reason, then it was trash."
Harlow picked up her know-how by reading books and magazines, talking to lots of other shops, learning from vendors, and taking training from Sign-A-Rama. "I find that, although it's a very competitive business, it's a friendly competition," she says. "The shops in my area have always been helpful, and we sell each other's products."
The Scene Behind the Scenes
At her Sign-A-Rama in downtown Louisville, Kentucky, Harlow currently has nine employees. "We do what a typical vinyl sign company does—a lot of yard signs and banners and corporate and interior signage (especially for healthcare and offices). We also work on window graphics, banners, and vehicle wraps.
"We also do a lot of design and installation of wayfinding signs for corporate headquarters here in Louisville."
For output, Sign-A-Rama Downtown uses a Roland eco-solvent printer and a UV Fuji Acuity flatbed for short-term outdoor signage and long-term indoor signage. They use equal parts Avery, 3M, and MACtac as their primary media brands. "For outdoor projects, we use a luster overlaminate that offers UV protection. We utilize a mix of products to give us different results," says Harlow.
The shop also employs a laser engraver (purchased soon after they opened). This has come in handy for making patterns and building jigs for traditional signs.
According to Harlow, her business does about 80 percent of the design work in-house. They use PCs with Adobe® Illustrator® CS5 and SAi Flexi™ as its primary design software. "We have two graphic designers on staff," she says.
Sign-A-Rama Downtown typically starts at the design stage when working with a client. "We first start a conversation as to what the client is trying to accomplish," says Harlow. "A lot of customers want to focus on 'I need.'
"In reality, because vinyl is so flexible and can be used in so many different ways, we try to help them figure out what they're trying to achieve and what problem they're trying to solve. We come at it from different solutions that can for work for them."
Once the client's need is identified, the shop discusses several vinyl products in different price ranges that will do the job and then focuses on the budget. "I don't want to start quoting something less than the client wants or something more than they need," says Harlow.
Site visits are next, followed by renderings and press proofs, before any production is started. "Because our industry innovates so fast, there's always a new product or a new film that we present to the client, and they get excited at the potential," says Harlow.
A Bus Stop for Graphics
A recent project involved developing four distinct mini-bus wrap vinyl designs that were to be selected by the bus owners. One of the designs would then be installed on each of ninety mini-busses that were located in twenty-two different states.
One challenge? The project had to be completed in ninety days.
Another challenge? Many of the busses weren't mechanically sound (nor were their bodies, at the time, in any shape to receive artwork).
Harlow called upon her previous automotive experience. "This was handy, because I knew how to talk to the mechanics and body shops in their own language," she says.
The busses received mechanical repairs before going to the body shops. "The body shops then stripped off any existing graphics, sanded them, and removed some body parts for preparation and painting," says Harlow. "The paint was then applied white and then either green or blue (depending on the design). After the last color coats, the decal was applied.
"The body shops took photos and sent them to us. The client had a creative director who used his own design team to create the graphics, and we used their vector files and pulled them into Flexi for prep."
Harlow and her crew drew the artwork they were to apply directly onto the photos and sent them back to the body shop. "The body shops would tape off our designs on the bus bodies and send us new photos for our approval," she says.
Once the photos were approved, the mini-busses were painted, and more photos were sent for approval. "We would then send them the graphics and tell them where the graphics would need to be applied," says Harlow. "The graphics were printed on a premium Avery cut vinyl for some portions. For others, we used a solvent printer that a local independent shop would run for us. They had to print a very specific percentage of a Pantone® for us."
The body shops installed the graphics, and the time-intensive project was finished on time. "The mini-bus project was something that was nearly full-time and took many overtime hours for me, since I was working with folks in different time zones," says Harlow. "It was at least 90 to 120 days, by the time we [completed] all the punch lists and returned every bus.
"I couldn't work on anything else, so I hired a sales rep to keep growing our business. It was crazy, but the client [ended up] very happy."
Clients in Glass Houses
On a different project, a client with an open conference space with one glass wall and a view to the outdoors wanted something colorful, light, and airy that wouldn't disturb the view to the outside. The client wanted this design on five to six floors of their office tower. "We had to develop several different images, ideas, and test prints to check the level of transparency," says Harlow. "We used stock photos for the scenery and did some treatments to the photos that made them more interesting and colorful.
"We contracted with a freelance designer who used InDesign to intensify the colors, mirrored the images, applied lettering in the form of quotes on top of the images, and added the client's logo in opaque white ink with color overlay. Finally we used Avery Etch Mark vinyl and printed in a light gradient white layer of ink for the client's logo."
Four different themes were designed with sixteen different quotes (so each one was unique). "The client was in another city, so there were many test prints, trial installations, and client approvals," says Harlow.
The install happened over a series of days. "The vinyl was printed on the UV flatbed and was installed via application fluid," says Harlow. "It was time-consuming but worth it. It was really fun to do."
From start to finish, the project took six months. "Luckily the building was in construction, so we had some time."
Signing Up for Tee Time
Another challenge involved signage for an annual golf tournament. The client wanted to recycle the custom-shaped signage each year and only change the name of the sponsor.
The signs were made from Coroplast and a removable vinyl, and they were printed on a Fuji Acuity UV ink flatbed. "We designed the signage with decals that can be pulled off and replaced with the new decals with the names of the new sponsors," says Harlow. "The client saves money on the signage, and we also put our name on the signs."
All photos courtesy of Sign-A-Rama Downtown.