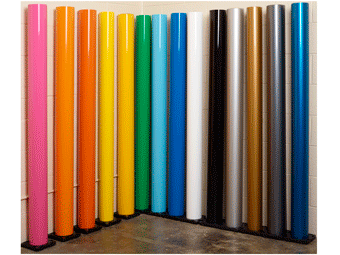 3M Commercial Graphics is expanding its line of Scotchprint brand Wrap Film Series 1080 with nineteen new high impact gloss colors and two new matte colors.
Available September 1, the additions will take the wrap film's offerings to a total of thirty-three different films, with carbon fiber and brushed metal textures available, as well as both matte and high-gloss finishes. With the new line extension, car enthusiasts and restylers have even more options to make their creations anything but ordinary.
Since its introduction, Scotchprint brand Wrap Film Series 1080 from 3M has been used to create distinctive and exciting looks on hoods, roofs, door panels, and entire vehicles. The long-term, removable cast films are designed for vehicle detailing, decoration, and full wraps without graphic protection. This film offers the same great installation features found on Controltac brand Graphic Films with Comply Adhesive from 3M. The product's pressure-activated adhesive allows it to slide and be repositioned until firm pressure is applied. The non-visible air release channels assure fast, easy, and virtually bubble-free installations.
The new colors that are now available include:
• 1080-G83 Gloss Dark Red
• 1080-G13 Gloss Hot Rod Red
• 1080-G103 Gloss Hot Pink
• 1080-G14 Gloss Burnt Orange
• 1080-G54 Gloss Bright Orange
• 1080-G25 Gloss Sunflower
• 1080-G15 Gloss Bright Yellow
• 1080-G46 Gloss Kelly Green
• 1080-G47 Gloss Intense Blue
• 1080-G77 Gloss Sky Blue
• 1080-G79 Gloss Light Ivory
• 1080-G10 Gloss White
• 1080-G12 Gloss Black
• 1080-G227 Gloss Blue Metallic
• 1080-G241 Gloss Gold Metallic
• 1080-G120 Gloss White Aluminum
• 1080-G251 Gloss Sterling Silver
• 1080-G201 Gloss Anthracite
• 1080-G212 Gloss Black Metallic
• 1080-M261 Matte Dark Gray
• 1080-M230 Matte Gray Aluminum
Scotchprint brand Wrap Film Series 1080 from 3M offers industry-leading benefits, including the ability to use it right out of the box—with no need to print or apply an overlaminate. The film is manufactured with two color layers for dimensional stability and durability and is removable for up to three years (making it easy to change the look of a vehicle).
The film is also backed by the MCS brand Warranty from 3M, making it a reliable choice for helping customers get their look just right every time.
For more information, visit http://3mgraphics.com/1080.