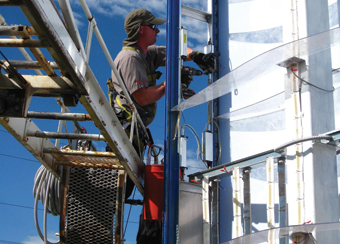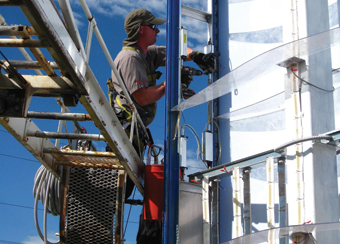 When it comes to lighting retrofits, a sign shop sometimes has to get proactive and not wait for a customer to come to them. One such company recently taking this approach was the Young Electric Sign Company (YESCO) location in Salt Lake City, Utah.
YESCO is one of the largest custom sign companies in the country and has been a long-standing name in the sign industry (starting up for business back in 1920). Today it does quality, innovative work in the electric sign and lighting industries and features many divisions and branches throughout the western United States.
The Salt Lake City Division Branch of YESCO has been servicing the signage needs for Intermountain Healthcare, a hospital network throughout Utah, for a couple of decades now. "We do a lot of work for them in giving them a uniform look," says Jeff Krantz, an account manager at YESCO with thirty-one years of experience at the company.
YESCO's management team had learned that Intermountain Healthcare had recently implemented an environmentally friendlier initiative that would make its hospitals and clinics as "green" as possible—including their signage. One particular concern under consideration was lighting; the hospital would be in need, at some point, of a prescription here that would require less changing of bulbs and less trash for the landfills.
YESCO had done some previous retrofit work before for Intermountain Healthcare—such as changing out old neon letter sets over to LED and replacing T12 lamps in larger cabinets with high-intensity discharge (HID) lamps. Learning of this new green mindset, the YESCO Salt Lake City Division decided now was the time to offer a retrofit solution to test out and see the results.
"Intermountain Healthcare wants to be a leader in being 'green' and energy-efficient," says Krantz. "They have the mentality where they want to explore means by which to make things more efficient. They'd rather be on the cutting edge and not at the tail end."
One particular location YESCO had in mind was the Intermountain Medical Center facility in Murray, Utah. What made this locale attractive for a lighting retrofit experiment was that there were two identical fluorescent-lit pylon signs located at the entrance, about one hundred feet away from one another.
The three-tier, double-sided pylon signs stand twenty-four feet tall and measure seven feet wide and twenty to thirty-two inches deep. They're an aluminum monolith construction with retainerless faces. There are no visible retainers, and the high-impact white polycarbonate faces are radius style. The faces also feature reverse-surface, custom-color blue, red, and white 3M vinyl that had been coated with a UV inhibitor.
YESCO brought up the idea of testing out LED lighting components in one of the pylons to Intermountain Health officials; the goal was to provide a look that could be easily compared to the fluorescents. "We told them that if [the retrofit] turned out to be a better deal, we'd start talking about incorporating it into their sign program across its other clinics and hospital campuses," says Krantz.
Krantz stresses that Intermountain Healthcare didn't order this retrofit; YESCO went to them with the idea. "We can always build new signs with LEDs," he says. "But since this customer has so many signs out in the field already, we wanted to experiment and see if there was a good way to retrofit other locations with LED."
The pylons in question had been up for about four years now and were outfitted with T12 HO Day Light fluorescent lamps. Major questions this retrofit would answer were power consumption, maintenance service, and retrofit costs. "We could also see how the light would come through the blue and through the white," explains Krantz. "We could also look to see if the LED would need a similar lumen output to the fluorescents."
YESCO elected to use SignBOX Light (SBL) LEDs from SloanLED for this project. SignBOX Light is designed for standard or deep cabinets and features modules mounted on flexible strips that are easy to customize. "We'd been anxiously awaiting an LED product that would allow us to start retrofitting internally illuminated signs with T12 illumination to a more efficient type of use without going extremely thick on the cabinetry," says Krantz.
The entire retrofit was performed on-site this past June, with the two-man YESCO installation crew working from the bottom portion of the sign upwards. The installers used the company's bucket truck to first remove the faces. "Those faces were huge," says Jill Bonilla, marketing manager at SloanLED who also attended the retrofit to help aid the installation crew with any questions. "They were such a size that you needed at least two people to take one off."
In addition to the size of the pylon sign faces, wind played another factor. Because the retrofit took place in the midst of a blazing Utah summer, installation was performed during morning hours, meaning it stretched out an extra day. "They had to tie those faces from the one side, because they left one side up when they did this. Tying them down meant the wind wouldn't come up and blow the face off and cause a traffic accident," says Bonilla.
The retrofit here was very straightforward with three sections of lighting. The lowest section replacement uses six-and-a-half-foot SBL strips and the center and top sections use eight-foot SBL strips. There are two SBL strips (one for each side) for every single fluorescent lamp. (Note: The LEDs were equivalent to the daylight fluorescents' color.)
Depending on their position of the sign, the LEDs were placed eight and twelve inches away from the sign face. "The middle point of the sign bows out twelve inches, and the side goes to eight inches," explains Bonilla.
YESCO kept the fluorescent ballasts in place (although they disconnected them first because of electrical reasons) and installed the LEDs vertically in the same line the fluorescent tubes were in. The LEDs used didn't feature a peel-and-stick mounting method, so the YESCO team attached them to a supplied click-and-lock bracket. "They just drilled right into the fluorescent raceway to attach the SBL strips," says Krantz.
One thing YESCO kept in mind during this LED pylon retrofit was the pole supports featured in the internal structure of the sign. "We wanted to make sure that we weren't allowing any kind of dark spots to occur in the finished sign," says Krantz.
The pylon signs feature a center pole that YESCO wasn't able to put fluorescent lamps in originally, which led to a striping effect. "But here, they were actually able to add double-stick tape to the back of the pole and make an extra row to alleviate the center striping for that structure. They also added a little bead of silicone, because the tape probably wouldn't last the life of the LED," says Bonilla.
The YESCO two-man team used self-tapping screws to reattach the faces back to the pylon cabinet. "In the end, the SignBOX light was able to light areas of the sign not possible with fluorescent and evenly lit the sign without washing it out," says Bonilla.
Having the fluorescent-lit and LED-lit pylon signs next to one another proved advantageous for comparisons. "We can see from both angles how the lighting looks," explains Krantz. "We also wanted to gauge the Kelvin output of the light. We could see that we had good lighting—if not better—throughout the blue and white areas.
"We didn't want it to turn too blue or too creamy."
As of August, Krantz states that Intermountain Healthcare officials are ecstatic over the results so far. "[They're] very happy with the light output and the color combination," he says. "They like the uniformity of it."
According to Krantz, YESCO intends to revisit officials shortly and gauge their interest in retrofitting the system's other clinics and hospital campuses. In fact, he's already working on pricing for the cost to retrofit these locations. "And since they're already on a maintenance contract with us right now, we can also see what the maintenance contract price reduction would be if they switch over to LED," he says.
This project may not have been an emergency on the part of the client, but for YESCO, they were more than adept at playing the doctor with a pylon lighting sign.
All photos courtesy of YESCO & SloanLED.