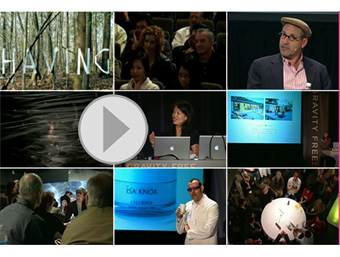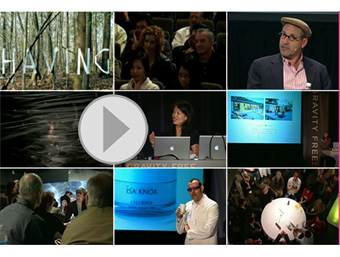 The GRAVITY FREE Multidisciplinary Design Conference welcomes Autodesk as a supporting sponsor of GRAVITY FREE 2012, May 1-2, VenueSIX10 at the Spertus Institute in downtown Chicago.
Lee Knight, founder and chief instigator at GRAVITY FREE, says "Autodesk is a world leader in 3D design, engineering, and entertainment software. Autodesk technology continues to profoundly impact a generation of design professionals."
GRAVITY FREE is a two-day conversation with the world's most inspiring design thinkers and doers. This world-class event is designed to break attendees out of their daily routine of familiar ideas and instead connect them with the most diverse and fearless designers who are changing the way we see the world.
This year's theme—"Outlaws and Icons"—is a riveting program of twenty of the world's most fearless designers whose passion and personal vision takes them outside convention (where breaking the rules often produces breathtaking results). No surprise: Outlaws often become icons.
Ama Hanspal, senior vice-president, Information Modeling and Platform Group at Autodesk, sums up the essential value of GRAVITY FREE, "Great minds actually don't think alike. That's sort of the point."
This year's lineup of speakers includes:
* Javier Mariscal (a multidisciplinary maverick of design);
* George Lois (Art Director/Magazine Designer);
* Iris van Herpen (Fashion Designer);
* Rafael de Cárdenas (Interior Designer);
* Neville Brody (Typographer);
* Ivan Brunetti (Comic Book Artist);
* Chip Kidd (Book Cover Designer);
* Jer Thorp (Data Visualization);
* Leland Maschmeyer (Commercial Designer, Professor, & Writer);
* Alex Lieu (Artificial Reality Game Designer);
* James Ramsey (Urbanist);
* Margie Ruddick (Landscape Architect);
* James Victore (Graphic Designer);
* Gordon Gill (Architect);
* Kyle Cooper (Motion Designer);
* Brian Collins (Brand & Experience Designer); and
* Karsten Schmidt (Computational Designer).
GRAVITY FREE 2012 will be held at the Spertus Institute in Chicago. This venue is a mixed-use program facility containing exhibition galleries, a library, a 400-seat multi-use auditorium, and a smattering of classrooms. The bold sculptural details make the institution truly modern, yet it has a timeless quality that has helped to put Chicago on the architectural map.
Registration for GRAVITY FREE 2012 includes access to all on-stage speaker talks, all close-up speaker-hosted roundtables, plus access to all receptions and off-site events. A special early-rate ends April 20.
Learn more at www.gravityfreedesign.com.